Colonel A. Brooks
Missing in action since 13 July 1943, Espiritu Santo, New Hebrides, South Pacific.
On July 13, 1943 at 0506L Melvin Feigen, 1st Lt, Pilot and his complete crew took off on a Sea Search mission in airplane number 42-40239, a B-24D. The mission being conducted was a standard 'Y' and extending 800 miles out of Ampersand in the sector 046 to 054 degrees. Throughout the flight the pilot was ordered to keep radio silence except in case of emergency or sighting unidentified or enemy aircraft of shipping. The gasoline load was sufficient to last about 15 hours. At about 1700, after no radio contact with this plane could be made, the lost plane procedure was immediately put into operation with no result.
On July 14, 1943 at approximately 0500 L a special search was conducted. All planes returned with negative reports.
On July 15, 1943 at about 0700 L a special search was again conducted consisting of 5 – B-24D's covering the entire area. Again all reports were negative. In addition to the searches conducted from the station, there were also searches conducted from Funafuti and a negative report resulted.
Crew members
Pilot, 1st Lt Melvin Feigen
Co-Pilot, 2nd Lt Richard L. Jacobs
Navigator, 2nd Lt Lynn R. Walker
Bombardier, 2nd Lt William D. Mulberry
Engineer, T/Sgt Malvin J. Standridge
Assistant Engineer, S/Sgt Frank Andalora
Radio Operator, T/Sgt Raymond T. Nolan
Assistant Radio Operator, S/Sgt Lester L. Amstutz
Tail Gunner, S/Sgt Robert J. Pribish
Armorer Gunner, S/Sgt Colonel A. Brooks
Rank: Staff Sergeant
Date of death: 13 July 1943
County: Claiborne
Service Branch: Army/Army Air Forces
Division/Assignment: 371st Bomber Squadron, 307th Bomber Group, Heavy
Theater: Pacific
Conflict: World War II
Burial/Memorial Location: Honolulu Memorial, Honolulu, Hawaii
Location In Memorial: Pillar VIII, Middle Panel
---
Image Gallery
Click a thumbnail below to view at full size.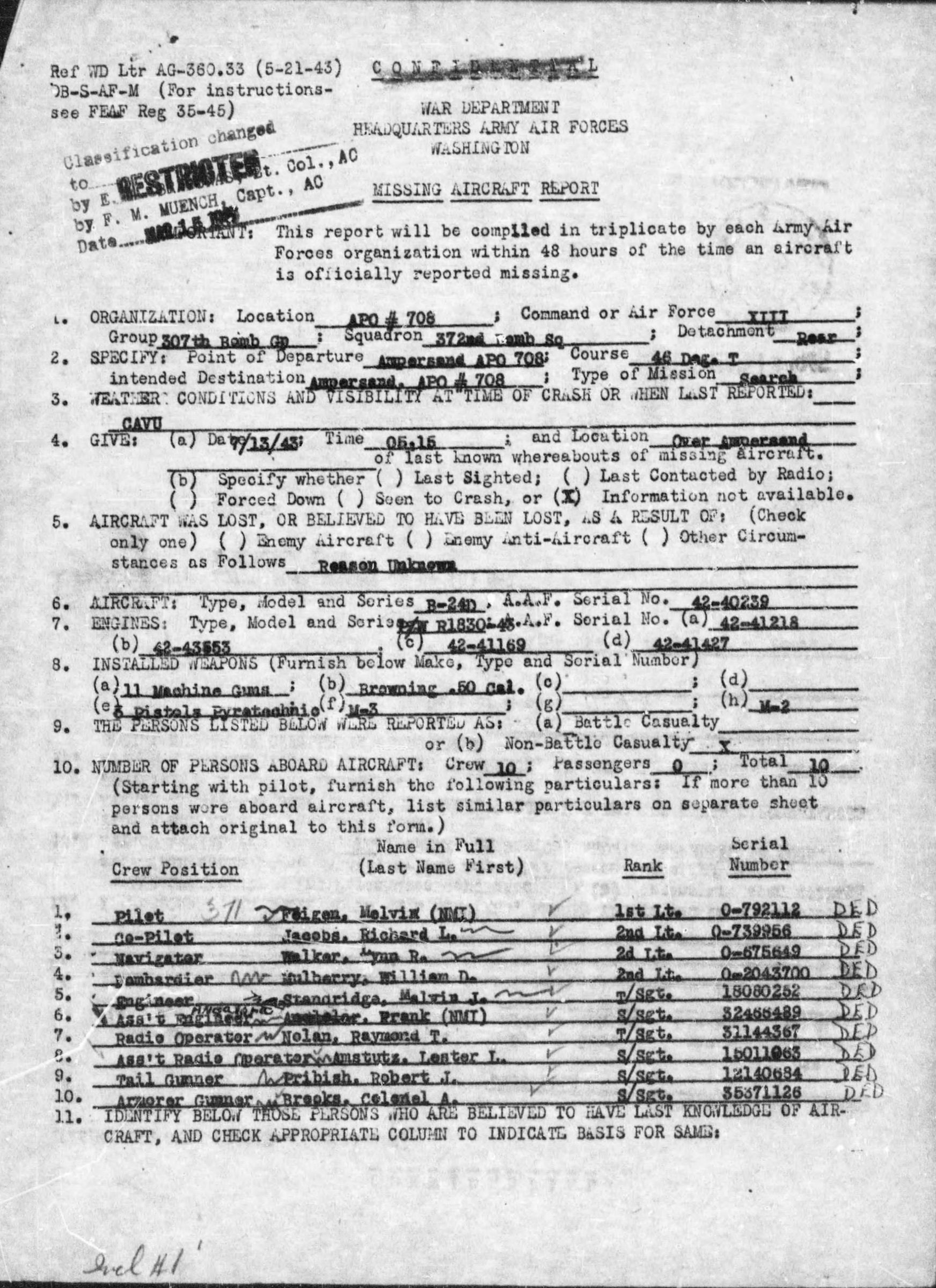 ---