Harry Samuel Wilson
February 4, 1919 – March 26, 1945
Chattanooga, Tennessee
Engineering – 1938-1940
Major – Army Air Corps
Air Medal with one Oak Leaf Cluster
B-24 Pilot, 777th Bomb Squadron & HQ Ops Officer, 464th Bomber Group. KIA, mission to Czechoslovakia, hit by flak, plane crashed NW of Hollabrunn, Austria.
Greenwood Cemetery in Chattanooga, Tennessee
Epinal American Cemetery in Epinal, France
Harry Samuel Wilson (February 4, 1919 – March 26, 1945) was born in Cohutta, Georgia to George W. and Ethel Wilson, but by 1930 the family had moved to Chattanooga, Tennessee. He attended the University of Tennessee for Engineering from 1938 to 1940, where he met his future wife, Frances Rosslyn Braden, who was also a student.  Wilson worked at the Combustion and Engineering Company in Chattanooga prior to his enlistment in the United States Army Air Corps in December 1940. By the summer of 1942 Wilson was a Lieutenant and an instructor pilot at Turner Field in Albany, Georgia. It was around this time he and Rosslyn were married in Knoxville, August 3, 1942.  By 1944, he was a B-24 pilot assigned to the 777th Bomb Squadron, 464th Bomber Group based at Pantanella Airfield, Italy.  In September, 1944 (then Captain) Wilson was awarded the Air Medal, and by 1945 he had attained the rank of Major and was Assistant Group Operations Officer at 464th Headquarters.  On March 26, 1945 Major Harry S. Wilson and his 778th Squadron crew onboard the "Bonnie Annie Laurie II" were on a mission to bomb the Rangier Marshalling Yards at Bratislava, Czechoslovakia when they began losing altitude due to enemy attack. The crew was ordered to bail out and the plane crashed northwest of Hollabrunn, Austria. Two crew were killed, nine were captured POWs. Major Wilson was initially reported missing to the family, but declared dead in May 1946.   He is memorialized at the Epinal American Cemetery in Epinal, France and Greenwood Cemetery in Chattanooga, Tennessee.  His father passed away in May, 1947, but was survived by his wife, mother, and one brother, William Henry Wilson.
Rank: Major
Date of birth:
4 February 1919
Date of death: 26 March 1945
County: Hamilton
Hometown: Chattanooga
Service Branch: Army/Army Air Forces
Division/Assignment: B-24 Pilot, 777th Bomb Squadron & HQ Ops Officer, 464th Bomber Group
Theater: Europe
Conflict: World War II
Awards: Air Medal with one Oak Leaf Cluster
Burial/Memorial Location: Greenwood Cemetery, Chattanooga, Tennessee
Location In Memorial: Pillar XI, Bottom Panel
---
Image Gallery
Click a thumbnail below to view at full size.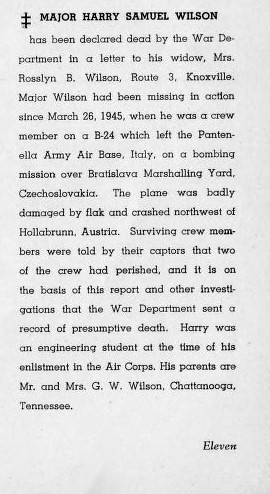 ---