William Thomas Findley
Aircraft B-29 with serial number 44-69867 was on a bombing mission to Yokohama. The aircraft received a direct flak burst over the target after bombs away. The entire control system was shot away with the exception of the trim tabs on the elevators. The landing gears extended and flaps came down at approximately 20-25 degrees. The original course to return to base was maintained. Soon afterwards the aircraft went into a dive at 19,000 feet and pulled out at 12,000 feet. The pilot was able to straighten out by means of the elevator trim tabs but in so doing an erratic course was flown. Approximately 100 miles off the Japanese Coast the verbal order to bail out was carried out. After leaving the formation the distressed aircraft was jumped by 10 Japanese fighters. The call for help on VHF was radioed to other B-29`s in the vicinity. Five attacks were made at the stricken aircraft by Tojos in pairs. Two B-29`s arrived to drive the fighters off. Later the Radio Operator contacted a submarine (Razor Back) which was approximately 30 miles off the coast. He also contacted a buddy B-298 and gave them their position.
Crew members
Air Plane Commander, Capt Reece Killpack
Co-Pilot, 2nd Lt Joseph B. Neden Jr.
Navigator, Capt John C. Wilkie
Bomberdier, Capt Harris E. Collins Jr.
Radar Operaor, 2nd Lt Austin L. Wible
Radio Operator, Sgt Eugene C. Reck
Flight Engineer, T/Sgt Fred N. Dunn
Tail Gunner,Sgt Myron D. Williams
Right Gunner, Sgt William T. Findley
CFC Gunner Sgt Joseph P. Miller
Sgt George C. Tilghman
Rank: Sergeant
Date of birth:
20 September 1925
Date of death: 29 May 1945
County: Hamilton
Service Branch: Army/Army Air Forces
Division/Assignment: 60th Bomber Group, 39th Bomber Group, Very Heavy
Theater: Pacific
Conflict: World War II
Awards: Air Medal, Purple Heart
Burial/Memorial Location: Honolulu Memorial, Honolulu, Hawaii
Location In Memorial: Pillar X, Middle Panel
---
Image Gallery
Click a thumbnail below to view at full size.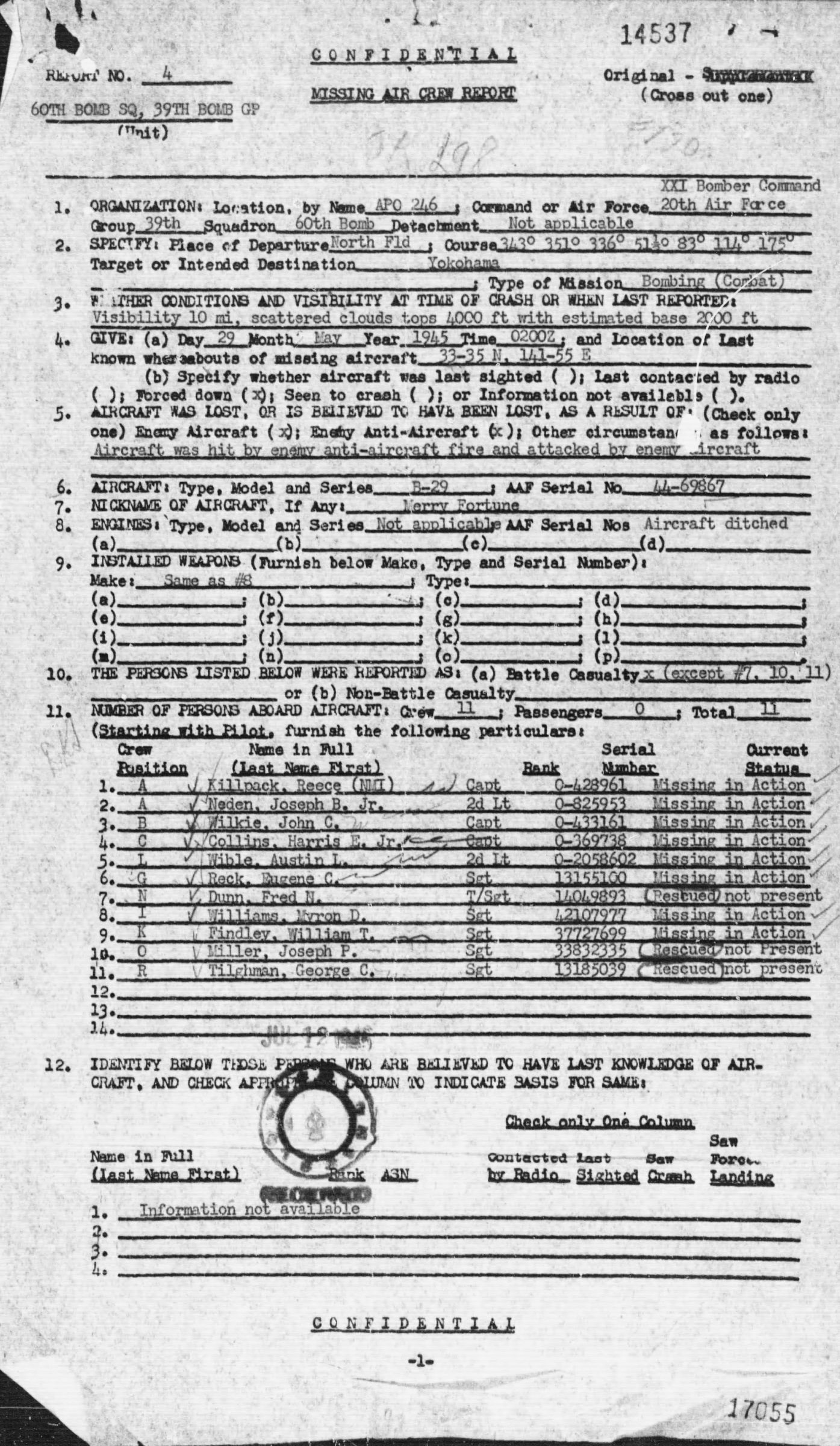 ---