William Thomas Dalton Jr.
Born 1924, Knox, Tennessee
Missing in action since 20 June 1944
Finding of Death (FOD) 11 February 1946
Technical Sergeant, Radio Operator / Gunner
Aircraft B-25J, Serial number 43-3961
12th Bomber Group, 82nd Bomber Squadron, Medium, 10th Air Force
Left from Palal, India on a Operational Mission.
Statement from Duane L. Crosby, 2nd Lt, Air Corps:
I was the formation leader of a three-ship formation scheduled to fly ammunition into Palel on the morning of June 20, 1944.
I took off from Pandaveswar Airfield at approximately 0705, June 20, 1944, joined the formation and set course for Palel via Silchar and Imphal, flying at an altitude of about 1,000. As I continued on course a stratus cloud layer began developing, so that by 0740 I was flying at an altitude of 3,000 above a low broken stratus cloud deck (1,500 – 2,500) and a higher broken strato-culumus deck (5,000 – 12,000). Bij 0800 it appeared that the two cloud decks were merging. Therefore at about 0830, without having encountered instrument conditions but with instrument conditions eminent at my flight level, I signaled for the wingman to break formation. The left wingman turned left immediately and the right wingman (Missing aircraft AAF No. 43-3961, Sq. No. 41) turned right a moment later. I held course about 30 seconds then turned left inside of the left wingman and began to climb in an irregular rate and course. Upon reaching about 8,000 another B-25 was in view for the ensuing two or three minutes, but was not identified as to aircraft number. Thus the late time fo positively seeing A/C #41 was at the point of the formation break-up which was at about June 20, 1944 approximately 20 Miles Southwest of Silchar at an altitude of 3,000.
I continued my flight to Palel and return to Comilla without flying instruments at any time.
All the above times and locations are from my own calculations, not the navigators.
Crew members
2nd Lt Richard D. Kizer, Pilot
2nd Lt Jack V. Burkett, Co-Pilot
1st Lt Celso R. Mosteiro, Bombardier/Navigator
S/Sgt Perry B. Cartwright, Engineer/Gunner
T/Sgt William T. Dalton Jr., Radio Operator/Gunner
Cpl Charles Kelliher, Armorer/Gunner
All 6 crewmembers are still missing in action
Parents: William T. and Emma Dalton
Siblings: Margaret E. Dalton, Billie B. Dalton, Dorothy Dalton, and Paul E. Dalton
Enlisted on September 22, 1942, in Camp Forrest, TN
Memorialized at Manila American Cemetery in Fort Bonifacio, Manila, Philippines
Rank: Technical Sergeant
Date of death: 20 June 1944
County: Knox
Service Branch: Army/Army Air Forces
Division/Assignment: 82nd Bomber Squadron, 12th Bomber Group, Medium
Theater: Pacific
Conflict: World War II
Awards: Purple Heart
Burial/Memorial Location: Manila American Cemetery, Fort Bonifacio, Manila, Philippines
Location In Memorial: Pillar XV, Top Panel
---
Image Gallery
Click a thumbnail below to view at full size.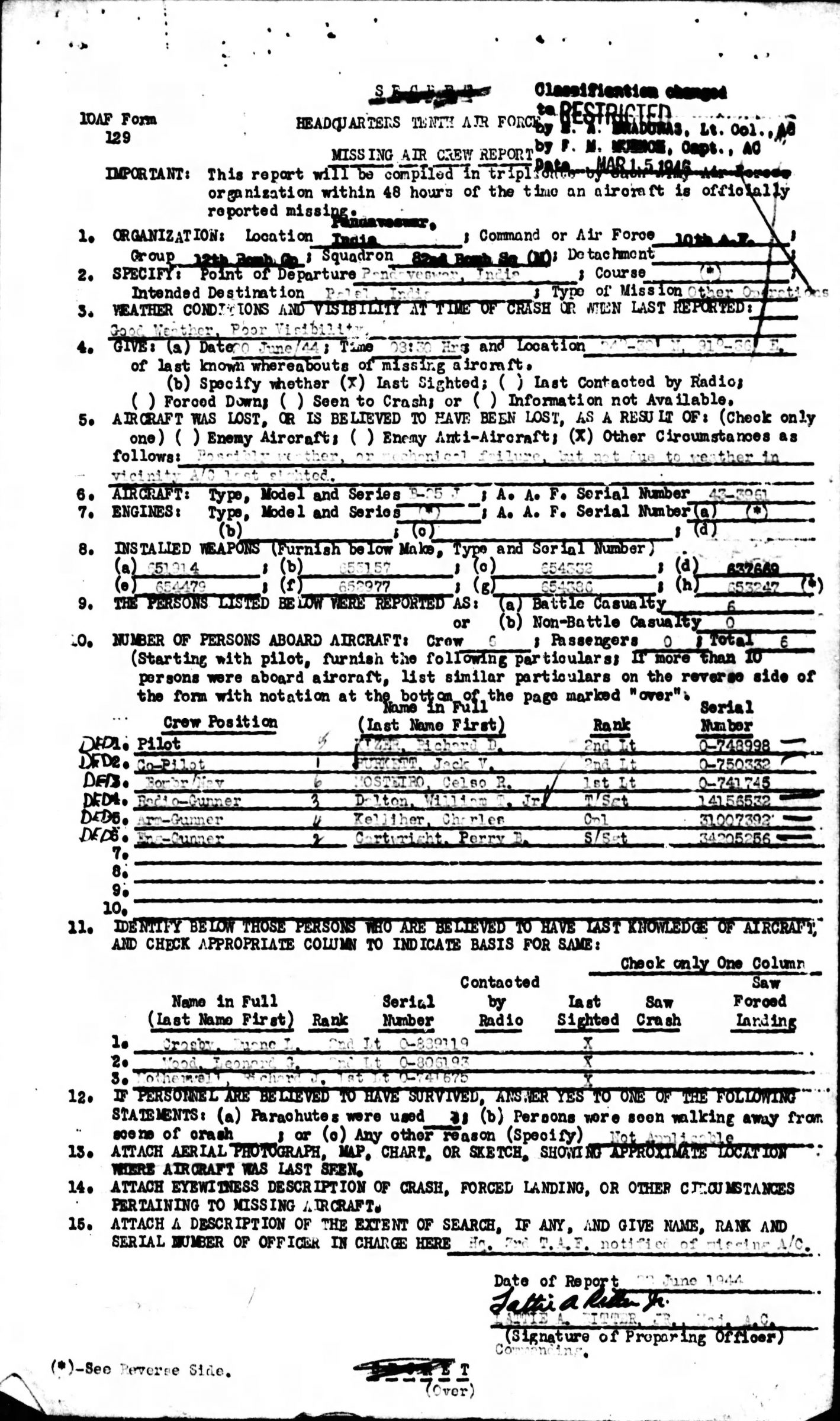 ---