William Floyd Paschal
-Parents: John W. and Rosa L. Paschal
-Siblings: Lula Paschal, John W. Paschal, Mary A. Paschal, Elmer Paschal, and Eloisa Paschal
Died non Battle 17 July 1944 in the Port Chicago ammunition depot explosion.
He is memorialzed at the Port Chicago Naval Magazine National Memorial at Concord, Contra Costa County, California
An ammunition ship explodes while being loaded in Port Chicago, California, killing 320 people on July 17, 1944. The United States' World War II military campaign in the Pacific was in full swing at the time. Poor procedures and lack of training led to the disaster.
Port Chicago, about 30 miles north of San Francisco, was developed into a munitions facility when the Naval Ammunition Depot at Mare Island, California, could not fully supply the war effort. By the summer of 1944, expansion of the Port Chicago facility allowed for loading two ships at once around the clock. The Navy units assigned to the dangerous loading operations were generally segregated African American units. For the most part, these men had not been trained in handling munitions. Additionally, safety standards were forgotten in the rush to keep up frenetic loading schedules.
On the evening of July 17, the SS Quinault Victory and SS E.A. Bryan, two merchant ships, were being loaded. The holds were being packed with 4,600 tons of explosives—bombs, depth charges and ammunition. Another 400 tons of explosives were nearby on rail cars. Approximately 320 workers were on or near the pier when, at 10:18 p.m., a series of massive explosions over several seconds destroyed everything and everyone in the vicinity.
Rank: Seaman First Class
Date of birth:
11 November 1924
Date of death: 17 July 1944
County: Knox
Hometown: Knoxville
Service Branch: Navy
Conflict: World War II
Burial/Memorial Location: Port Chicago Naval Magazine National Memorial, Concord, Contra Costa County, California
Location In Memorial: Pillar XIV, Middle Panel
---
Image Gallery
Click a thumbnail below to view at full size.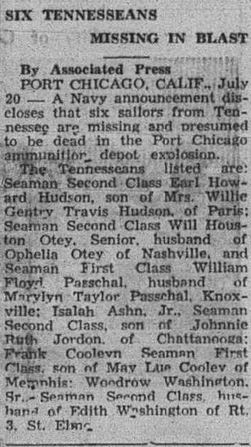 ---