William C. Runyon
Born 6 March 1925
Killed in Action 22 July 1944
Buried in the Lindy Richardson Cemetery on Morgan Branch Road, Shell Creek, TN
12th Marine Regiment, 3rd Marine Division
Mother: Mrs. Martisha Morgan, 417 West Market Street, Johnson City, TN
Private First Class William C. Runyon, Service Number 433771
William was born on 6 March 1925 in Shell Creek, Roan Mountain, Carter County, Tennessee. He moved with his mother to Greeneville, Greene County, Tennessee and then to Johnson City, Washington County, Tennessee where he called home. William enlisted in the United States Marine Corps on 10 September 1942 at age 17 and was sent to San Diego, California. He completed boot camp with the 4th Recruit Battalion, Recruit Depot, Marine Corps Base San Diego in San Diego, California.
William was then selected for artillery and assigned to "A" Battery, 1st Battalion, 12th Marine Regiment, 3rd Marine Division. "A" Battery fired the 75mm Pack Howitzer M1. At this time the 12th was located at Camp Dunlap in the Colorado Desert of southeastern California. During January 1943, William along with the 3rd left California for Auckland, New Zealand where they stayed until June when they redeployed to the island of Guadalcanal, Solomon Islands to prepare for the Battle of Bougainville (Operation Cherry Blossom), also an island in the Solomon Islands chain. The invasion began on 1 November, but some of the 3rd Marine Division had already been on the island since 27 September. They were relieved by the United States Army on 28 December and started their move back to Guadalcanal on 9 January 1944 to rest, refit and train replacements for their next assignment.
William was promoted to Private First Class on 26 January 1944 and soon learned their next operational mission would be the island of Guam, Mariana Islands. The second Battle of Guam (Operation Stevedore) began with the invasion on 21 July 1944 when the 3rd Marine Division hit the beaches at 0828 hours (8:28am) on the western side of the island in the Orote Peninsula near the town of Agana north of Orote and at the Asan Point. William was Killed in Action the following day during a Japanese counterattack. He was 19 years old. William was interred in Row 8, Grave 6 of the Army, Navy and Marine (AN&M) American Cemetery #1 on Guam. He was reinterred in April of 1948 to the Lindy Richardson Cemetery on the grounds of the Morgan Branch Freewill Baptist Church in Shell Creek, Roan Mountain, Tennessee.
William participated in three unit campaigns: Bougainville, Northern Solomons and Guam. He was awarded the Purple Heart Medal. William is listed and remembered on the Asan Bay Overlook Memorial, National Historical Park on the island of Guam.
William's the son of William Christopher Runyon and Martisha Ann Brewer. His older brother Wallace B. Runyon served in the United States Army during World War II, Korea and Vietnam.
Submitted By: Allen D. Jackson, USAF (Ret)
Rank: Private First Class
Date of birth:
6 March 1925
Date of death: 22 July 1944
County: Washington
Hometown: Johnson City
Service Branch: Marine Corps
Division/Assignment: 12th Marine Regiment, 3rd Marine Division
Theater: Pacific
Conflict: World War II
Battles: Bougainville, Guam
Awards: Purple Heart
Burial/Memorial Location: Richardson Cemetery, Johnson City, TN
Location In Memorial: Pillar XIX, Top Panel
---
Image Gallery
Click a thumbnail below to view at full size.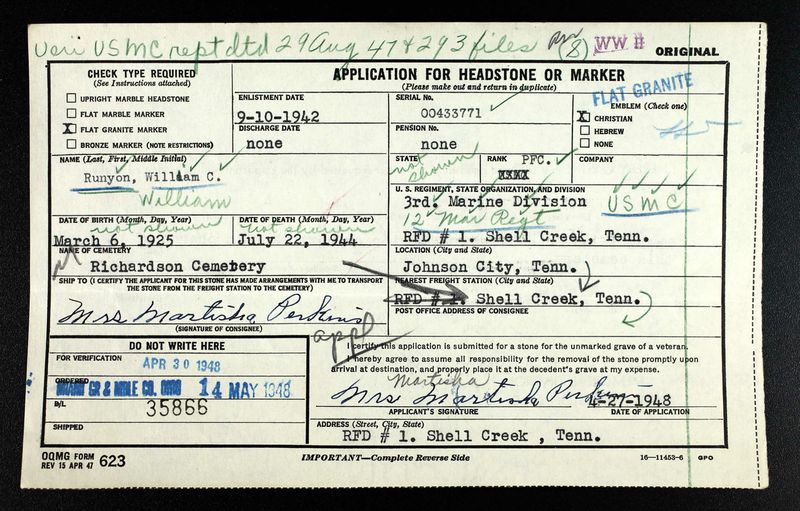 ---