William Campbell McConnell died non battle in England.
Technician 3rd Class William C. McConnell was the husband of Clara Thompson McConnell and the brother of Mrs. R. E. Gamble, Mrs. B. F. Henderson, Technical Sergeant Henry B. McConnell, and Lon C. McConnell. Technician 3rd Class William C. McConnell died in an English hospital on August 30, 1944. His death was reported in the Maryville Enterprise on September 14. McConnell, a former Maryville business man, died in an Army hospital in England on August 30, his widow and members of his family were notified by the War Department. Sgt. McConnell had just written his wife, the former Clara Thompson, that he would shortly undergo an operation for a kidney ailment. His death is thought to have been caused by complications which set in after the operation. He was buried in an English cemetery.  Sgt. McConnell was stationed in England for five months in an Army Ordnance company. He entered service in December, 1942, and received his training at Santa Anita, Calif.  Members of the family include his widow, Clara Thompson McConnell; two sisters, Mrs. R. E. Gamble and Mrs. B. F. Henderson both of Maryville; and two brothers, Tech. Sgt. Henry B. McConnell, stationed in North Carolina; and Lon C. McConnell, Maryville.
Picture from
Rank: Technician 3rd Class
Date of birth:
2 February 1907
Date of death: 30 August 1944
County: Blount
Hometown: Maryville
Service Branch: Army/Army Air Forces
Division/Assignment: Ordnance Company
Theater: Europe
Conflict: World War II
Burial/Memorial Location: Magnolia Cemetery, Maryville, Blount County, TN
Location In Memorial: Pillar VI, Middle Panel
---
Image Gallery
Click a thumbnail below to view at full size.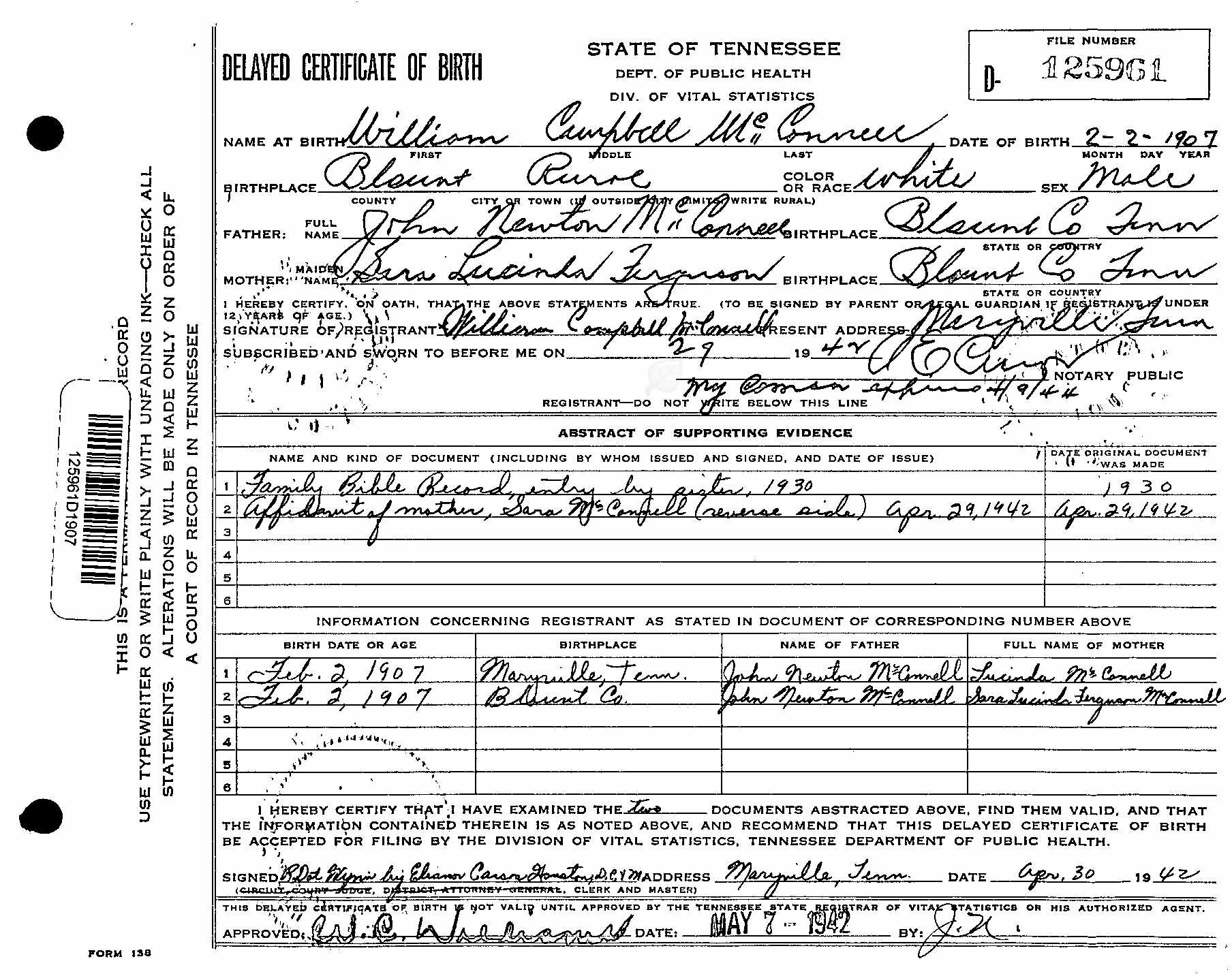 ---