William B. Hicks Jr.
Private First Class
19th Engineer Battalion, 5th Regiment, Company I
Buried Chestua Meth. Cem., Monroe Co., Tn
He was son of Wm. B. Hicks, Sr. and Effie Croft
In Loving Memory of William B. Hicks, Jr.
Pfc. William B. Hicks, Jr., was born August 16, 1922. Died Dec. 26. 1943, being 21 years, four months and ten days old at the time of his death.
He was in the Army, stationed at Camp Reynolds, Pa., and was operated on for appendicitis on Dec. 20 in an Army hospital, where he lived for a week. The doctors and nurses said he was a very fine patient and never complained. He had been in the Army for nine months.
Oh! Dear brother, how we miss you how we miss your shining face but we'll meet some day over yonder where we'll sing forever. You were loyal to your country when you answered the call as a soldier out in the world among strangers. There you died for your country. You are marching in the angels' holy band, on the golden streets of glory. When you came home on furlough, just about three months ago, we were so proud to see our soldier boy brother but oh, how we hated to see him go back to camp. He would have been ready to go overseas in only a short time.
But God in his mighty wisdom knows best, He said to W.B. "I need you," and W.B. answered, far away from father, mother, sister and brother we could not be by his bedside, but our good friends whom we knew not were telling him of Jesus and His love. There upon his bed of sickness, he took Jesus as his Savior and heaven as his eternal home.
We miss those cards and letters, but we've placed them away carefully with the clothes he used to wear.
Funeral services were conducted at Chestua Methodist Church on Wednesday, Dec. 29, by Revs. Roy Cresman and McCoy Franklin. Flower girls were Carrie Lou Crofts, Louis Watson, Etheleen and Edna Maxwell, Anna Ruth Raper and Pauline Watson. Pallbearers were soldier boys. He was laid to rest under a beautiful mound of flowers. We know now that within his heart there had been a struggle and that he won the victory.
Over his casket was placed the flag of our country, and over his grave a salute was fired. The flag was presented to his mother in honor of her son, and she will keep this flag with tender care as long as she lives.
W.B. is now stationed in heaven, with his Savior and his loved ones gone before. Some day we hope to meet our sweet little brother up there.
A sister, Mrs. Ike Raper
Rank: Private First Class
Date of birth:
16 August 1922
Date of death: 26 December 1943
County: Monroe
Service Branch: Army/Army Air Forces
Division/Assignment: 19th Engineer Battalion, 5th Regiment
Conflict: World War II
Burial/Memorial Location: Chestua Methodist Cemetery, Monroe County., TN
Location In Memorial: Pillar XVI, Top Panel
---
Image Gallery
Click a thumbnail below to view at full size.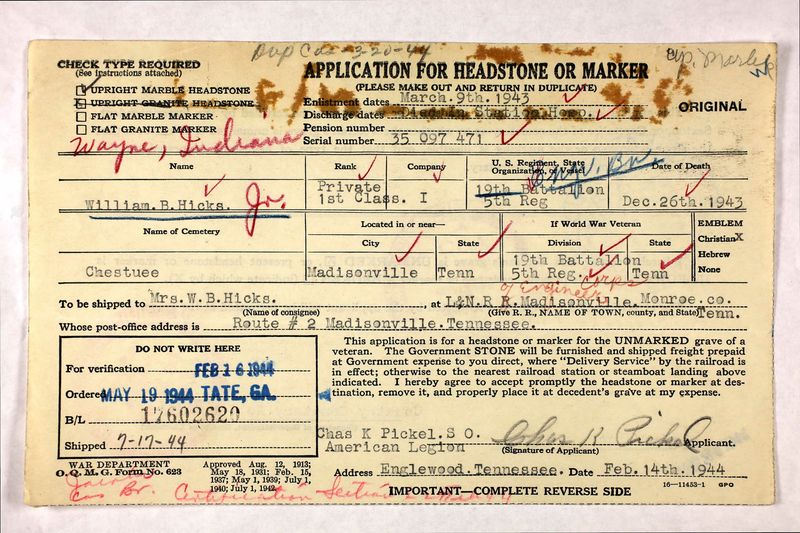 ---