William Arthur Mullinax
Born 29 August 1924
Died 9 March 1944
William Arthur Mullinax served on the U.S.S. Leopold (DE-319). He was killed in action and buried at sea.
The vessel, which was manned by Coast Guard personnel, carried a normal complement of 150 men. The loss of the 1,300 ton destroyer escort vessel was a result of an underwater explosion in the Atlantic. This type of ship was built especially for anti-submarine work in the Atlantic and Mediterranean waters.
On the night of 9 March 1944, this vessel was in night station 3 of convoy escorts. At 1950, called all hands to general quarters stations: USS Leopold on station 5 investigating radar target on starboard side of the convoy, 4 miles from the USS Leopold.
1958 USS Leopold commenced firing on radar target she illuminated with star shell and opened fire to port with all forward guns; after approximately 20 seconds, ceased firing. Target was not visible. 2011 USS Leopold failed to answer TBS or flashing light; investigating, closed range to 150 yards at various courses and speeds. 2015 observed USS Leopold to be dead in the water, with hole in port side in compartments B-1 and B-2 and with her back broken; crews out of water; and crew abandoning ship. 2106 completed search of area without making contact, proceeding to pick up survivors; USS Leopold now broken in half, bow and stern section separating with the stern section drifting downing faster. At 0045 on 10 March, 1944 the stern section of USS Leopold sank.
Father: Mr. Arthur Mullinax, 4001 Ocoee Street, Cleveland, TN
Rank: Fireman First Class
Date of birth:
29 August 1924
Date of death: 9 March 1944
County: Bradley
Hometown: Cleveland
Service Branch: Coast Guard
Division/Assignment: USS Leopold (DE-319)
Conflict: World War II
Awards: Purple Heart
Burial/Memorial Location: Cambridge American Cemetery, Cambridge, England
Location In Memorial: Pillar VII, Top Panel
---
Image Gallery
Click a thumbnail below to view at full size.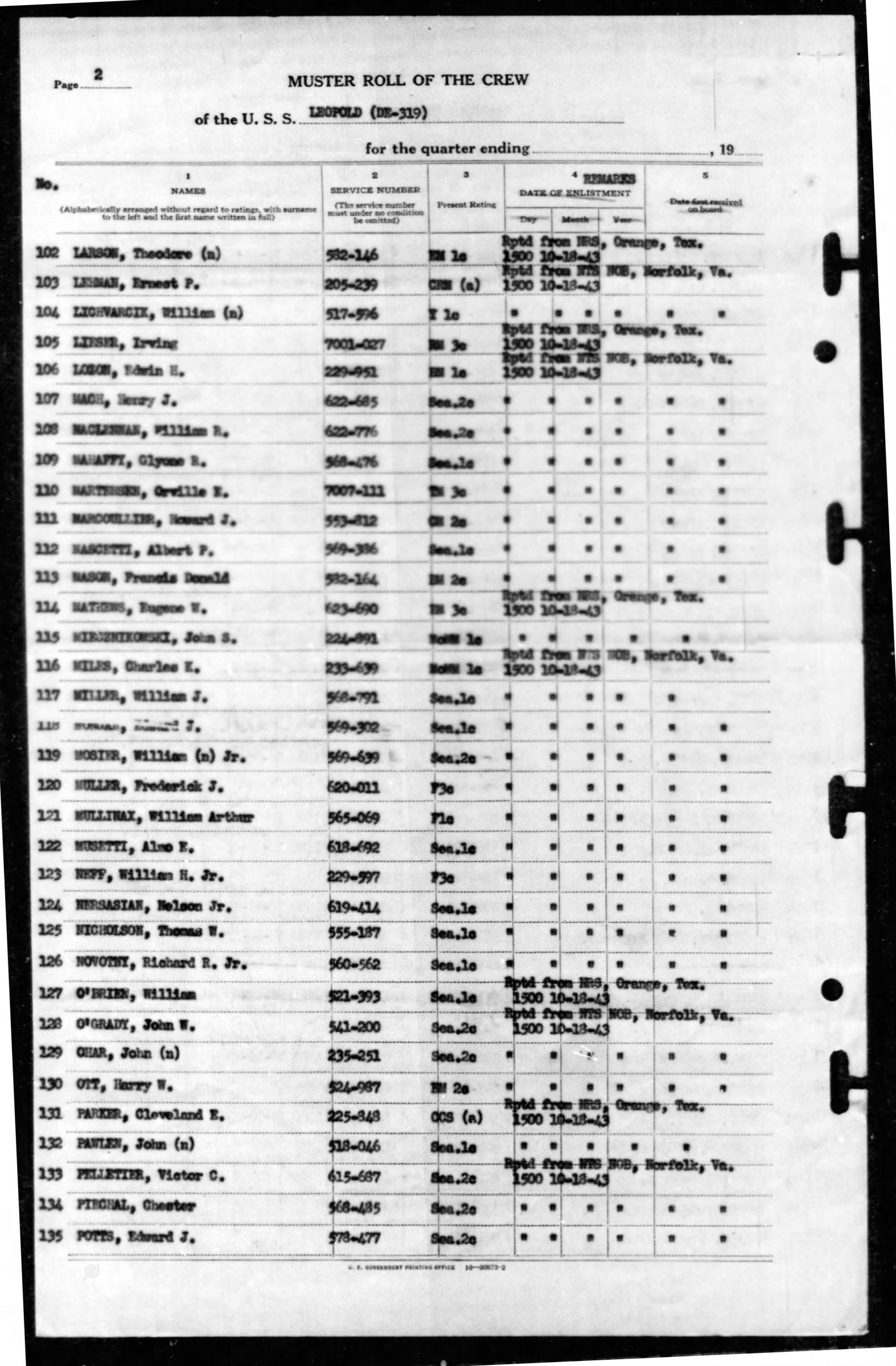 ---