Private Wesley Ralph Garren, the oldest son of Elbert S. and Ester Steele Garren, was killed in action on December 8, 1944 near Mortain, France. He was a message courier and while under fire was delivering a message to his unit who had become separated into two groups. He had delivered his message to one of the separated groups to retreat and was hit by hostile fire and died shortly after his injury.
Private Garren was repatriated back to his hometown of Madisonville in 1948 and was buried at Hopewell Baptist Church Cemetery near Vonore.
His family is proud of Wesley's service, and his brother Joe Garren of Riceville helped contribute to this memorial page.
The body of Pfc. Wesley R. Garren will arrive Thursday for reburial. Pfc. Garren was killed near Mortain, France, Dec. 8, 1944, and was buried at Limey, France. He was 20 years of age.
Surviving are his parents, Mr. and Mrs. Elbert Garren, of Athens five brothers, Junior, Glen, Billy, Joe and Austin, of Athens two sisters, Mrs. Russell Wilburn of Madisonville and Mrs. J.R. Kirkland of Vonore. The body will be taken to Athens Saturday.
Funeral services will be held on Sunday at 2 p.m. at Hopewell Springs Church, Rev. John Stakely and Rev. Bill Carter officiating. The V.F.W. will have charge of military honors. Biereley Hale's in charge.
-Monroe Democrat, Dec. 17, 1947
Wesley Garren was killed in action on Dec. 8, 1944.
To some the war is over, but to others it will never be. Our loved one, killed in action overseas, will ever live in our memory and we thus honor him with a tribute.
On that December morning, when the ground was snow-covered, the 326th Inf. was in battle and men were falling. And when the battle had ended, and soldiers gathered again, Wesley, like many others, had perished in his country's service.
His body now lies in a lonely cemetery may miles away. How we miss him each day our words cannot express. He was kind and dear to us and we all loved him dearly.
But we must go on, though we will not forget his smiles, and precious memories of him will ever linger with us. And some sweet day we will meet him on the golden shores of heaven, to live forever there where there will be no more wars.
-His sister, Elsie Lee Wilburn
The Knoxville Journal, January 17, 1945
Madisonville, Jan. 16- Mr. and Mrs. Elbert Garren, Madisonville, have received word from the War Department that his son, Pfc. Wesley R. Garren was killed in action Dec. 8 in France.
Private Garren was awarded the Bronze Star Medal August 12 for heroic service in connection with military operations against an enemy of the United States in France.
He had been overseas six months and in the States about a year and half, three months of which had been spent at San Louis Obispo, Calif., after which he went to Camp Butner, N.C. for final traning.
Rank: Private First Class
Date of birth:
23 December 1923
Date of death: 8 December 1944
County: Monroe
Hometown: Madisonville
Service Branch: Army/Army Air Forces
Division/Assignment: 326th Infantry
Theater: Europe
Conflict: World War II
Awards: Bronze Star, Purple Heart
Burial/Memorial Location: Hopewell Baptist Cemetery, Madisonville, Monroe County, TN
Location In Memorial: Pillar XVI, Top Panel
---
Image Gallery
Click a thumbnail below to view at full size.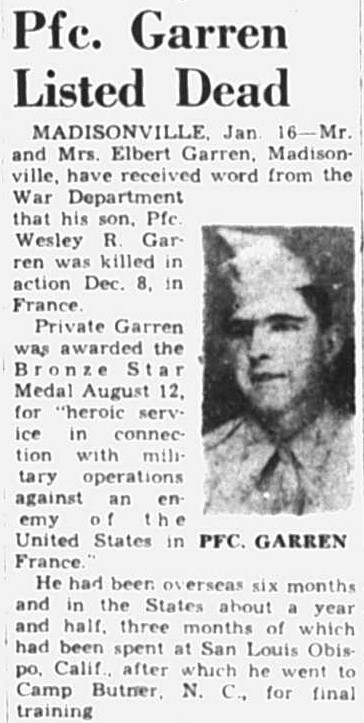 ---