Walter Louis Seivers, Jr. was born July 21, 1926, to Walter Louis Seivers, Sr. and Cleo Seivers. He attended Knoxville High School and was an employee of White Stores Grocery before entering the United States Army. Walter was married in 1946 to Miss Helen Lucille Davis.
He was a veteran of World War II and was called back into service in October 1950. He had been in Korea nine months with Company G, 3rd Battalion, 1st Marine Regiment, 1st Marine Division. In his last days of fighting the 1st Marine Division had driven north past the eastern tip of Hwachon Reservoir and had taken the objective of a ridgeline overlooking a deep circular valley in the mountains nicknamed the Punchbowl. A defensive line was established and the 1st Marine Division spent most of the summer in defensive positions. On September 5, 1951, the division was directed to take the remainder of the Punchbowl. On September 13, 1951, the eighth day of fighting for the punchbowl, Sergeant Walter L. Seivers was killed in action by an artillery round that landed at his position.
Sergeant Seivers was returned to the United States on transport Loma Victory which docked in San Francisco on December 20, 1951. He was returned to Knoxville over the railways and funeral services were held at Rose Chapel, January 20, 1952. Sgt. Walters was laid to rest at Lynnhurst Cemetery with full military honors provided by the American Legion Post Number 2. He was survived by his widow, Helen Seivers mother, Mrs. Cleo Seivers father, Walter Seivers, and a sister Mrs. Betty Chapman of Dayton, Ohio
Sergeant Seivers was awarded the Purple Heart, the Combat Action Ribbon, the Korean Service Medal, the United Nations Service Medal, the National Defense Service Medal and the Republic of Korea War Service Medal.
Rank: Sergeant
Date of birth:
21 July 1926
Date of death: 13 September 1951
County: Knox
Hometown: Knoxville
Service Branch: Marine Corps
Division/Assignment: 1st Marine Regiment, 1st Marine Division
Conflict: Korean War
Awards: Purple Heart, Combat Action Ribbon, Korean Service Medal, United Nations Service Medal, National Defense Service Medal, and Republic of Korea War Service Medal
Burial/Memorial Location: Lynnhurst Cemetery, Knoxville, Knox County, TN
Location In Memorial: Pillar XXI, Top Panel
---
Image Gallery
Click a thumbnail below to view at full size.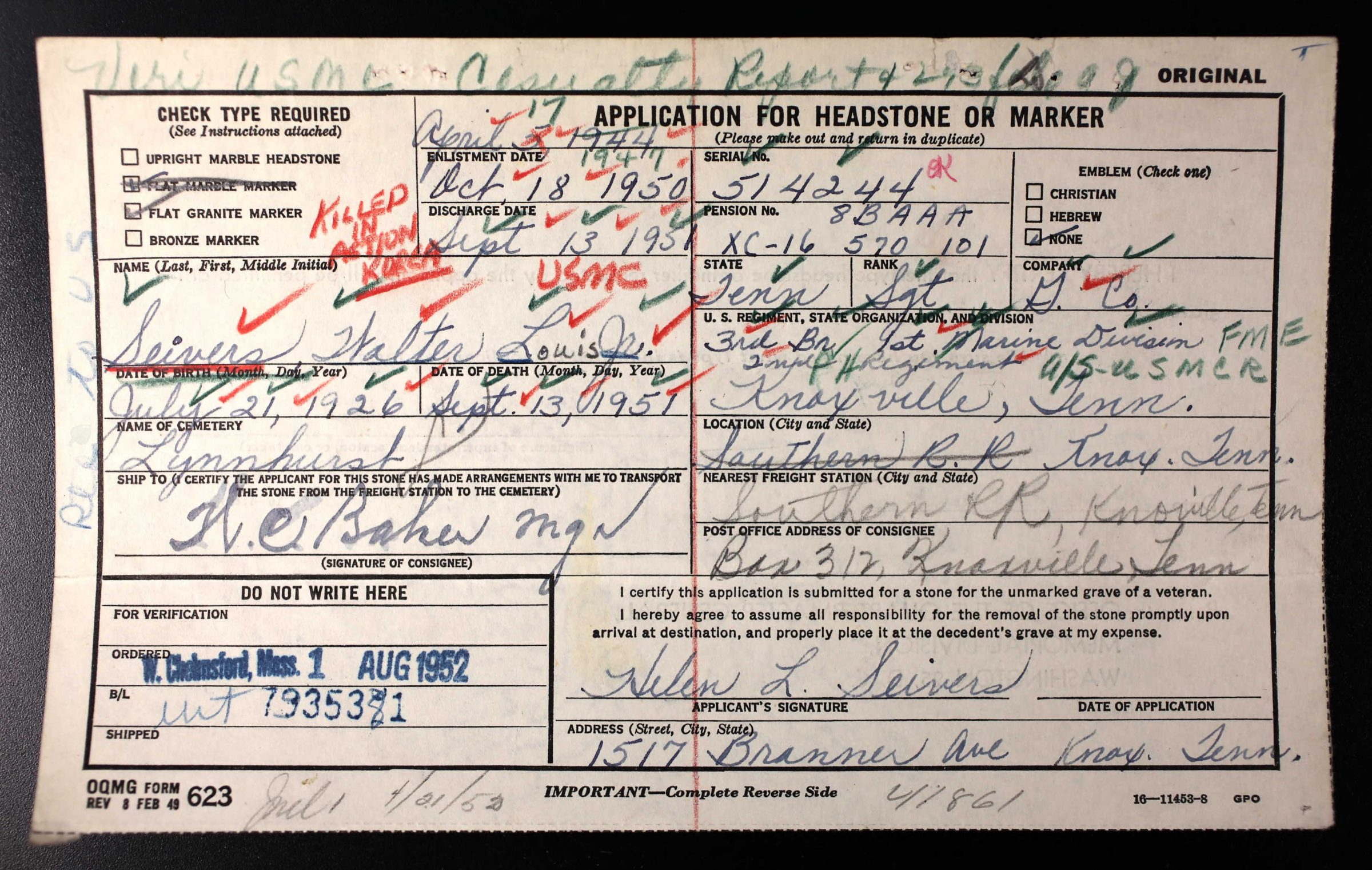 ---