Sergeant Walter B. Smith served with the 23rd Infantry Regiment, Second Division in Korea. He reentered the service on November 1, 1950 having served three years prior.
He was born September 25, 1929, in Sweetwater, Tennessee, to Mr. S. Mack Smith and Annie Lee Smith of Sweetwater.
The battle started on September 13, 1951, when elements of the 9th Infantry and Sgt. Smith's 23rd Infantry attacked the North Korean position on several key hills. Hill 931 was the center of Heartbreak Ridge just a few miles north of the 38th parallel and the battle for that hill was still ongoing eight days later on September 21, 1951. Sgt. Smith's Regiment was engaged with the enemy and several times that day of heavy fighting the elements of the 2nd Division would fight their way to the crest of the hill only to be repulsed by the enemy with heavy machine gun fire, mortar fire, and grenades hurled at their advancing positions. It was during one of the advances that Sgt. Smith was wounded by the enemy and he was taken to the back of the lines to a field hospital. He died of those wounds on September 24, 1951.
His journey back to the United States began aboard the transport Loma Victory in the last months of 1951. He was repatriated at San Francisco, California, on December 22, 1951 and from California across the United States aboard the railroads. Sgt. Smith was returned home on January 10, 1952, and funeral services were held at 2:30 pm January 12, 1952, at Sweetwater Methodist Church. Sweetwater Post Veterans of Foreign Wars furnished military honors at the graveside in West View Cemetery.
Rank: Sergeant
Date of birth:
25 September 1928
Date of death: 24 September 1951
County: Monroe
Hometown: Sweetwater
Service Branch: Army
Division/Assignment: 23rd Infantry Regiment, 2nd Infantry Division
Conflict: Korean War
Awards: Purple Heart, Combat Infantrymans Badge, Korean Service Medal, United Nations Service Medal, National Defense Service Medal, and Republic of Korea War Service Medal
Burial/Memorial Location: West View Cemetery, Sweetwater, Monroe County, TN
Location In Memorial: Pillar XXI, Middle Panel
---
Image Gallery
Click a thumbnail below to view at full size.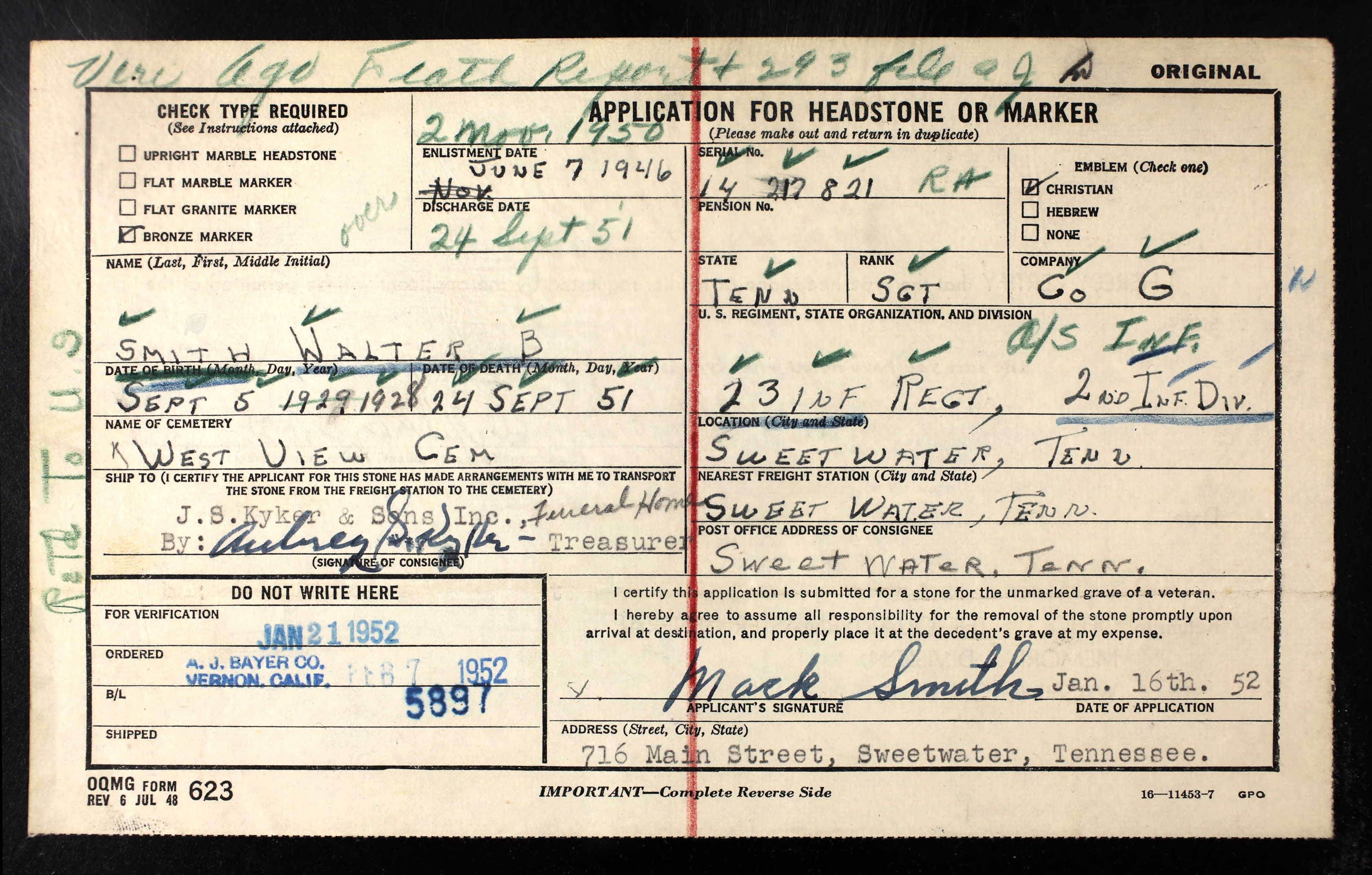 ---