Wallace Akin Kell (born April 25th, 1937) was born and raised in Copperhill, Tennessee in Polk County. Wallace graduated Copperhill High School as the Valedictorian of the Class of 1955.
Wallace graduated Class of 1959 from Tennessee Tech University with an Engineering degree. While at Tech, Wallace commanded the ROTC.
Following graduation, a regular Army Commission in the Infantry was soon followed by successful experiences in Army Rangers, Army Airborne and Army Aviation. Wallace spent July 1965 to June 1966 with the 119th Army Aviation Company (Headhunters) in Vietnam. 119th was designated for that year as the best aviation unit in the US Army.
Wallace was killed in a mid-air collision during a training exercise near Montgomery, Alabama December 20th, 1966.
He is survived by his wife Annette Thorpe of Johnson City, Tennessee, daughter Catherine Martin of Atlanta, Georgia, son Michael Kell of Austin, Texas and four grandsons.
Submitted by Michael Kell
Playground Daily News, 21 December 1966
The Marianna Airport is the site of the old Graham Air Force Base, shut down several years ago. Military aircraft from Fort Rucker and other bases frequently use the air strip in training exercises. The Crash was involving an aircraft from Fort Rucker. A UH-1 helicopter with two men aboard collided with an Air National Guard F-84 jet near Snowdoun, Alabama. Three persons died.
Helicopter fatalities were Captain Wallace A. Kell, 29 of Copperhill, Tennessee and CWO Carl J. Crow, 27, of Tucson, Arizona. Name of the jet pilot was not immediately learned.
Rank: Captain
Date of birth:
25 April 1937
Date of death: 20 December 1966
County: Polk
Hometown: Copperhill
Service Branch: Army
Conflict: Vietnam
Burial/Memorial Location: Arlington National Cemetery, Arlington, Arlington County, Virginia
Location In Memorial: Pillar XXIV, Top Panel
Sponsored by: Tanner and Jay Kell, Annette Thorpe
---
Image Gallery
Click a thumbnail below to view at full size.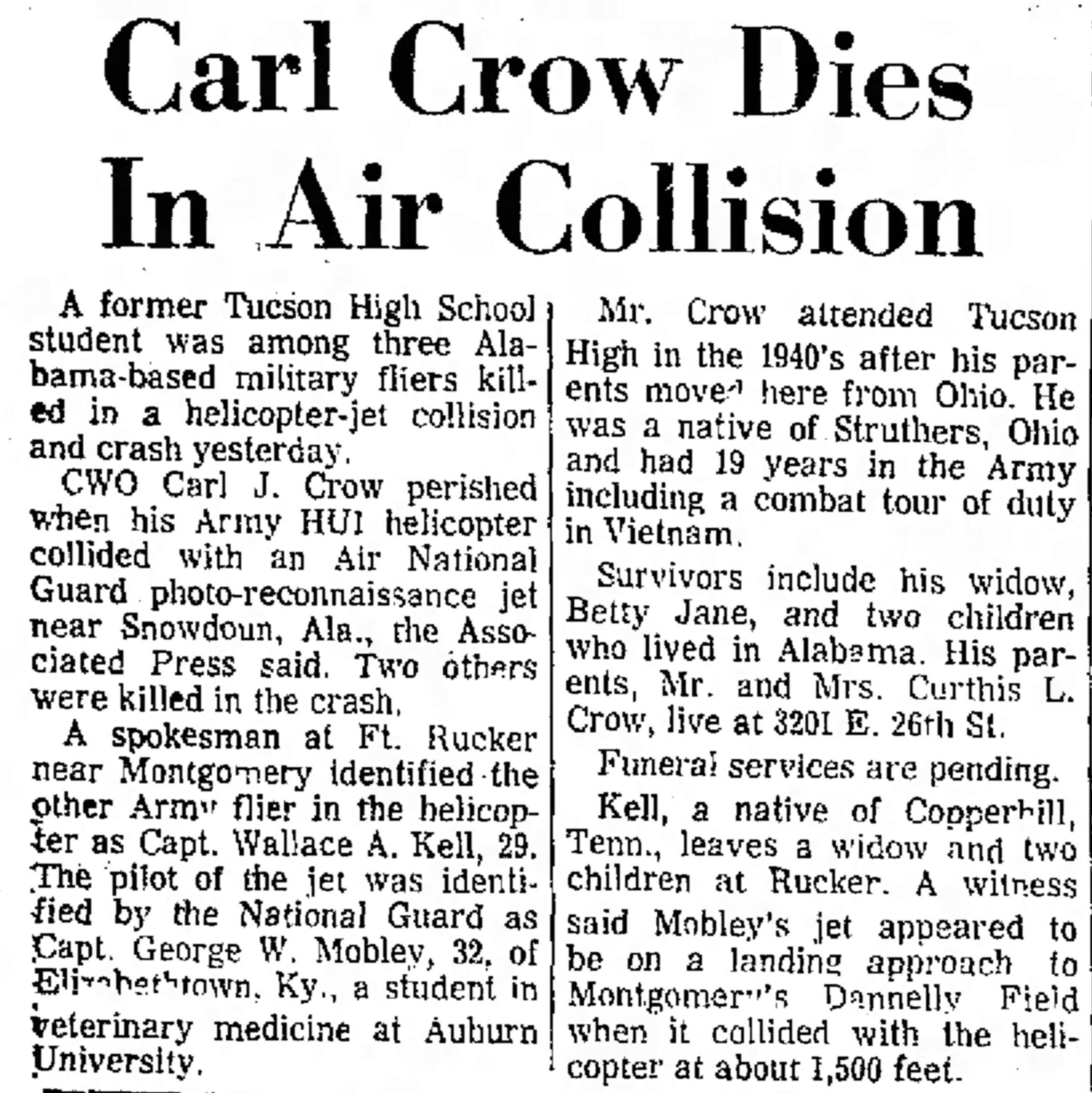 ---