Corporal Thomas Hays Mullins was a member of Company L, 3rd Battalion, 8th Cavalry Regiment, 1st Cavalry Division. He was taken Prisoner of War while fighting the enemy near Unsan, North Korea on November 2, 1950 and died while a prisoner on March 29, 1951. His name is inscribed on the Courts of the Missing at the Honolulu Memorial.
March 22, 2018
Fulfilling Our Nation's Promise
Funeral Announcement For Soldier Captured During The Korean War
The Defense POW/MIA Accounting Agency (DPAA) announced today that the remains of a U.S. serviceman, recently accounted-for from the Korean War, are being returned to his family for burial with full military honors.
Army Cpl. Thomas H. Mullins, 18, of Harriman, Tennessee, accounted for on June 8, 2017, will be buried March 29 in St. Petersburg, Florida.  On Nov. 2, 1950, Mullins was a member of Company L, 3rd Battalion, 8th Cavalry Regiment, 1st Cavalry Division.  He was reported missing in action on Nov. 2, 1950, following combat between the Chinese People's Volunteer Forces (CPVF) and his regiment, in the vicinity of Unsan, North Korea.  Approximately 600 men were killed, captured or missing from his battalion.  Mullins was subsequently declared missing in action.
At the end of the war, during "Operation Big Switch," where all remaining prisoners of war were returned, former prisoners were interviewed.  One reported that Mullins died while being held in POW Camp 5, Pyokdong, North Korea.
On Dec. 14, 1993, North Korea unilaterally turned over 33 boxes containing remains believed to be unaccounted for Americans from the Korean War.  The remains were reportedly recovered from Tongju-ri, Pyokdong County, North Pyongan Province, North Korea, which was the known location of POW Camp 5.
To identify Mullins' remains, scientists from DPAA and the Armed Forces Medical Examiner System used mitochondrial (mtDNA) and Y-chromosome (Y-STR) DNA analysis, which matched two cousins, as well as anthropological analysis, which matched his records, and circumstantial evidence.
Today, 7,709 Americans remain unaccounted for from the Korean War. Using modern technology, identifications continue to be made from remains that were previously returned by North Korean officials or recovered from North Korea by American recovery teams. Mullins' name is recorded on the Courts of the Missing at the National Memorial Cemetery of the Pacific, along with the others who are missing from the Korean War. A rosette will be placed next to his name to indicate he has been accounted for.
For additional information on the Defense Department's mission to account for Americans who went missing while serving our country, visit the DPAA website at www.dpaa.mil, find us on social media at www.facebook.com/dodpaa  or call (703) 699-1420.
The Knoxville News-Sentinel, April 1, 1951
Pfc. Thomas H. Mullins, 18-year-old son of Mr. and Mrs. Oscar Mullins, 212 Clinton Street, Harriman, is missing in action. He has been missing in Korea since Nov. 2, the War Department said. Pfc. Mullins was in the 1st Cavalry Division. The last letter from him was postmarked Oct. 28. His parents had contacted the Red Cross and others, but no word was received until March 5. Pfc. Mullins attended Harriman High School. His only brother, Oscar L. Mullins, is in the army in Germany.
Rank: Corporal
Date of birth:
29 March 1932
Date of death: 29 March 1951
County: Roane
Hometown: Harriman
Service Branch: Army
Division/Assignment: 8th Cavalry Regiment, 1st Cavalry Division
Conflict: Korean War
Awards: Purple Heart, Combat Infantrymans Badge, Prisoner of War Medal, Korean Service Medal, United Nations Service Medal, National Defense Service Medal, Korean Presidential Unit Citation, and Republic of Korea War Service Medal
Burial/Memorial Location: Honolulu Memorial
Location In Memorial: Pillar XXI, Middle Panel
---
Image Gallery
Click a thumbnail below to view at full size.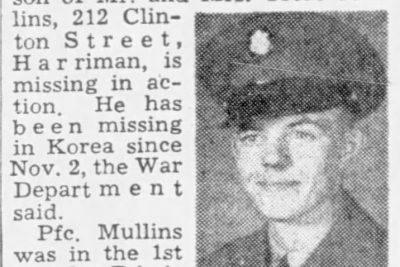 ---