Private First Class Bernard was a member of B Company, 1st Battalion, 502nd Infantry, 101st Airborne Division. His tour began on Mar 7, 1968,
and he was killed in action on June 16, 1968, in Thua Thien, South Vietnam. He is memorialized on the Vietnam Memorial Wall at Panel 57W Line 034.
Pfc. Bernard was repatriated to his hometown and was buried at North Fork Baptist Church Cemetery, Rogersville, Hawkins County, Tennessee.
"Tommy and I are distant cousins. He was born in 1947 in the small Tennessee Community of Beech Creek. He was victim of rheumatic fever, falling two school years behind. We entered the Army together 20 September 67 and went to Fort Campbell for BCT. He then went on to Infantry Training at Fort Polk. We were able to write in RVN and Tommy never had an unkind word to say to anyone, even the NVA. We fought together in the Tet Offensive, only being concerned for myself and his buddies in the 101st Airborne divison at Hue. He was KIA June 1968. Tommy was awarded the Bronze Star, Purple Heart and Combat Infantrymans Badge, 11 total military awards from the United States and RVN." -Gary Beal
"We usually only used each other's last names, so I didn't know Tom's first name until I looked him up on this website. I was there when he died. We were sweeping through a village. Bernard was making his way through a bamboo hedgerow when he triggered a booby trap. I went to see if there was anything I could do to help. One of our medics got there first and did all he could, but there was no hope. If I remember right, the fatal injury was to the back of his head. We had spent a fair amount of time swapping stories. There was always plenty of time for that. He was a farm boy from the south. I remember him telling me how to gain maximum cooperation from a balky horse. Seemingly an otherwise gentle sort, he said you had to beat the … out of a horse to get it to go along with your agenda. Not exactly a horse whisperer. I miss him." -Bill Foreman
Rank: Private First Class
Date of birth:
30 May 1947
Date of death: 16 June 1968
County: Hawkins
Hometown: Rogersville
Service Branch: Army
Division/Assignment: 502nd Infantry Regiment, 101st Airborne Division
Conflict: Vietnam
Awards: Bronze Star Medal, Purple Heart, Combat Infantrymans Badge, National Defense Medal, Vietnam Service Medal, and Vietnam Campaign Medal
Burial/Memorial Location: North Fork Baptist Church Cemetery, Rogersville, Hawkins County, TN
Location In Memorial: Pillar XXIII, Top Panel
Sponsored by: Bob Parker
---
Image Gallery
Click a thumbnail below to view at full size.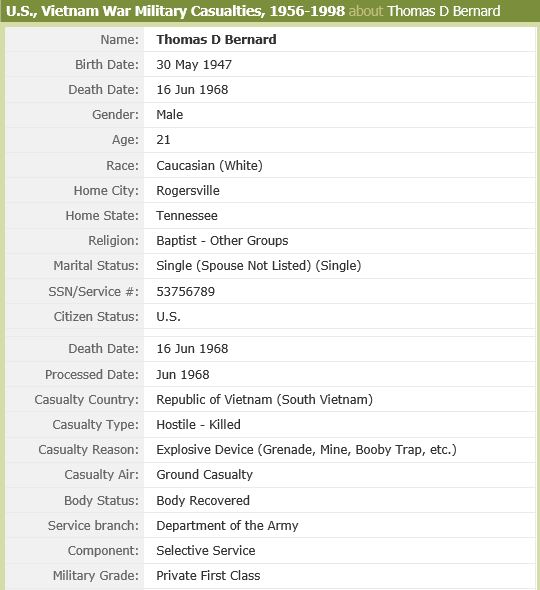 ---