Enlisted on October 21, 1941, in Fort Oglethorpe, GA
Parents: James Oscare and Betraver Flanagin Sunderland
Siblings: Nellie Mae Sunderland, Frank Chelso Sunderland, Chelsie F. Sunderland, Jess Oscar Sunderland, Mary Evelyn Sunderland, John Holcomb Sunderland, Edgar Fletcher Sunderland, Roy Alvin Sunderland, Ruth Allene Sunderland, Dudley Eugene Sunderland, William Robert Sunderland, Donald Ellis Sunderland, and Marshall Lynn Sunderland
At the time this picture was taken Sunderland had come home on leave and reported back to Camp Stewart, GA. He was then assigned to Camp McCoy, WI, where after nine months of training he was sent to Germany on November 12, 1944. He spent Thanksgiving that year on the seas and landed in London on Christmas Day. He died April 24, 1945, defending his country in Drivenden, Germany, under General George S. Patton in the 76 Division, Company K, 304th Infantry Regiment.
On May 26, 1949, the U.S. War Department confirmed recovery of Ted Sunderland's remains in Germany and was awaiting interment orders.
Buried on August 19, 1949, in the Sunderland Family Section, block A, lot 17, grave B, Mt. Olive Cemetery, Knoxville, TN.
Rank: Staff Sergeant
Date of birth:
12 April 1920
Date of death: 24 April 1945
County: Knox
Hometown: Knoxville
Service Branch: Army/Army Air Forces
Division/Assignment: 304th Infantry Regiment, 76th Infantry Division
Theater: Europe
Conflict: World War II
Burial/Memorial Location: Mt. Olive Cemetery, Knoxville, TN
Location In Memorial: Pillar VIII, Middle Panel
---
Image Gallery
Click a thumbnail below to view at full size.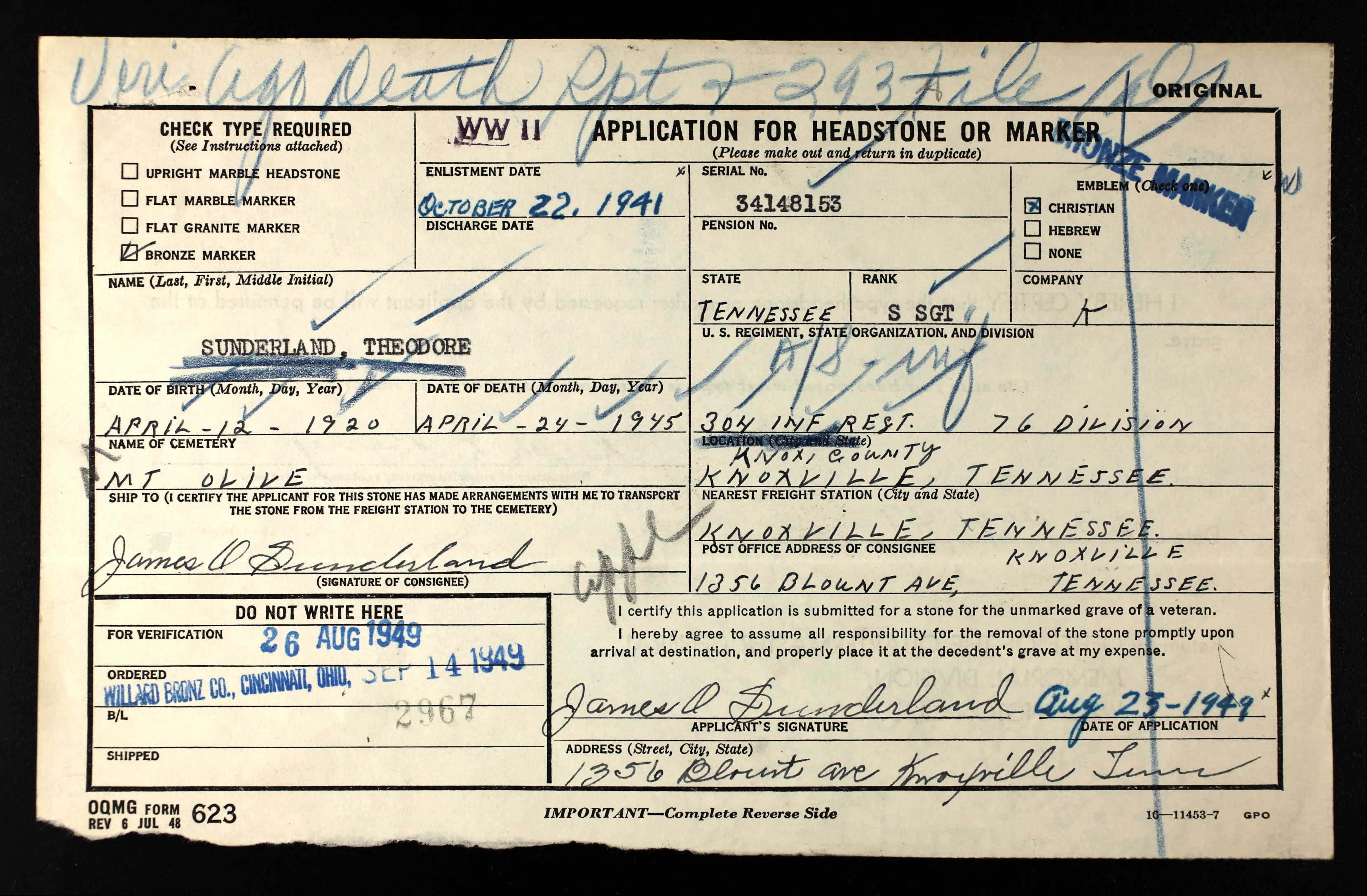 ---