Steven Jay Popkin
Home of Record official Springfield
State official MA
Date of Birth Thursday, March 31, 1938
Sex Male
Race Caucasian
Marital Status Married
Branch: Army
Rank: Captain
Serial Number: O5212776
Component: Reserve
Pay grade: O3
MOS Military Occupational Specialty code: 1980
Start of Tour Saturday, April 29, 1967
Date of Casualty Wednesday, February 28, 1968
Age at time of loss 29
Casualty type A1 Hostile, died
Reason Air loss – Crashed on land Pilot – Fixed wing aircraft
Country South Vietnam
Province Kien Tuong
The Wall Panel 41E – Row 071
United States Army Captain. He piloted a OV-1C Mohawk that is believed to have experienced mechanical problems and crashed while on a visual reconnaissance mission in Kien Phong, South Vietnam. His aerial observer, Capt Joseph C Doyle was also killed in the crash.
Awards
Expert Infantry Badge
Army Aviator Wings
Distinguished Flying CrossPosthumous Award
Air Medal with Nine Oak Leaf Clusters
Air Medal for Heroism Posthumous Award
Bronze Star Medal Posthumous Award
Purple Heart Posthumous Award
National Defense Service Medal
Vietnam Service Medal
Vietnam Campaign Medal
National Order of Vietnam 5th Class
Burial
Knoxville National Cemetery, Knoxville, Knox County, Tennessee, USA
Plot Section C Grave 6870B
I was so young when my father was killed. So young that I do not have any clear memories of him. That, I think, is the hardest part. But I have heard from many that knew him, and I am proud to be his son. My father was a true hero, and will always be that to me. My son is due to be born this coming June, and I know that my mom and dad would be so very proud as they would be for the wonderful children my two brothers have. If only they were here now to share in the joy. That would be my one wish. Though I never got the chance to know you, I miss you dad. You and mom are forever in my thoughts. -Submitted by his son, Joshua Popkin
A friend
A Great Guy
Everyone who knew Steve liked him. His smile, biting wit, sarcastic humor, and his professional ability made him one of the best in the company. He was a realist and saw the war for what it was, not the idealistic deliverance of South Vietnam from the horrors of communism, but the day-to-day routine of pre-flight inspection, mission planning, intel briefings and the often monotonous 2-3 hour flights over triple canopy jungle. And also the occasional mortar attacks and ground probes – especially after the Tet Offensive. Steve took all this in stride and often uttered what most of us thought this place sucks! The primary target for his witticisms and good-natured barbs was the Imagery Interpretation Section, even going so far as to get a T-shirt made with the caveat I.I. Sucks on the front. What a guy! We knew Steve wanted so much to get home – he had a new son and hopefully that lad has carried on in his dad's footsteps. That February day was so sad – Steve went up to give a newbie Capt from G2 Air an orientation ride – and they came back, their bodies wrapped in parachute cloth on a chopper – I won't forget that and I cried. I still miss you Steve. God rest your soul and shalom.
Wednesday, June 21, 2006
Charles Shockley
CSHOCK1@ix.netcom.com
Fellow Pilot at Can Tho with the 244th Avn Co.
I remember Popkin, as we called him, as a very outgoing person with a joy of life concealed under his humor through cynicism. The last words I ever heard from him was his loud declaration just before he entered his hut. THIS PLACE SUCKS! We all laughed and felt the same. He then got his gear to go to the flight line, took off in his OV-1 Mohawk and never came back. A friendly Vietnam Outpost saw the crash. There was no radio call or emergency declared as I understood it. He was a good soldier and is not forgotten! Captain Charles C. Shockley 244th Avn. Co.
Saturday, May 29, 1999
Bruce Gaylord
bgaylord@bbtel.com
served with the good Captain
Irvington, KY 40146
You were deeply missed, Sir!
I served as an observer and flew with Captain Popkin a few times. He was an excellent Army aviator and an officer the enlisted men respected. His humor is what endeared him to all. All of the observers still believe that he should not have been flying with the untrained in the right-seat. I have no idea how he got the nick-name little Stevie Wonder but somehow it fit. R.I.P.
Tuesday, April 26, 2005
D. BURT
A GRATEFUL AMERICAN
RHODE ISLAND USA
**TO HONOR AN AMERICAN HERO NOT FORGOTTEN**
"Our debt to the heroic men and valiant women in the service of our country can never be repaid, they have earned our undying gratitude. America will never forget their sacrifices". – PRESIDENT HARRY S. TRUMAN ~ ~ ~ CAPT POPKIN, UNITED STATES ARMY – Although many years have passed, you are not forgotten this day nor will you ever be. I will forever be grateful for your honorable service and supreme sacrifice that you have so courageously bestowed upon our nation. You will forever live in the hearts of all of those you have touched. ~~~~ I am very grateful and would like to honor all of our Vietnam veterans who have so proudly and courageously served our country. No veteran should ever be forgotten. The veteran who lived through this horrible war, left with everlasting memories and whose lives may never be the same, the disabled veteran who returned with hardships and many permanent reminders and the pain of that war, the POWMIA veteran we wait for and whose family and friends are tormented for so, so long not knowing and the fallen veteran who died at such a young age leaving their families devastated forever – all had one thing in common and that was to fight for our freedom, our country – we owe them so much and a thank you is where to begin and to never forget them for their gallantry, fortitude and valor. I salute each and every one of them.
Friday, March 31, 2006
Rank: Captain
Date of birth:
31 March 1938
Date of death: 28 February 1968
County: Hamblen
Service Branch: Army
Division/Assignment: 244th Aviation Company, 307th Aviation Battalion
Conflict: Vietnam
Awards: Expert Infantry Badge, Army Aviator Wings, Distinguished Flying Cross, Air Medal with Nine Oak Leaf Clusters, Bronze Star, Purple Heart, National Defense Service Medal, Vietnam Service Medal, Vietnam Campaign Medal
Burial/Memorial Location: Knoxville National Cemetery, Knoxville, Knox County, TN
Location In Memorial: Pillar XXII, Bottom Panel
---
Image Gallery
Click a thumbnail below to view at full size.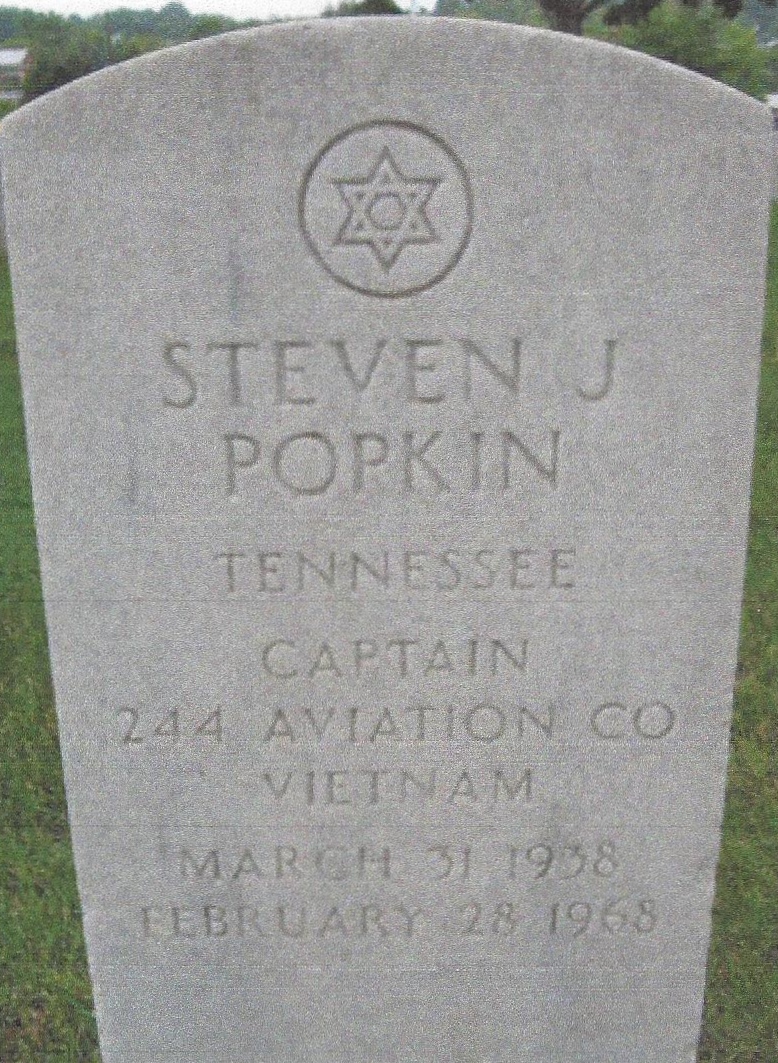 ---