Steve Julius Dockery
Military Data
Unit A Company, 2nd Battalion, 22nd Infantry Regiment, 25th Infantry Division, USARV
Casualty Data
Start Tour 23 July 1968
Incident Date 19 September 1968
Casualty Date 19 September 1968
Age at Loss 20
Location Tay Ninh Province, South Vietnam
Remains Body recovered
Casualty Type Hostile, died outright
Casualty Reason Ground casualty
Casualty Detail Gun or small arms fire
Vietnam Wall Panel 43W Line 035
Burial
Ironsburg Cemetery, Ironsburg, Monroe County, Tennessee, USA
Ada Mae Edwards Bunch
childhood friend and neighbor
Tellico Plains Tenn Tellico Plains Tenn 37385 monroe
You gave all.
Today I sat in a class room like the one that Stevie and I sat in. But I think of the years that have passed since we sat together in class I still miss him he was a special person. I love him and I love his family. Many have now gone to be with him now. I thank him and his family for all he gave and I hope other people will realize just what much we are in debt to these brave young men who died for us. Again thank you. I will never forget you Stevie Dockery.
May 12, 2009
Ironsburg Cem
Son of Mr. and Mrs. Dillard Dockery of Coker Creek
He entered service Feb. 20 of this year and had only been in Vietnam only 8 weeks. He was a machine gunner on an armored personnel carrier.
A graduate of Coker Creek Elementary School, he attended Tellico Plains High School one year. He worked as a carpenter before entering the service.
He was an ardent out-doorsman and loved to fish and hunt. He love to watch and play football. He was a member of the Ironsburg Meth. Church where funeral services will be held.
Grandparents Mr. & Mrs. Bill Dockery of Englewood and George Brannon of Coker Creek.
Rank: Private First Class
Date of birth:
18 April 1948
Date of death: 19 September 1968
County: Monroe
Hometown: Tellico Plains
Service Branch: Army
Division/Assignment: 22nd Infantry Regiment, 25th Infantry Division
Conflict: Vietnam
Awards: Bronze Star with Oak Leaf Cluster, Purple Heart
Burial/Memorial Location: Ironsburg Cemetery, Ironsburg, Monroe County, TN
Location In Memorial: Pillar XXIV, Top Panel
---
Image Gallery
Click a thumbnail below to view at full size.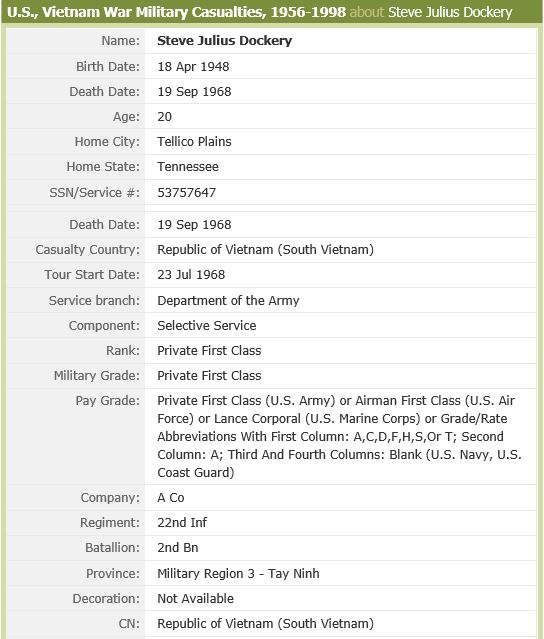 ---