Stephen was so wonderful! He not only was my little brother he was my best friend. He was almost my twin we were 11mths 8 days 7 hrs and 10 min apart we always used to laugh when people would ask us how far apart we were because it was a race to see who could spit out all of that faster. I feel so blessed to have had Stephen as my little brother. You can ask anyone who knew him and they will tell you he was so much fun he always smiled and if you werent smiling you would be by the time he was done. He just loved everyone no matter what he didnt care everyone was equal to him. Not only was he a good brother and friend he was also an AWESOME uncle. He spoiled my kids rotten. My son still ask about him everytime he sees his picture and my daughter who does not talk yet just lays her head on his pictures and smiles and coos. Soo He was very loved and very very missed!! Thank you for including him in this memorial!!
–Submitted by his sister, Tiffany Clouse
Stephen Dearmon was laid to rest at East Tennessee Veterans Cemetery in Knoxville.
Article by Gary Nelson
The Crossville Chronicle, April 9, 2009
Copyright 1999-2008 cnhi, inc.
Robin Hartke wishes she could be sitting at the Waffle House sipping coffee until the wee hours of the morning with her precious son; instead, she is mourning her loss after he was killed last Friday while serving his country in Iraq.
Former Crossville resident Lance Corporal Stephen Fitzgerald Dearmon, 21, was a combat photographer who served with Headquarters and Services Company, 2nd Marine Logistics Group, II Marine Expeditionary Force. Stephen's mother, Robin, and his sister, Tiffany Clouse, who now live in Knoxville, are both heartbroken.
"He was such a loving, caring, good-hearted boy who would give anyone the shirt off his back. You couldn't ask for a better son. He hung out with his mom like we were best friends. He wasn't ashamed to go shopping with me or be seen with me anywhere," Robin Hartke said. "A lot of times we would just sit and drink coffee together at the Waffle House until the wee hours of the morning just talking and laughing. Stephen loved to laugh. He would talk to me about anything and I would listen … I just miss him so much, I will never be the same."
Dearmon was killed on his tour of duty in Iraq Friday, April 3, 2009. The Department of Defense announced Dearmon's death in a press release. The release states Dearmon was supporting Operation Iraqi Freedom and died "as a result of a non-hostile incident in Anbar province, Iraq."
Dearmon attended Cumberland County High School and was on the wrestling team at CCHS. He attended CCHS from 2001-2004 then moved to Cookeville and attended Cookeville High School for his senior year. He joined the Marine Corps in August 2007 and joined his current unit in April 2008. He was promoted to the rank of lance corporal on Oct. 1, 2008.
His decorations include the National Defense Service Medal, the Global War on Terrorism Service Medal and the Iraq Campaign Medal.
His father, William Dearmon, remains a resident of Crossville and the fallen Marine has many relatives living in Cumberland County as well. "It's just such a great loss. I don't know what to say. I feel like half of my heart has been ripped out," Will Dearmon said. Stephen's father served in the U.S. Army from 1982 through 1991. He is a truck driver. "With my schedule it was hard for me to talk with him that much lately … I'm going to miss him," he said.
Stephen was doing what he loved working as a photographer with the Marines, according to the family. "They told us it would be several weeks or even months before the details of what happened would be released," Stephen's mother said. Until then, the family is left waiting for answers.
"He's my little brother and he'll always be my hero," Tiffany said. She remembers how good he was with her children and her husband, Zack. "He was great with everyone. Always the funny one," she said.
Rank: Lance Corporal
Date of birth:
5 May 1987
Date of death: 3 April 2009
County: Cumberland
Hometown: Knoxville
Service Branch: Marine Corps
Division/Assignment: 2nd Marine Logistics Group
Conflict: Iraq
Awards: National Defense Service Medal, Global War on Terrorism Service Medal, Iraq Campaign Medal
Burial/Memorial Location: Tennessee State Veterans Cemetery, Knoxville, Knox County, TN
Location In Memorial: Pillar XXV, Top Panel
---
Image Gallery
Click a thumbnail below to view at full size.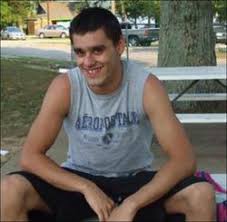 ---