On 26 April 1970, Captain Samuel Earl Asher was serving as Company Commander of E Company, 2nd Battalion, 502nd Infantry, 101st Airborne Division in Thua Thien Province, South Vietnam. Captain Asher was killed that day by artillery, rocket or mortar fire.
His name is inscribed on Panel W11 Line 53 of the Vietnam Veterans Memorial Wall.
Sam Asher's short but full life, honors all East Tennesseans.
The Courier News, Clinton Tn. 31 August 2016
Submitted by Wayne H. Morris, Colonel U.S. Army (Ret) ORHS Class of 1960
Sam Asher was born on Nov. 3, 1941 in Oak Ridge, The oldest son of Earl and Helen Asher who had three boys.
Sam tackled life in "the Ridge" with exuberance. Oak Ridge in the 50s was a great place for a young man to live. He thrived in this environment as a scholar, athlete, Boy Scout, lover of old cars and racing, girls, the Wildcat Den on Friday and Saturday nights and life in general!
Sam's father was an independent electrical contractor and his mother a teacher in Oak Ridge School system. Sam was a skilled electrician and quite often worked for his father.
Whether he was running through the woods at Boy Scout Camp Pellissippi, running track, wrestling, boxing, or working on his classic Mercury, Sam's smile and his energy were infectious.
Not having played football at Jefferson Junior High School, Coach Jack Armstrong would not let Sam try out as a walk-on for the wildcats. The next year he enrolled in high school in Massachusetts and as a walk-on he made the varsity team. He did not know how to give up!
After high school Sam attended Tennessee Tech where he was instantly attracted to the Army ROTC program. After one year he transferred to UT where he quickly became a standout cadet and in his senior year was the student commander of the unit.
Following graduation and commissioning, Sam entered Active Duty, attended Infantry Officer Basic, went to "jump" school and earned his airborne "wings", then completed the extremely difficult Ranger School at Fort Benning, Georgia. Sam was subsequently posted to the 3rd Infantry Division with duty station in Schweinfurt, Germany.
A superb soldier and leader, he advanced to the rank of captain while in the 3rd Division. Near the end of his tour in Germany Sam was married and very soon thereafter he received orders to Vietnam.
Because of his record of service and his potential, Sam was selected to command a rifle company in the famous 101st Airborne Division. E Company, 2/502 Infantry was occupying a jagged hill known as Fire Base Veghel just SW of Hue, surrounded by regular North Vietnamese Army (NVA) troops which were on the attack.
His recon platoon with 1st Lt James Hill in command (now retired 4 star General James Hill) was moving to reinforce Sam. On 26 April 1970, just two weeks after taking command, his mortar platoon was engaging the NVA when an enemy round hit and collapsed a bunker with Sam's soldier inside.
Realizing the danger his soldiers were in he left his command bunker and raced to their rescue just as another enemy round landed beside him. Sam was killed instantly.
Sam was awarded the Silver Star posthumously, our Nation's 3rd highest award for heroism in the face of the enemy.
He was interred in Woodhaven Memorial Gardens in Claxton with full military honors on 6th May 1970. This Vietnam story, sadly, does not end with Sam's burial. Sam's mother Helen, a deeply religious and sensitive lady, could not believe Sam had been killed.
Inconsolable at the funeral, and with constant deep depression thereafter, Sam's death resulted in her own death in 1974 a few hours after the last POW stepped off the plane. Helen was a superb teacher wife and mother. She is just as much a casualty the Vietnam conflict as Sam. Helen rest beside Sam and his father Earl in Claxton.
Sam Asher is mourned by family, classmates, his soldiers and strangers who visit the Vietnam Memorial Wall. You can find Sam on the Wall on panel W11, Line 53; or in the East Tennessee Veterans Memorial located in the World's Fair Park in Knoxville on pillar XXII, Top Panel. He is also on the Veterans' Plaque located by the Anderson County Courthouse in Clinton. Sam is an Anderson County patriot and American hero.
Sam Asher photo courtesy of the VVMF ~ Katey Mishler
Rank: Captain
Date of birth:
3 November 1941
Date of death: 26 April 1970
County: Anderson
Hometown: Oak Ridge
Service Branch: Army
Division/Assignment: 502nd Infantry Regiment, 101st Airborne Division
Conflict: Vietnam
Awards: Silver Star, Purple Heart, Combat Infantryman Badge, Bronze Star, Air Medal, National Defense Service Medal, Vietnam Service Medal, Vietnam Campaign Medal, Parachutist Badge
Burial/Memorial Location: Woodhaven Memorial Gardens, Claxton, Anderson County, TN
Location In Memorial: Pillar XXII, Top Panel
Sponsored by: Thomas Rhoads
---
Image Gallery
Click a thumbnail below to view at full size.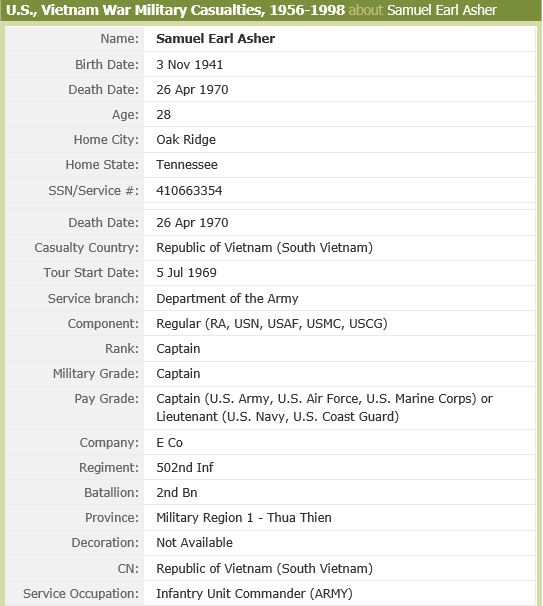 ---