Corporal Samuel A. Bush #14134088 US Army Air Forces served with the 820th Bomber Squadron, 41st Bomb Group Medium, flying in a B-25, with serial number 42-64893, 7th Air Force in the Pacific Campaign. His unit was based in the Marshall Islands at the time of his death on 2 January 1944. The entire crew was declared killed in action. They are listed on the Tablets of the Missing, Honolulu Memorial, Hawaii.
Corporal Bush left a daughter, Chloe Bush.
Pilot, 1st Lt. Gerard J. Galvin
Co-Pilot, 2nd Lt. John T. Moyer
Navigator, 1st Lt. Charles F. Jennings
Radio  Operator, T/Sgt Steve J. Miko
Gunner, S/Sgt John W. Major
Gunner, Cpl. Samuel A. Bush
MIA January 2, 1944
From the Pacific Wrecks web site:
Mission History
Took off from Tarawa Airfield. One of nine B-25's flying at low altitude for a strike at Emiej Island part of Jaluit Atoll. Struck by anti-aircraft fire, and damaged. Reportedly losing part of its right wing, which struck the tail and caused the plane to invert, and then crashed into the lagoon off Imroij. After the war, the Japanese reported all died in the crash.
Wreckage
The debris field of this aircraft was discovered in 1998 by Matt Holly. Interviews with locals by Matt Holly reveals that the bodies were originally brought onto the beach, and personal effects removed, then dumped on the far side of the reef, near the crash site by the locals under orders from the Japanese.
Rank: Corporal
Date of death: 2 January 1944
County: Hamilton
Hometown: Chattanooga
Service Branch: Army/Army Air Forces
Division/Assignment: 820th Bomber Squadron, 41st Bomber Group, Medium
Theater: Pacific
Conflict: World War II
Awards: Air Medal, Purple Heart
Burial/Memorial Location: Honolulu Memorial, Honolulu, Hawaii
Location In Memorial: Pillar XI, Bottom Panel
---
Image Gallery
Click a thumbnail below to view at full size.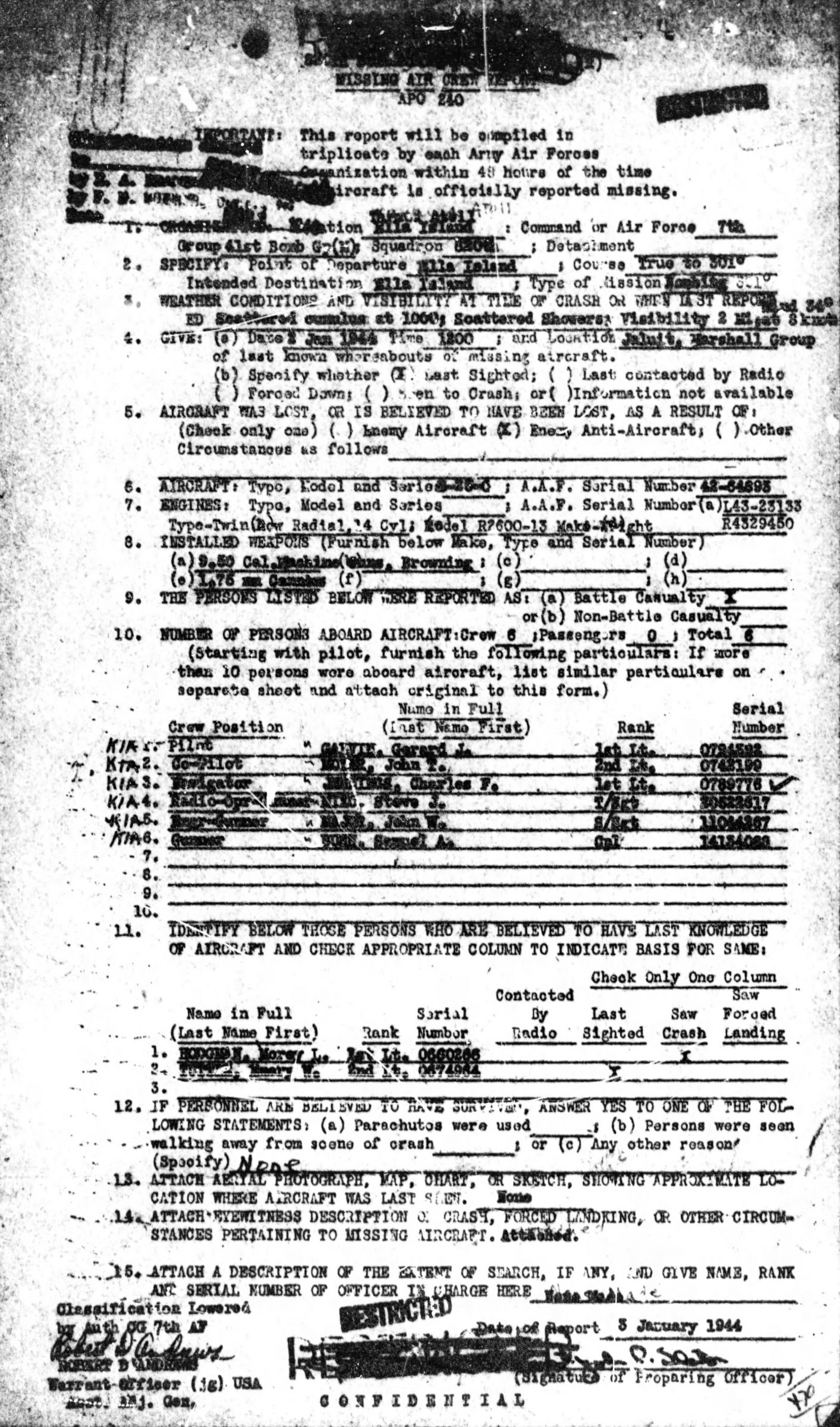 ---