For decades, no one knew for sure what had happened to Army Corporal Samuel Carson Harris Jr. The kind and gentle soldier from East Tennessee had been stationed in Guam for a couple of years and was on the verge of ending his tour of duty when the Korean War broke out. Instead of heading home, Harris went off to war, and after a brutal battle in North Korea in November 1950, the young soldier was declared missing in action.
Much of the mystery behind his disappearance was finally solved April 3, 2009, when the U.S. Department of Defense disclosed that human remains found nine years ago in North Korea were positively identified as those of Harris and three other soldiers in his company.
On April 10, 2009, more than a half-century after he had been set to return to his homeland, the Rogersville native was buried with full military honors at Arlington National Cemetery just outside of Washington.
"We feel like our hero is home," said his sister, Anne Harris of Austin, Texas. Another sister, Ruth Harris Griswold of Marietta, Ga., said Harris' disappearance left a shadow of grief that had hung over his family for years. "It's a living hell," she said. "You don't ever forget them."
Pentagon officials said the remains of Harris and the other soldiers were found on a site overlooking the Kuryong River in P'yongan-Pukto Province, where U.S. soldiers were believed to be buried.
Harris and the missing soldiers had been assigned to Company C, 65th Combat Engineer Battalion, 25th Infantry Division. The company came under intense enemy attack when it was occupying a position on a hill south of the Kuryong River, just east of what is known as Camel's Head Bend, on November 25, 1950. Two days later, Harris and the other men were reported missing in action.
A joint team of officials from the United States and the Democratic People's Republic of Korea recovered the human remains and non-biological evidence in 2000. Military scientists used DNA samples and dental comparisons to make a positive identification and were able to complete their work in September 2008.
In Harris' case, a gold crown on the back of a broken front tooth helped to positively identify his remains, Greer said. Griswold got word of the discovery last December, and when military officials showed her the photographic evidence a month later, she knew for certain her brother had been found. "The tooth was his," she said. "How many teeth are you going to see like that."
Harris was the second of six children born to Samuel Carson Harris Sr. and Maude Bates Harris of Rogersville. His siblings remember him as a friendly, gentle soul who experienced personal hardship at a very young age. When he was a toddler, Harris fell and hit his head on a metal bucket. Doctors inserted a steel plate in his head, but he was paralyzed for years. One day, when he was still a boy, the paralysis miraculously lifted.
Just 21 when he died, Harris loved engineering and the Army and planned to make it his career, Griswold said. His parents got word of his death around Christmastime, but kept the news from his two youngest siblings because they didn't want to ruin their holidays.
It seemed somehow fitting, then, when Griswold learned just before last Christmas that her brother's remains had been found. "That was my best Christmas present of all time," she said. Harris' other surviving siblings are Doris Feathers of Piney Flats and Joe Harris of Bristol.
By Michael Collins, Knoxville News Sentinel, April 4, 2009.
His name is inscribed on the Courts of the Missing at the Honolulu Memorial.
The Bristol Herald Courier, January 14, 1954
Mrs. Sam Harris, 1263 Maryland Avenue, has received a presidential citation and Purple Heart awarded to her son, Cpl. Sam C. Harris, who was declared officially dead by the War Department January 4. The posthumous awards were received January 5. The presidential citation reads as follows: "In grateful memory of Corporal Sam C. Harris Jr., who died in the service of his country in the military operations in Korea, and who stands in the unbroken line of patriots who dared to die that freedom might live and grow and increase its blessings. Freedom lives, and through it, he lives – in a way that humbles the undertakings of most men." The citation was signed by Dwight D. Eisenhower. The Purple Heart was awarded to Harris for wounds received in action, which resulted in his death in Korea. The citation reads;
"To all who shall see these presents, greetings: This is to certify that the president of the United States of America has awarded the Purple Heart, established by General George Washington at Newburg, New York, August 7, 1782, to Corporal Sam C. Harris, Jr., RA 276-188, Corps of Engineers, for wounds received in action, resulting to his death in Korea. Given under my hand in the city of Washignton this 4th day of January, 1954."Signed: Robert T. Stevens, Secreatary of the Army and Major General M.E. Bergern, adjutant-general.
Cpl. Harris entered service in 1948, and was reported missing in action November 27, 1950.
Rank: Corporal
Date of birth:
12 April 1929
Date of death: 27 November 1950
County: Sulllivan/Hawkins
Hometown: Rogersville
Service Branch: Army
Division/Assignment: 65th Combat Engineer Battalion, 25th Infantry Division
Conflict: Korean War
Awards: Purple Heart, Korean Service Medal, United Nations Service Medal, National Defense Service Medal, Korean Presidential Unit Citation, and Republic of Korea War Service Medal
Burial/Memorial Location: Arlington National Cemetery, Arlington, VA
Location In Memorial: Pillar XXI, Middle Panel
---
Image Gallery
Click a thumbnail below to view at full size.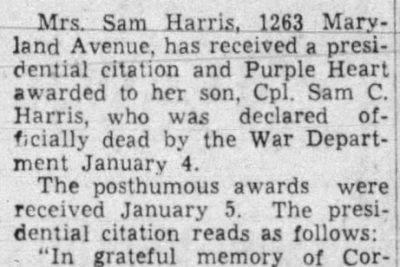 ---