Sergeant First Class Rudolph Swoope was born on July 16, 1928, and was originally from Chicago, Ilinois. He served his country in the Vietnam War in the United States Army, as an infantryman in D Company, 1st Battalion, 505th Infantry, 82nd Airborne Division. He began his tour in Vietnam on December 29, 1968. Less than two months later, on February 27, 1969, SFC Swoope was killed in a gun battle in Binh Duong province, South Vietnam. He was 40 years old at the time of his death. SFC Swoope is buried at Chattanooga National Cemetery in Chattanooga, Tennessee, and is memorialized on the Vietnam Veterans Memorial on Panel 31W, Line 86. The following is a tribute to SFC Swoope:
SFC Swoope attended the drill instructor's course at Fort Dix, New Jersey, with me in September and October 1968. I remember him as a calm and professional noncomissioned officer. As a very young NCO myself at the time (20), I looked up to and respected him for his experience. It was his untimely death just a few months later that caused me not to re-enlist in the Army in July 1969. I would have returned to Vietnam for my second tour as an infantryman, and I felt that if SFC Swoope couldn't beat the odds, what chance did I have.
Posted by: James F. Gebhardt
Relationship: We served together
Friday, May 10, 2002
Rank: Sergeant First Class
Date of birth:
16 July 1928
Date of death: 27 February 1969
County: Hamilton
Service Branch: Army
Division/Assignment: 505th Infantry, 82nd Airborne Division
Conflict: Vietnam
Awards: Bronze Star, Purple Heart
Burial/Memorial Location: Chattanooga National Cemetery, Chattanooga, Hamilton County, TN
Location In Memorial: Pillar XXII, Bottom Panel
---
Image Gallery
Click a thumbnail below to view at full size.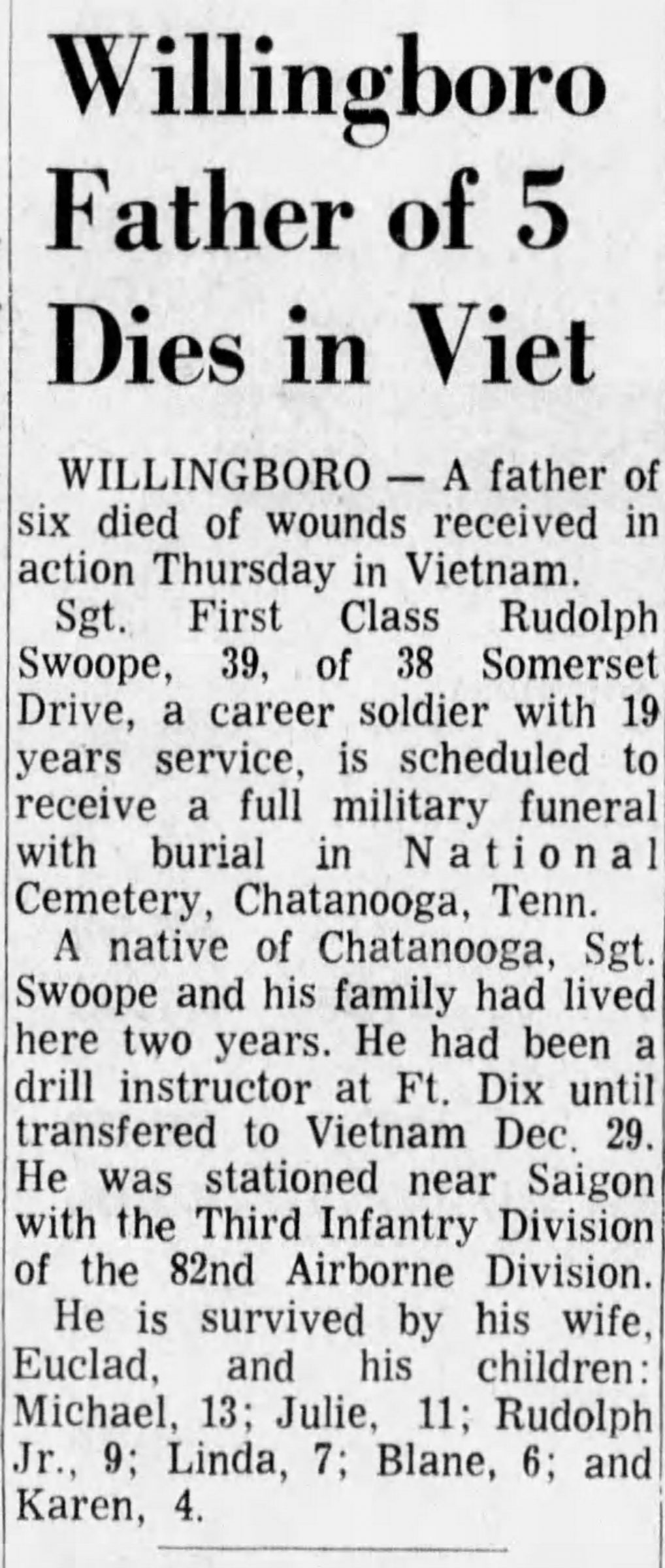 ---