U.S. Army Air Forces, 375th Bomber Squadron, 308th Bomber Group, Heavy
Memorialized at Manila American Cemetery in Fort Bonifacio, Manila, Philippines
Enlisted on October 19, 1942, in Camp Forrest, TN
Parents: Hugh and Mae Lane
Siblings: Everette Lane, Ralph Lane, Acie Lane, Nellie Lane, and Willard Lane
Born in 1915
Died 16 November 1944
Officially declared dead on 18 March 1946
Aircraft B-24J with serial number 44-41451 was on a combat-Recon. Sweep mission from Chengkung, China to the South China Sea. When last contacted by radio at 0230 hours the aircraft was flying near Mengtez, China, over friendly territory.
Crew members
Pilot, 1st Lt Duane S. Beadle
Co-Pilot, 2nd Lt Charles W. Graper
Navigator, 2nd Lt Fiocondo A. Rufini
Bombardier, 2nd Lt Kingdon H. Sterngold
Engineer, Sgt Raymond S. Root
Radio Operator, Cpl Robert W. Martin
Gunner, Cpl William C. Taylor
Gunner, Cpl Rudolph L. Lane
Gunner, Sgt Francis D. Parker
Radar Observer, Cpl Stanley A. Levin
Passenger, 2nd Lt Keith W. Pinto
Rank: Corporal
Date of death: 16 November 1944
County: Knox
Service Branch: Army/Army Air Forces
Division/Assignment: 375th Bomber Squadron, 308th Bomber Group, Heavy
Theater: Pacific
Conflict: World War II
Awards: Purple Heart
Burial/Memorial Location: Manila American Cemetery, Fort Bonifacio, Manila, Philippines
Location In Memorial: Pillar VIII, Middle Panel
---
Image Gallery
Click a thumbnail below to view at full size.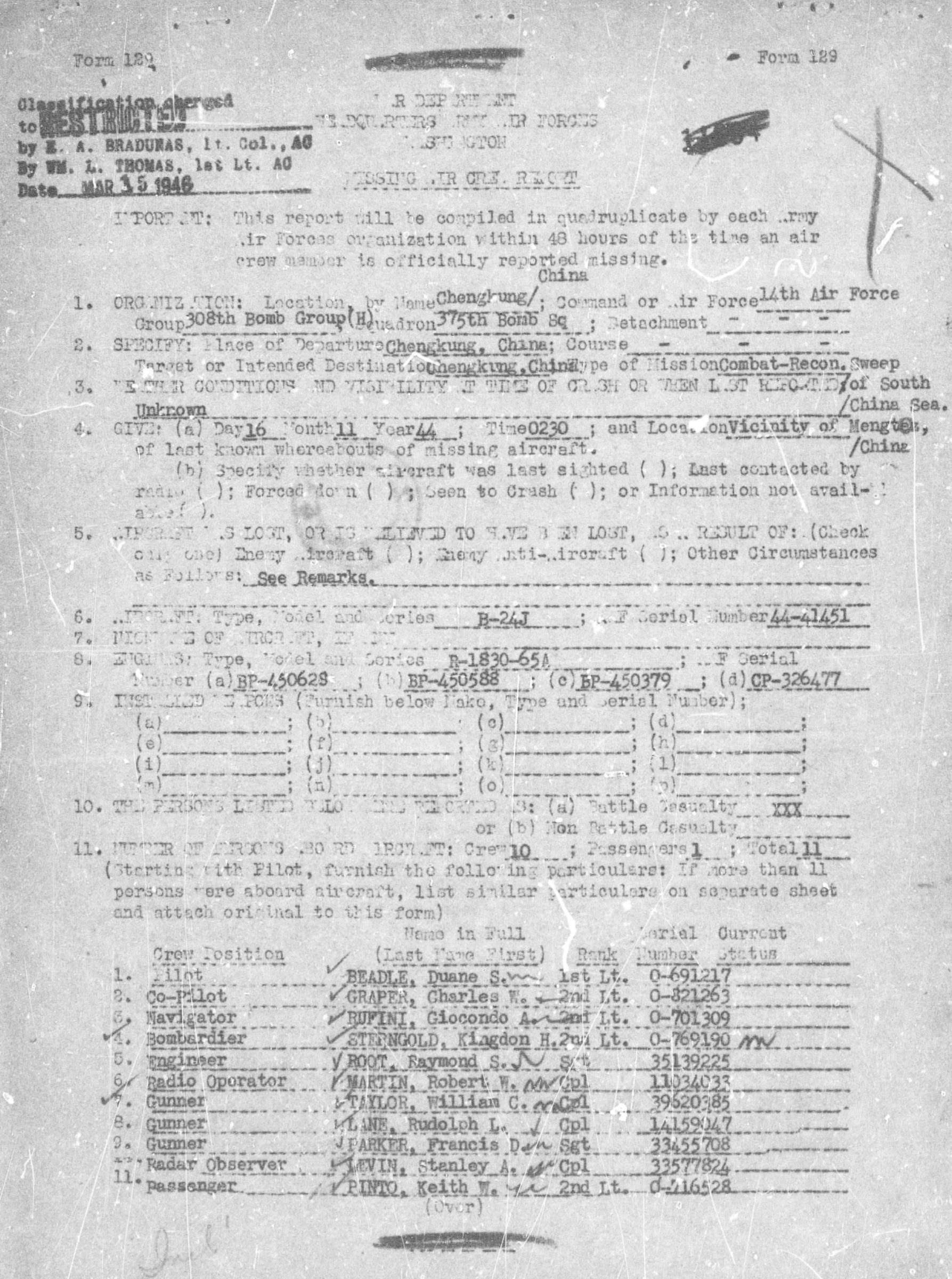 ---