Staff Sergeant Roy E. Carney, US Army Air Forces, was assigned to the 345th Bomber Squadron, 98th Bomber Group, Heavy, The Pyramiders, flying out of Behina, Libya.
On 1 August 1943 the 98th flew the infamous Ploesti Romania Raid, Operation Tidal Wave, to bomb 9 oil refineries around Ploesti. The B-24's were flown in at 200 feet in hopes of surprising the defenders. 53 B-24's where shot down with 660 crewmen.
SSgt Carney was the Tail Gunner on board a B-24D with serial number 41-11886, Nicknamed Lil' Joe, shot down during this mission.
He is listed on the Tablets of the Missing, Florence American Cemetery, Florence, Italy.
Crew of the Lil Joe
1st Lt Lindley P. Hussey Pilot POW Romania
2nd Lt Donald Jenkins Co-Pilot KIA
1st Lt Allan E. Peterson Bombardier KIA
2nd Lt Phillip E. Nelson Navigator KIA
TSgt Lloyd T Fowlkes Engineer KIA
SSgt Raymond A Heisner Gunner POW Romania
TSgt Edmond T. Terry Radioman POW Romania
SSgt James E. Turner Gunner POW Romania
SSGT Roy E Carney Tail Gunner KIA
Rank: Staff Sergeant
Date of death: 1 August 1943
County: Fentress
Service Branch: Army/Army Air Forces
Division/Assignment: 345th Bomber Squadron, 98th Bomber Group, Heavy
Theater: Europe
Conflict: World War II
Battles: Ploesti Raid
Awards: Distinguished Flying Cross, Air Medal with 4 Oak Leaf Clusters, Purple Heart,
Burial/Memorial Location: Florence American Cemetery, Via Cassia, Italy
Location In Memorial: Pillar IX, Top Panel
---
Image Gallery
Click a thumbnail below to view at full size.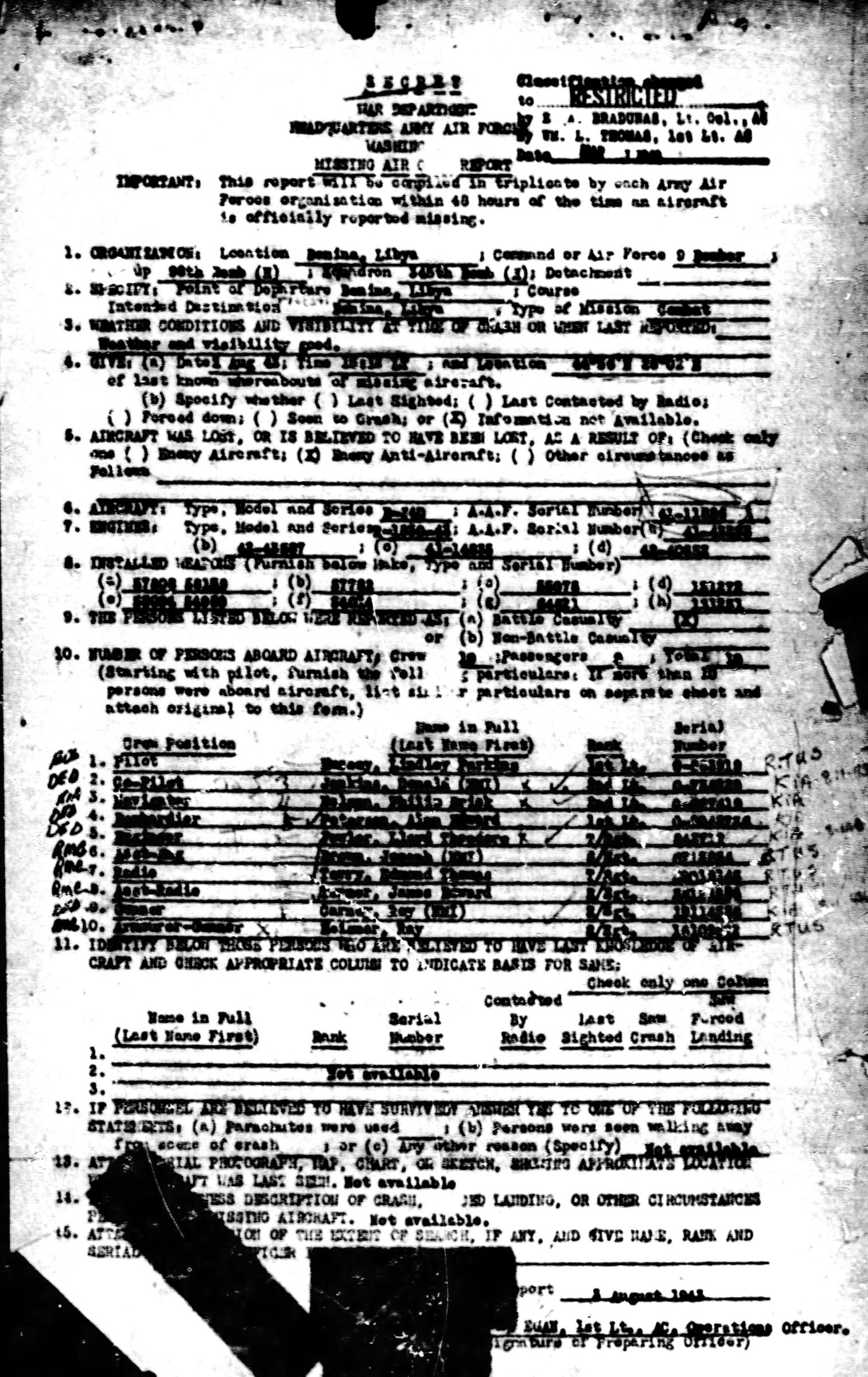 ---