Roscoe Dale Tomlinson
Died 28 May 1944
Staff Sergeant
613th Bomber Squadron, 401st Bomber Group, Heavy
Aircraft B-17G with serial number 42-102581 was on an operational bombing mission to Dessau, Germany. The aircraft was shot down 36,5 km east of Burg by Magdeburg, south of Glienecke, Germany by fighters and crashed with the bomb load.
Crew members
Pilot, 1st Lt Paul Fredrick Scharff
Co-Pilot, 2nd Lt Charles Ansel Eckert
Navigator, 1st Lt Bernard Schwartz
Bombardier, 2nd Lt Robert Earl Hoover
Radio Operator, Sgt Robert Charles Strong
Top Turret Gunner, T/Sgt Richard Xavier Karl
Ball Turret Gunner, S/Sgt Charles H. Bedell Jr.
Tail Gunner, S/Sgt James Montgomery Smallin
Left Waist Gunner, S/Sgt Roscoe Dale Tomlinson
Right Waist Gunner, Sgt Frederick Gordon Pynigar
S/Sgt Tomlinson is buried at Creechs Chapel Cemetery, Whitesburg, Hamblen County in Tennessee.
Rank: Staff Sergeant
Date of death: 28 May 1944
County: Washington
Service Branch: Army/Army Air Forces
Division/Assignment: 613th Bomber Squadron, 401st Bomber Group, Heavy
Theater: Europe
Conflict: World War II
Burial/Memorial Location: Creechs Chapel Cemetery, Whitesburg, Hamblen County, TN
Location In Memorial: Pillar XIX, Bottom Panel
---
Image Gallery
Click a thumbnail below to view at full size.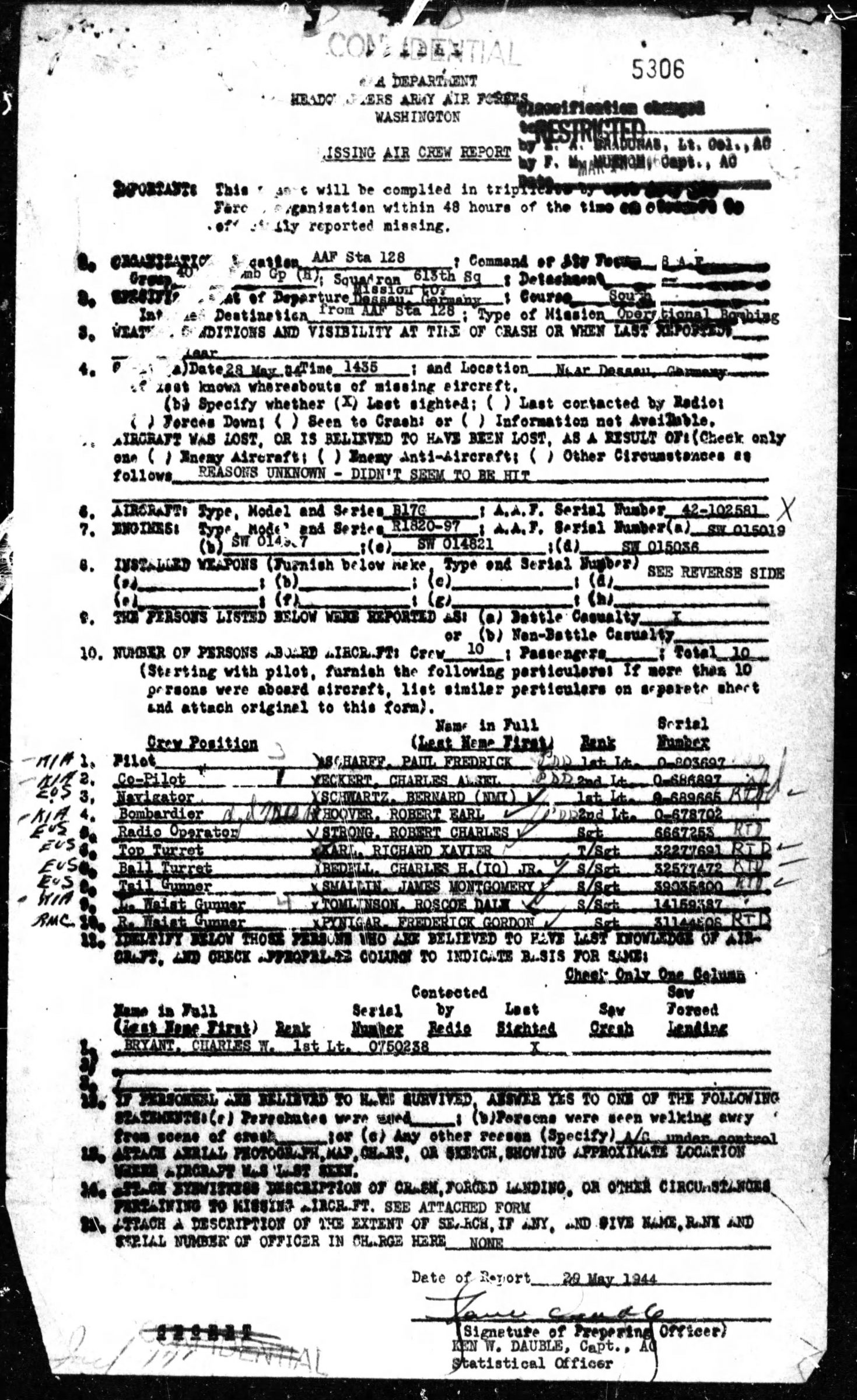 ---