Corporal Robert A. McLoughlin, Jr. was born in Detroit, MI, November 21, 1946. He was a graduate of Knoxville Catholic High School and attended East Tennessee State University, Johnson City for one year prior to entering the US Marines in August 1966. He was a member of Holy Ghost Catholic Church. Cpl. McLoughlin had left Knoxville April 3, 1968, for Vietnam and was killed June 19, 1968, by mortar fire in the Quang Tri province of Vietnam. Burial was at Calvary Cemetery in Knoxville.
TN ANG-6 yrs., GA ANG-3yrs.-USAF Reserve-6 yrs.
3 Honorable Discharges-Served with President George W. Bush Basic Training, others.
Submitted by Dennis Hoey
From the 1st Bn, 9th Marines, Command Chronology for June 1968:
"On 18 June 1968, the Battalion departed Camp Carroll for operations in the Cam Hung area in the vicinity of grid squares YD 0960 to YD 1060. On 20 June, the Battalion returned to Camp Carroll."
During those three days – 18-20 June – the 1/9 Marines lost 18 men. The Command Chronology contains the following description of the landing conducted in the Cam Hung area:
"On 18 June at 0600, 1/9 was staged at Camp Carroll in helo teams in preparation for the battalion lift [which] began at 0730. 3 landing zones were established. The areas were prep fired with artillery and screened by smoke from aircraft just prior to the battalions entering the area. Comapny A and Company D were lifted to the landing zone "WREN" at grid YD077638, Company C and the command group with units of H&S to LZ "GULL" at YD085645 and Company B and CO to LZ "OWL" at YD001636. Prior to completion of the lift the battalion began receiving enemy 82mm mortar fire from as many as 3 enemy positions which were unknown, which did inflict friendly casualties. The lift was completed at approx 0820. Enemy mortar fire continued. 1/9's units were unable to move from the areas pending the arrival of medevac helicopters. A total of [blank] KIA and [blank] WIA were sustained as a result of the enemy fire, the last casualty being evacuated at 1315."
The companies moved out of their respective LZs as their casualties were evacuated, with "A" and "D" Companies moving first, and by late afternoon most units had secured their respective objectives and established night defensive positions. Mortar and occasional small arms fire had been received throughout the day, but air and artillery strikes had reduced the level of enemy activity and the Marines had assaulted, captured, and destroyed two bunker complexes, the second at 2130H. After nightfall sporadic enemy mortar fire continued, and "A" Company received a ground probe. At 2322H, "D" Company and the Command Post were hit by 60mm mortar fire from two directions; although the Marines responded with organic weapons, artillery, and a "Spooky" gunship, the incoming fire killed two Marines and wounded 14 others before ceasing. Overall, 12 Marines had been killed in action on 18 June.
At 0930H on the 19th, the battalion displaced from its night defensive positions, with all units sweeping from their NDPs toward their final objectives, Hill 52 and the north bank of the Cam Lo River. Two NDPs were established for the night of 19/20 June, with "A" and "B" at Hill 52 and "C", "D", and the command group north of the river. Although enemy fire was taken through the day, casualties were much lighter than on the 18th – an additional four Marines, with a greater number of wounded. Corporal Robert A. McLoughlin was one of the 18 men who died during the Cam Hung sweep.
Rank: Corporal
Date of birth:
21 November 1946
Date of death: 19 June 1968
County: Knox
Hometown: Knoxville
Service Branch: Marine Corps
Division/Assignment: 9th Marine Regiment, 3rd Marine Division
Conflict: Vietnam
Battles: Cam Hung
Awards: Purple Heart
Burial/Memorial Location: Calvary Cemetery, Knoxville, Knox County, TN
Location In Memorial: Pillar XXIII, Middle Panel
---
Image Gallery
Click a thumbnail below to view at full size.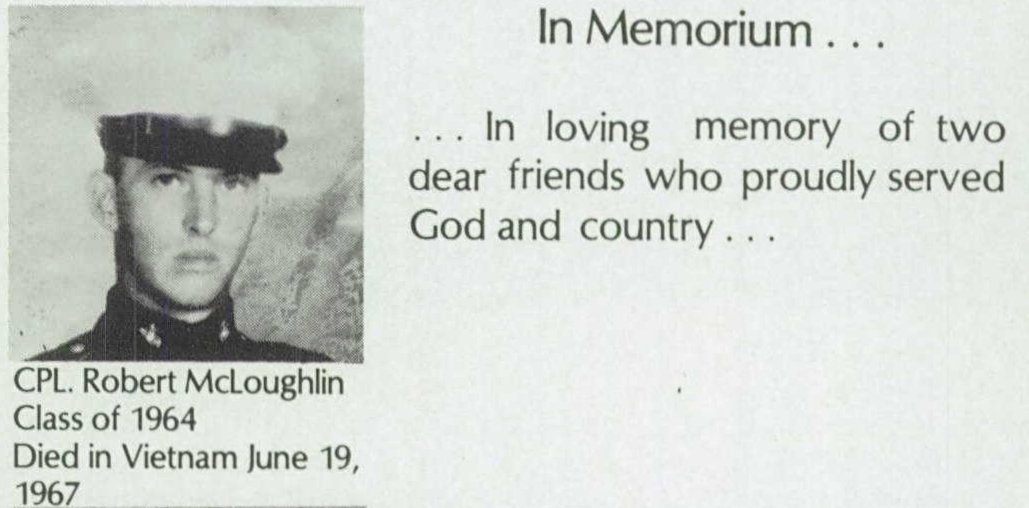 ---