Motor Machinist's Mate, Second Class Richard Ernest Corum, Service Number 2957872
Richard was born in Nashville, Davidson County, Tennessee on 23 December 1918 and raised in Jonesborough, Washington County, Tennessee. He graduated Jonesborough High School, Class of 1939 and was a member of the Future Farmers of America, the class Parliamentarian and Secretary of the Opus Music, Glee and Hi Y Clubs. Richard was working for a Kingsport Milk Distributor when he enlisted in the United States Navy in Nashville, Tennessee on 17 October 1940.
He completed basic training at Norfolk Naval Base, Norfolk, Virginia and was assigned to his first duty ship based there. Richard signed aboard the USS Moffett (DD-362) a Porter-class Destroyer on 16 December 1940 as an Apprentice Seaman and was soon promoted to Seaman Third Class. On 1 August 1941 shortly before his transfer to the USS Mississippi (BB-41) a New Mexico-class Battleship he received a rating change to Fireman Third Class. The next month 1 September saw a promotion to Fireman Second Class. Richard signed aboard the USS Mississippi on 10 September 1941 at Boston, Massachusetts.
Their duty was to provide escort to a convoy heading to Iceland and then protect shipping in that area of the North Atlantic. On 9 December 1941 two days after Pearl Harbor was attacked, she received orders to proceed to San Francisco, California. The Mississippi arrived there on 22 January 1942. Richard then volunteered for a new duty assignment and was accepted. He was to become a submariner. He shipped out of San Francisco on 7 March 1942 enroute to Pearl Harbor on the USS Wharton (AP-7) a troop transport ship. Arriving Pearl Harbor on 16 March his submarine had not arrived back from her first patrol in which she sank two enemy vessels, so he signed aboard the USS Tambor (SS-198) to continue training and await the arrival of the USS Grampus (SS-207) a Tambor-class Submarine. Grampus arrived on 22 April 1942 to reoutfit and Ernest signed aboard. She sailed right after on her second patrol to Fremantle, Australia and Ernest was promoted to Fireman First Class on 1 May 1942.
This patrol as with the third was uneventful, but they did change ports to Brisbane, Australia and Ernest received a rating change and a promotion to Petty Officer. Now Motor Machinist's Mate, Third Class Corum. His fourth and fifth patrols saw the Grampus sink three more enemy vessels and a promotion to Second Class. Their sixth patrol began on 11 February 1943 and she along with the USS Grayback (SS-208) her sister submarine were to patrol in and around the Solomon Islands.
On the afternoon of 5 March 1943, she and the Grayback entered the Blackett Strait to destroy any enemy vessels that would try to escape the Battle of Blackett Strait that was to commence on the morning of 6 March. That night two Imperial Japanese Destroyers, Minegumo and Murasame entered the Strait to resupply the Japanese Base at Vila on Kolombangara Island. What happens next is still a mystery today. The Grayback around 15 miles away from the Grampus never saw or heard the destroyers, but its assumed Grampus did and she must have been caught on the surface, because Grayback never heard any depth charges explode, so the fight had to be on the surface. The next day both Minegumo and Murasame encountered Task Force 68 and were sent to the bottom of Blackett Strait in short order with only two survivors being rescued/captured by our forces. So any paperwork that may have been completed on the engagement with the Grampus, also went down with those ships. A large unexplained oil slick was reported in the Blackett Strait on the morning of 6 March 1943.
After no radio transmission was received on 6 March, the Grampus was ordered to do so on 7 March and again on 8 March. On 22 March hearing nothing and no sighting been made the Grampus was reported as lost with all 71 crew members. 21 June 1943 she was struck from the United States Naval Vessel Register and on 23 March 1944, Richard and the other 70 of his shipmates were declared dead. Richard was 24 years old and was awarded the Purple Heart.
In the five patrols made before her fatal one, the Grampus sank six enemy ships, for a total of 45,000 tons. She also damaged two more, for 3,000 tons.
Richard is remembered on the Tablets of the Missing at the Manila American Cemetery in Manila, Luzon Island, Philippines and with a marker in the Maple Lawn Cemetery in Jonesborough, Tennessee where his father rests. The Grampus has a memorial marker located at Seal Beach, California commemorating the 71 seamen lost aboard her.
Richard was the son of Reverend Richard Ernest Corum, a Baptist Minister that passed away in 1925 when he was six and Ethel Epps Ramsay. Ethel was a Librarian and Teacher at Jonesborough High School and was the town's Post Mistress when she received the official letter of Richard's death.
Submitted By:  Allen D. Jackson, USAF (Ret)                                                                  Historian, Johnson City/Washington County TN Veterans Memorial Foundation
See recent New York Times article on the discovery of the USS Grayback.
Rank: Motor Machinists Mate Second Class
Date of birth:
23 December 1918
Date of death: 5 March 1943
County: Washington
Hometown: Jonesborough
Service Branch: Navy
Division/Assignment: USS Grampus (SS-207)
Theater: Pacific
Conflict: World War II
Awards: Purple Heart
Burial/Memorial Location: Manila American Cemetery, Fort Bonifacio, Manila, Philippines
Location In Memorial: Pillar XIX, Bottom Panel
---
Image Gallery
Click a thumbnail below to view at full size.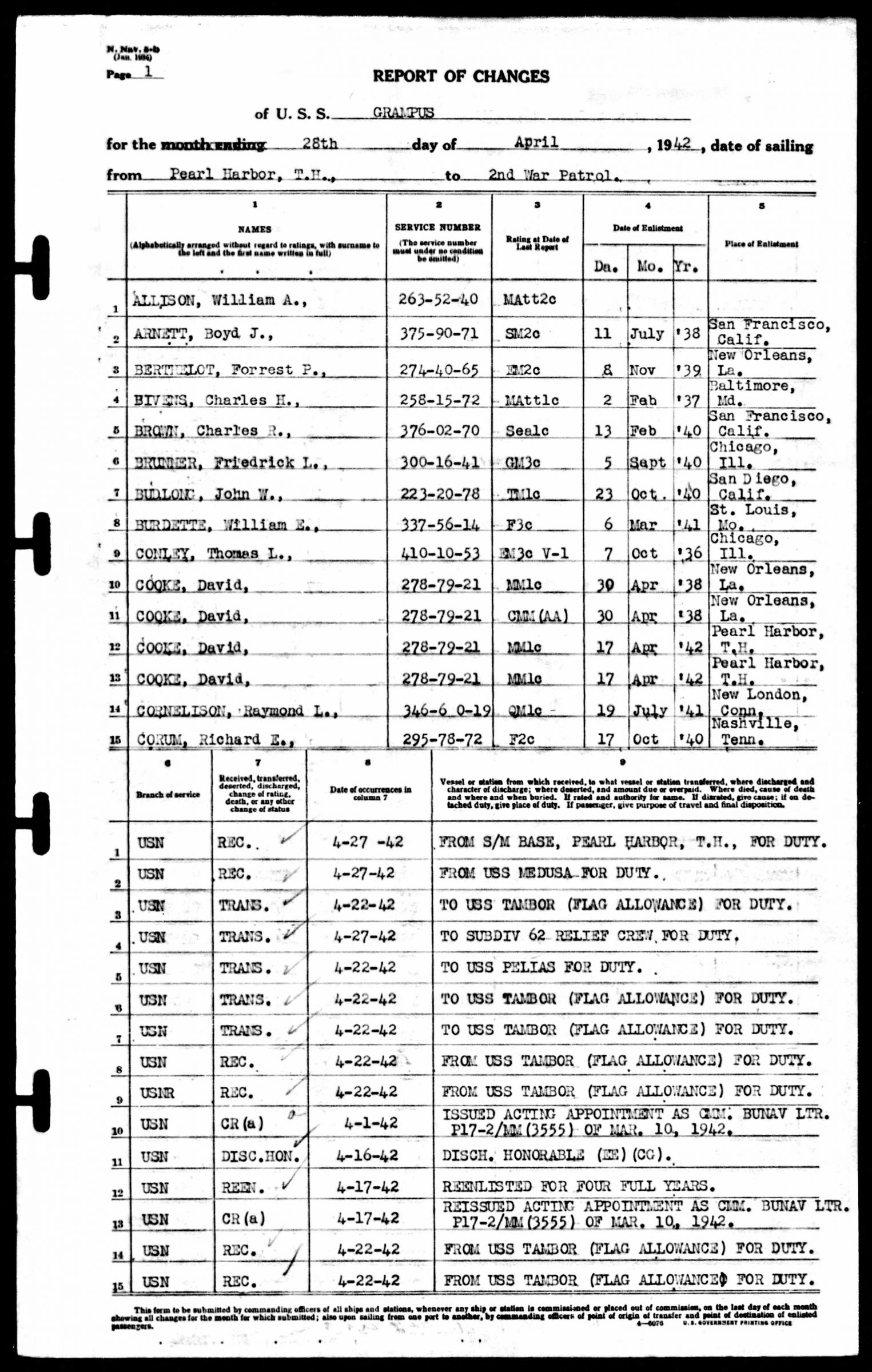 ---