Raymond Howard Bolin
Buried now at the Brittany American Cemetery, St. James (Manche), France
J, 5, 9
Individual Deceased Personnel File Report:
"37. Bolin, Raymond H., ASN 11998332, Pvt., 508 Parachute Inf., Killed by small arms fire 6/7/44 near Le Mesnil-Vigot, France, buried at Le Mesnil-Vigot, France. Witness: Hoskot, N.R. , 0-302774, Lt. Col., 2nd Airborne Infantry Brigade."
6. "Upon repatriation, Lieutenant Colonel Nathaniel R. Hoskot, O-302774, the witness referred to above, made the following statement concerning subject personnel to Captain (then lieutenant) Harry V. Blair, Casualty Brench, AGO, at Walter Reed Hospital, 25 January 1945:
I was with the 82nd Airborne Division and was captured with a number of paratroopers behind the German Lines on 6 June 1944.
The next day, 7 June 1944, we were being transported in 10 German trucks when our column was strafed by American planes.
The following men were killed by the strafing: (names 18 including Raymond H. Bolin).
"AG 704 Dead (28 Feb 45)
The above named men are buried in the village cemetery in a mass grave at Le Mesnil-Vigot, Dept. of Manche, Normandy, France. I read the services at the burial. The French dug the graves and the mayor of the town told me they would mark the grave with a cross. I gave him the name of each man or one of the dog tags."
There is further testimony about the incident and a later order by the U.S. Army to change the date of death of these men from June 6, 1944 to June 7, 1944 and listed as "killed in action" and "while in parachute pay status."
Rank: Private
Date of death: 7 June 1944
County: Jefferson
Hometown: Strawberry Plains
Service Branch: Army/Army Air Forces
Division/Assignment: 508th Parachute Infantry Regiment, 82nd Airborne Division
Theater: Europe
Conflict: World War II
Battles: Normandy Campaign
Awards: Purple Heart
Burial/Memorial Location: Brittany American Cemetery, St. James (Manche), France
Location In Memorial: Pillar XII, Middle Panel
---
Image Gallery
Click a thumbnail below to view at full size.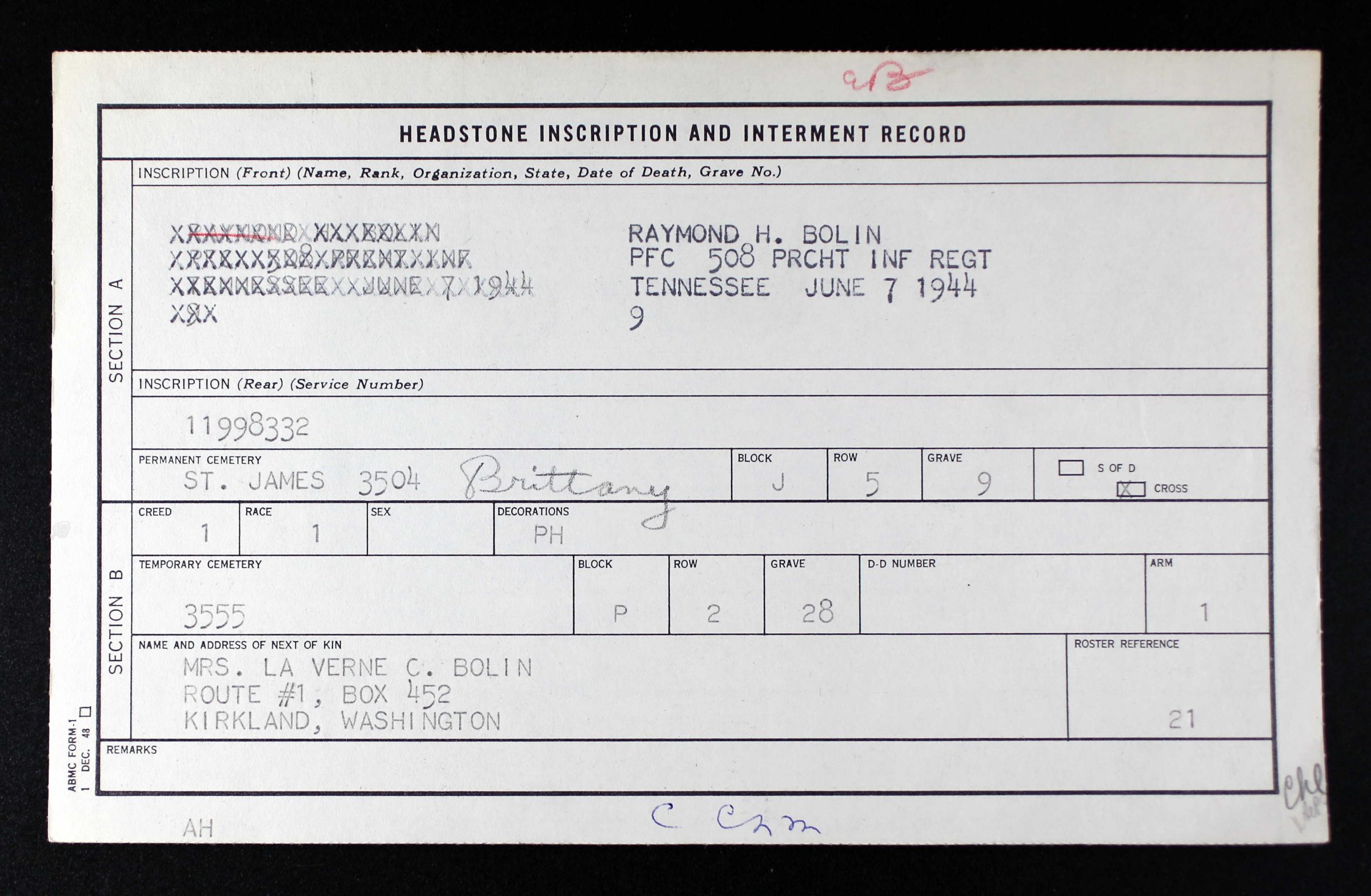 ---