First Lieutenant Raymond Gordon Clark was born on February 6, 1947, and was originally from Chattanooga, Tennessee. He served his country in the Vietnam War in the United States Army, a member of A Company, 3rd Battalion, 60th Infantry, 9th Infantry Division. His tour of duty began on September 22, 1968. One month later, on October 23, 1968, 1st Lt. Clark was killed under hostile conditions in Kien Hoa, South Vietnam, at the age of 21. 1st Lt. Clark is memorialized on the Vietnam Veterans Memorial on Panel 40W, Line 23.
Unclassified Action Report (October 1968):
"23 Oct 68; Mobile Riverine Group Alpha Elements Achieved moderate to Heavy Contact Wednesday with a estimated Reinforced Platoon 12 Kilometers southeast of Ben Tre in the Giong Trom?? District. With Both Army and vietese Marines still in Contact after darkness. Nine Vietcong had been killed and one AK-47 had been captured. Total Allied Casualties as of 1930hrs were one killed and seven wounded. The fighting broke out at 1020hrs when Helicopters carrying Alpha Co, 3/60th Infantry hit a Hot Landing zone One Infantryman was Killed ( Lt. Clark) and a Helicopter Pilot was injured in this first attack as the slicks moved in to land the Troops in the area. Helicopters continued to draw hostile fire for the remainder of the day, and three Hueys and one LOCH were shot down. Ground Elements were the target of two Enemy Mortar Attacks during the afternoon and the Troops were frequently pinned down by VC automatic weapons and rocket Fire. As the Fighting intensified, Delta company of the 3/47th Infantry was Airmobiled into a landing zone south of the Enemy positions. At the same time two companies of vietese Marines joined the battle after a transit down the ben tre river abord boats of river division 91. The marines were beached one kilometer north of the fighting and achieved almost immediate contact as they swept south. The transit down the Rach BenTre was marked by one brief Ambush with Rockets and automatic Weapons in which one Navy Man was slightly wounded."
"I came In Country the same time as the Lt., We flew together on a Chopper to Dong Tam. He ended up My Platoon Leader A Co. 360th 1st Platoon. I would like to find Relatives and tell His Story about the fatal morning, and good Times Remembered! If They are interested??? LT. You Will always be on My side!! RIP Brother!!!"
-Submitted by Alexander C. Kaufbusch, his Machine Gunner
Photo courtesy of: his brother Randy
Rank: First Lieutenant
Date of birth:
6 February 1947
Date of death: 23 October 1968
County: Hamilton
Hometown: Chattanooga
Service Branch: Army
Division/Assignment: 60th Infantry, 9th Infantry Division
Conflict: Vietnam
Location In Memorial: Pillar XXII, Bottom Panel
---
Image Gallery
Click a thumbnail below to view at full size.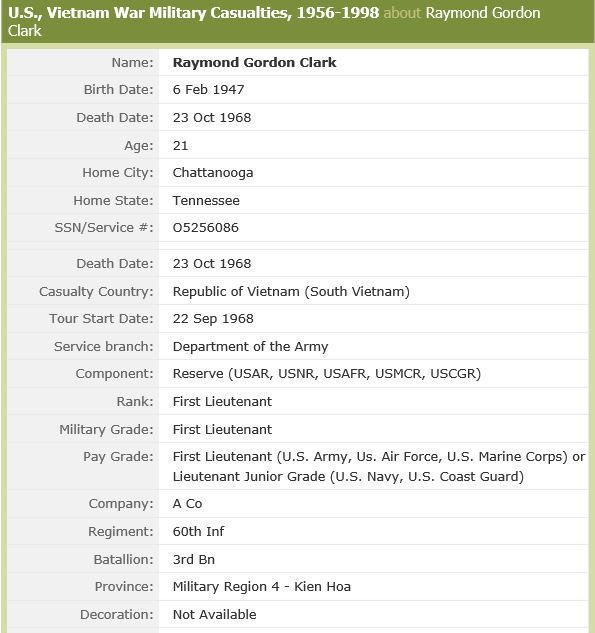 ---