Aircraft B-24D with serial number 41-23785 departed from Benina Main in Libya on a bombing mission to Calania Airdrome, Calabria in Italy. This aircraft collided with aircraft 41-11806 in mid-air. They fell together, both spinning to the right. Half of the stabilizer and one vertical fin came off of one aircraft. One of the planes dove into the sea and disappeared immediately; the other made an attempt to recover from the spin. Both planes hit the water with great force about twenty-five or thirty feet apart. The second plane remained afloat for possibly a minute but the top escape hatch remained closed. Neither parachutes nor survivors were observed. The area was thoroughly searched for two hours in a radius of five miles at a low level; however, nothing was seen except one empty life vest which subsequently disappeared, and about twenty or thirty oxygen bottles which drifted away from the rapidly spreading oil slick.
The aircraft were lost over the Mediterranean Sea.
Crew members
Pilot, 1st Lt Keith Kenneth Phillips
Co-Pilot, Major William Charles Jones
Navigator, Captain, Gerhard H.A. Thomas
Bombardier, 1st Lt William Lynn Moffatt
Engineer, T/Sgt Roy B. Marshall
Radio Operator, T/Sgt Raymond E. Dallas Jr.
A.E. S/Sgt Daniel P. Farley
A. R., S/Sgt Daniel P. Farley
A.R. S/Sgt Ray E. Walters
Gunner, S/Sgt Clements Frantz
O. , Captain Robert J. Aho
Memorialized at the North Africa American Cemetery, Carthage, Tunisia
Rank: Staff Sergeant
Date of death: 13 June 1943
County: Jefferson
Service Branch: Army/Army Air Forces
Division/Assignment: 345th Bomber Squadron, 98th Bomber Group, Heavy
Theater: North Africa
Conflict: World War II
Awards: Air Medal with Three Oak Leaf Clusters
Burial/Memorial Location: North Africa American Cemetery, Carthage, Tunisia
Location In Memorial: Pillar XII, Bottom Panel
---
Image Gallery
Click a thumbnail below to view at full size.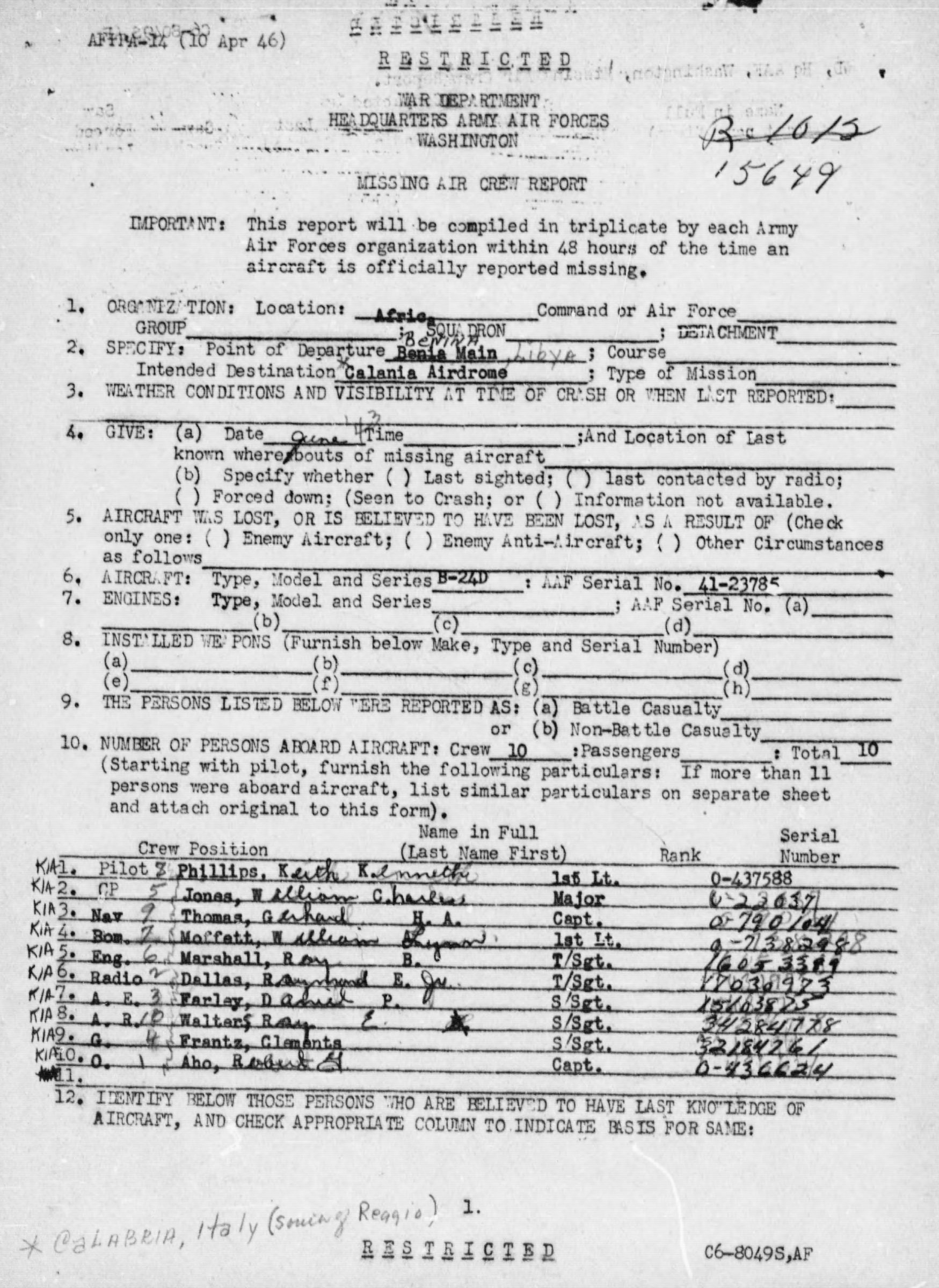 ---