Born 26 March 1922
Died non Battle 8 November 1942
Sergeant
U.S. Army
Sgt Wilson is buried at Evergreen Cemetery, Erwin, Unicoi County, Tennessee.
The Erwin Record, December 3, 1942
A message was received last week from the War Department by Mr. and Mrs. Dolph Wilson that their son Ralph, 21, was killed in action, November 8th, in the western European area. Sergeant Wilson enlisted in the Army two years ago when he was only 19. Besides his parents he is survived by his wife and 15-months-old daughter, who live in Brooklyn, New York; four brothers, Corp. Ray Wilson, paratrooper in the Air Corps, Ford, Alvin and Bruce, of Ervin.
Rank: Sergeant
Date of birth:
26 March 1922
Date of death: 8 November 1942
County: Unicoi
Service Branch: Army/Army Air Forces
Theater: Europe
Conflict: World War II
Burial/Memorial Location: Evergreen Cemetery, Erwin, Unicoi County, TN
Location In Memorial: Pillar XIX, Top Panel
---
Image Gallery
Click a thumbnail below to view at full size.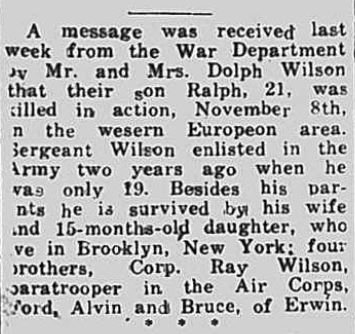 ---