Enlisted – 1942, Ft. Oglethorpe, GA
Buried in Harriman Cemetery, Harriman, TN
"Lt. Lambert Tindall Killed In Action. Lt. Lambert Tindall , son of Mr. and Mrs. W.R. Tindall , of 702 Clinton St., Harriman, has been killed in action in Belgium, according to a telegram received by the family from the War Department last Friday. Lt. Tindall has a wife and four sisters, one of whom is Miss Mary Elizabeth Tindall, English teacher in the Rockwood high school."
–The Rockwood Times, Thursday, 21 Dec 1944, Vol. 64, No. 51.
The Knoxville Journal, December 22, 1944
First Lieutenant R. Lambert Tindell, former city attorney here, was killed in action in France, Nov. 27, according to information received by his wife and his parents, Mr. and Mrs. W.R. Tindell. He was in the infantry and had been overseas only a short while. Born in Athens, Ga., April 24, 1913, Lieutenant Gindell was graduated from the Walterboro, S.C. High School in 1930, and attended the University of South Carolina for two years. He received his degree from the law department of the University of Tennessee and passed the state bar examination in June, 1938, a few months after moving to Harriman. He entered a partnership with the late John A. Walker and in June, 1939, was elected city attorney. In November the same year, ehe entered a partnership with D.O. Harris and Polk Wright.
His service as city attorney was endorsed by re-election in June 1941, but in February the following year he resigned to accept a post as special investigator with the Treasury Department.
Lieutenant Tindall enlisted in the Army Nov. 25, 1942, entered officer candidate school at Fort Benning, Ga., in May, 1943, and was commissioned a second lieutenant on July 28.
He was married to Beulah Hickman Sept. 13, 1934. She is making her home here. Sisters are Mrs. M.P. Howell, Mrs. Herman Lee and Miss Mae E. and Hazel Tindall.
Lieutenant Tindall is the first commissioned officer from Harriman to be killed in action.
Rank: First Lieutenant
Date of birth:
24 April 1913
Date of death: 27 November 1944
County: Roane
Hometown: Harriman
Service Branch: Army/Army Air Forces
Division/Assignment: 411th Infantry Regiment, 103rd Infantry Division
Theater: Europe
Conflict: World War II
Awards: Purple Heart
Burial/Memorial Location: Harriman Cemetery, Harriman, Roane County, TN
Location In Memorial: Pillar XVII, Top Panel
---
Image Gallery
Click a thumbnail below to view at full size.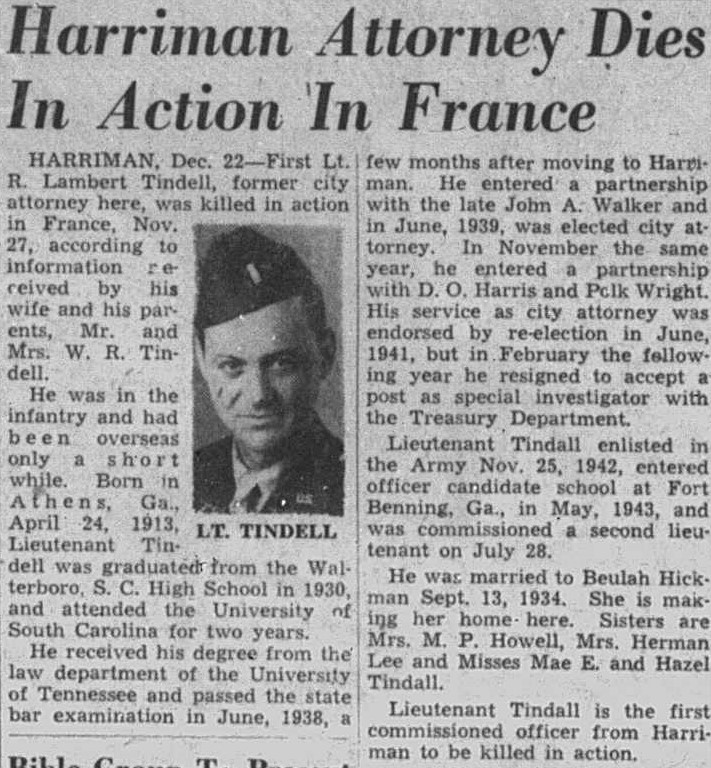 ---