Ralph Edward Whiteley
Born 15 October 1915, San Francisco, California
Died non Battle 11 April 1945, Denver, Colorado
His home is considered to be Johnson County, TN
Private First Class
He was the son of James E. Whiteley and Harriet G. McLaughlin. Husband of Margaret V. Whiteley.
Porterville Evening Recorder, Thursday, April 12, 1945.
Strathmore War veteran dies in Denver.
Pfc. Ralph Whiteley of Strathmore, died Wednesday night at the Fitzsimmons General Hospital in Denver, where he had been a patient for many months after being returned by the army from North Africa.
The body is being brought to Lindsay and funeral services, details of which will be arranged later, will be in the hands of the Webb mortuary at Lindsay.
Only surviving near relative is a brother, 1st Lt. Barrett Whiteley, now serving in Germany with a U.S. heavy artillery unit. The W.A. Talbott and O.S. Gray families of Porterville are cousins.
Whiteley lived all his life in the Lindsay-Strathmore district and was owner of an orange grove near Strathmore. He was 29 years old. His parents, Mr. and Mrs. Edward Whiteley, both passed away a few years ago.
Inducted into the army soon after the start of the war, Whiteley completed training and was shipped to North Africa, where he was taken ill. Returned to the United States a year ago, he went to the Fitzsimmons General hospital, where, however, all treatments proved unavailing.
Porterville Evening Recorder, Monday, April 16, 1945.
Funeral Rites for soldier in Lindsay Chapel
Funeral services will be held Wednesday afternoon, at 2 o'clock at the Webb funeral parlors in Lindsay, for Pfc. Ralph Whiteley, who passed away last week at the Fitzsimmons general hospital in Denver, Colo., where he had been a patient for a year after returning from North Africa. He was an orange grower in the Strathmore district before entering the service, owning an orange grove.
Rev. Paul Pritchard of the Strathmore Presbyterian church will officiate at the services and the Lindsay American Legion post will be in charge at the Olive cemetery.
Surviving relatives include a brother, 1st Lt. Barrett Whiteley, now serving with Patton's army in Germany. There is also a host of aunts, uncles and cousins.
Rank: Private First Class
Date of birth:
15 October 1915
Date of death: 11 April 1945
County: Johnson
Service Branch: Army/Army Air Forces
Theater: North Africa
Conflict: World War II
Location In Memorial: Pillar VIII, Top Panel
---
Image Gallery
Click a thumbnail below to view at full size.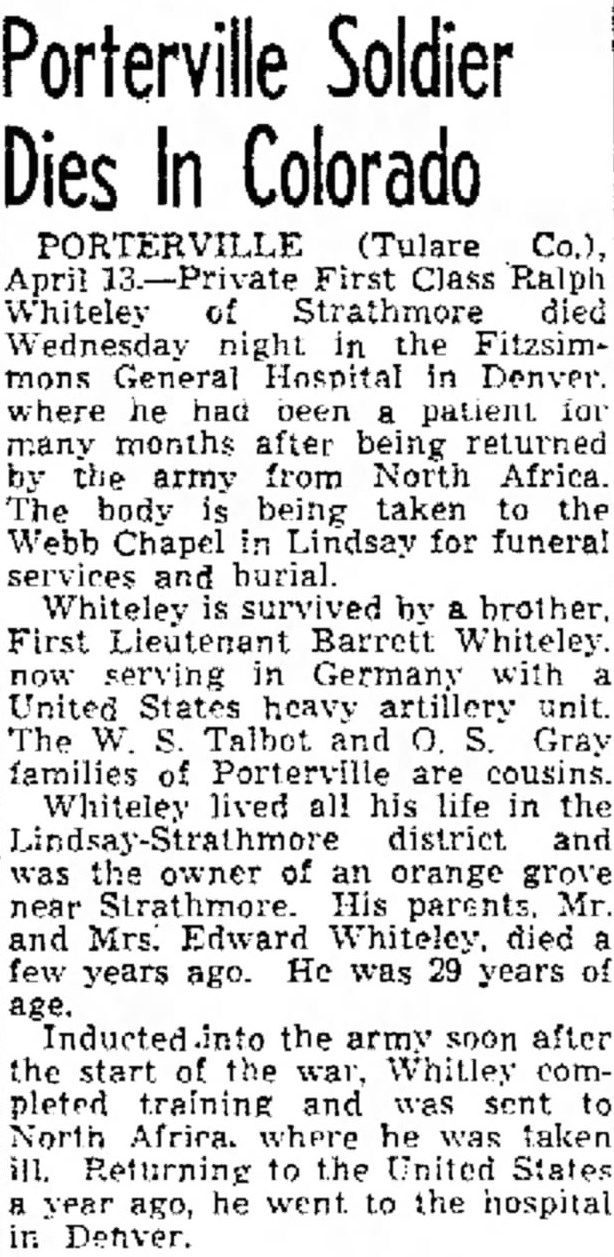 ---