Philip Rush Fink
Military Data
Length Service 20
Unit A Company, 1st Battalion, 502nd Infantry Regiment, 101st Airborne Division, USARV
Casualty Data
Start Tour 13 December 1967
Casualty Date 13 August 1968
Age at Loss 41 based on date declared dead
Location , South Vietnam
Remains Body recovered
Casualty Type Hostile, died of wounds
Casualty Reason Ground casualty
Casualty Detail Other explosive device
Vietnam Wall Panel 48W Line 006
First Sergeant Fink also served in Korea.
I served, with Top, Sergeant P. R. Fink, while he was a member, of the 101st, Airborne Division, 501st, Infantry, Echo, Company. I was a member, of the 2nd, Platoon, 1st, Squad. Sgt., Fink was, our First Sergeant, in 1963. I remember him, as small in stature, but large, in spirit and everything else. He kept us, on our toes, trained us well and I feel proud, to have served under him. He had my utmost respect, in 1963 and has even more respect now, that I have learned, that he gave his life, for his Country in Vietnam.
Wednesday, October 20, 1999
–Paul D. Dillon, Subordinate, RA18612741
1SG Fink was E Company first sergeant when the 1/502 deployed to RVN in December 1967. We all relied on his previous combat experience. He was wounded during Tet 1968 and evacuated out of country. Instead of going stateside for recuperation and reassignment, he worked the NCO system and came back to our battalion as First Sergeant of A Company. He was killed in August 1968 in Quang Dien District by a booby-trapped 105 shell while clearing a village with his troops. His death was a personal loss to all of us, who admired him as a soldier and as a man. We still do.
–James Doogan served as his XO and CO in RVN Echo Company, 1/502 Inf
I have reason to believe that Sgt. Fink was my Father's Sgt. Major when my father commanded a training Center battalion at Fort Lewis Washington in 1967. I have a photo of the two of them by the sign in front of their office that says
CO LTC MEANEY
SGM FINK
(see photo below)
The photo was taken by a photographer for the Fort Lewis Ranger newspaper but it was never published. People assigned to that training battalion, ranging from young draftees to officers transferred from other units had the fear of the Lord put in them when they saw the sign with :Meaney and Fink."
The combination was considered humorous, hence the photo. However, editors had second thoughts and never ran it.
–Matt Meaney
Rank: First Sergeant
Date of birth:
7 February 1927
Date of death: 13 August 1968
County: Greene
Hometown: Mosheim
Service Branch: Army
Division/Assignment: 502nd Infantry Regiment, 101st Airborne Division
Conflict: Korea, Vietnam
Burial/Memorial Location: Zion United Methodist Church Cemetery, Baileyton, Greene County, TN
Location In Memorial: Pillar XXII, Middle Panel
---
Image Gallery
Click a thumbnail below to view at full size.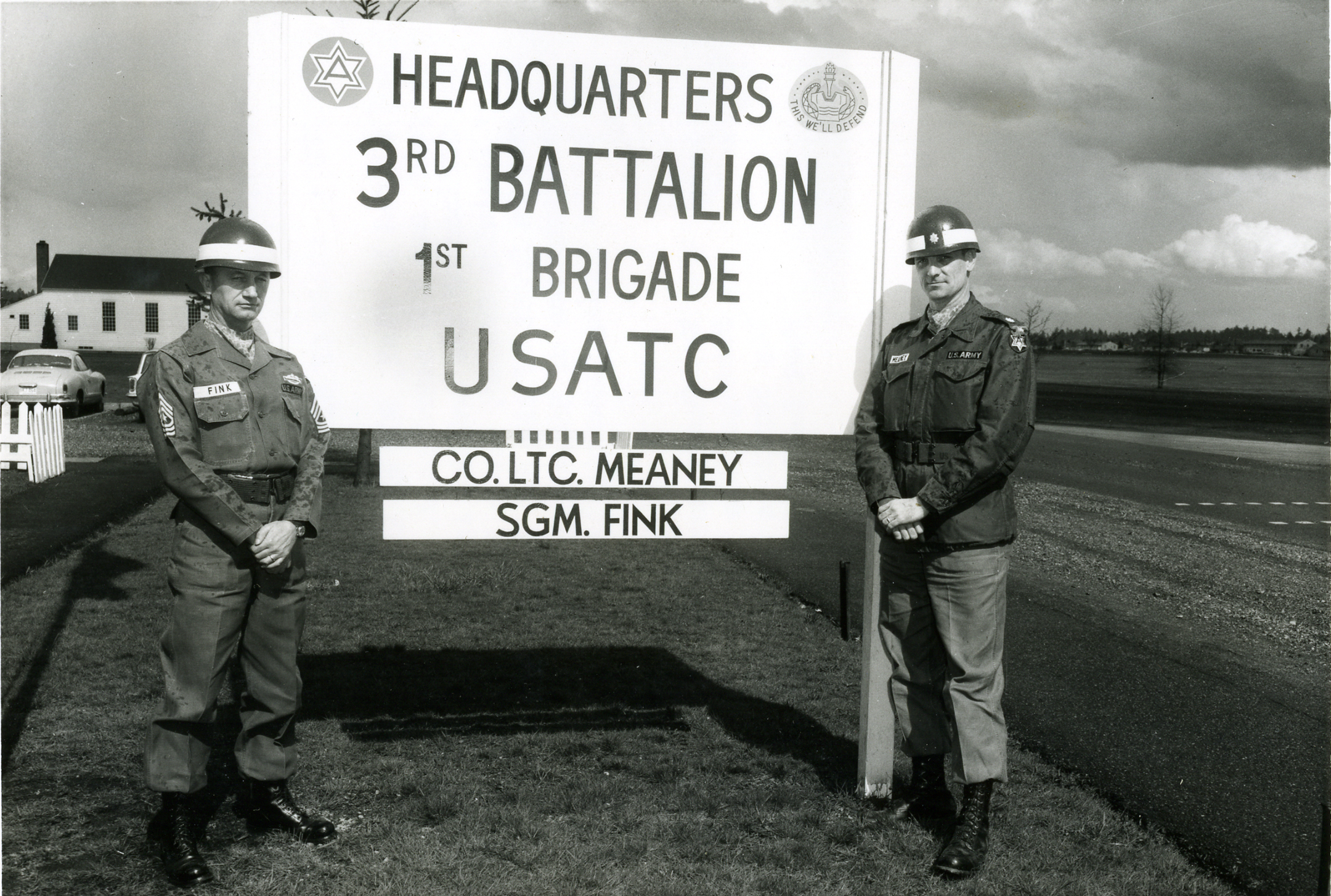 ---