Nathan Lamar Ingle, a member of the Dalewood Baptist Church, he was a graduate of Brainerd High School, where he played football for three years. Prior to going to Vietnam, he was stationed at the National Navy Hospital, Bethesda, MD. He is survived by his wife, Mrs. Bettye J. Ingle, Chattanooga; parents, Rev. and Mrs. Lamar Ingle; a brother, Michael Ingle, all of Decatur, Ala., and a grandmother, Mrs. J. W. Ivey of Rome, Ga.
Military Data
LenSvc Between 3 and 4 years
Unit 2nd Platoon, F Company, 2nd Battalion, 1st Marines, 1st Marine Division
Casualty Data
Start Tour Wednesday, 16 September 1970
Cas Date Friday, 3 October 1970
Age at Loss 21
Remains Body recovered
Location Quang Nam, South Vietnam
Type Hostile, died outright
Reason Other explosive device – Ground casualty
Vietnam Wall Panel 06W Line 017
Harry Campo
alancampo@yahoo.com
Took Your Position at Bethesda
Va USA
My Fellow Corpsman – Glad I met such an Outstanding Sailor and Doc
I followed your 'footsteps'. I worked with Gertie and Dr. Stein on 7 side. I sat at your desk and typed on your typewriter. I became friends with you what little time I was with you during the transition. You were married several weeks before leaving to RVN and word came back that hit such an emotional nerve among all those who knew you. I shall never forget you. I left Bethesda, a wonderful staff and hospital and headed for RVN. Before I left Delaware, there was a cut back and I received a Red Cross speedletter that I was going to Iwakuni, Japan. I was on a baby hold…so I could see my baby, Judy, born before going to RVN. She saved my life. I was ready to go as you were to serve we followed the same footsteps…but the timing was off at the end. Your memory still lives within me and I thank you for your sacrifice to our country. God Bless your family who had to endure your loss. I hope I serve as much purpose on earth before I go as you did serving your country. Always in my thoughts and heart…. HM2 at Bethesda….now retired LCDR H. Alan Campo. I welcome emails from friends I hope to find again someday.
Photo's from Tom Reese
Rank: Hospital Corpsman Third Class
Date of birth:
16 February 1949
Date of death: 23 October 1970
County: Hamilton
Hometown: Chattanooga
Service Branch: Navy
Division/Assignment: 1st Marines, 1st Marine Division
Conflict: Vietnam
Burial/Memorial Location: Lakewood Memory Gardens South, Lakeview, Catoosa County, Georgia
Location In Memorial: Pillar XXIII, Top Panel
---
Image Gallery
Click a thumbnail below to view at full size.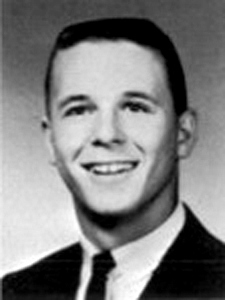 ---