Frank Moore was born in 1909 and married Pauline Carroll on 31 December 1939 in Cocke County, Tennessee. They had two children, Michael F. Moore and Patrick C. Moore. The family moved to Japan somewhere in 1947/1948  where their youngest son was born. Pauline and their two children returned back to the United States on 9 January 1950 and moved into a new home on Bybee Road in Newport, Cocke County, TN. Sgt. Moore left for Korea on August 5, 1950.
The Newport Times, August 19, 1953:
Mrs. Pauline Carroll Moore, Bybee road, has been notified that the name of her husband, M-Sgt. Frank Moore, appears on the list of American released by the Communists who, according to their records, died while in custody. According to the telegram received by Mrs. Moore, the information has not been verified and a thorough investigation will be conducted before the list is verified.
Mrs. Moore told a Plain Talk and Tribune reporter today that the telegram was no surprise to her and that she gave up hope when his name was not included in the list of living Americans that was released by the Communists some time ago. She said that she wrote to him for several months after his capture, but that none of her letters, so far as she knows, had reached her husband.
Sgt. Moore, who served with the famed 2nd Division in Korea was reported missing on November 30, 1950, and Mrs. Moore was notified on December 29 of that year. She said today that she had not heard from him since he was reported missing. This led her to believe that he had died, because "he always wrote us very frequently," she explained.
Sgt. Moore, who left on August 5, 1950 for Korea from Tacoma, Wash., had been in the service 21 years when he was captured. He would have been  44 on March 29, 1953.
Mrs. Moore and her two children, Mike, 6 and Patrick, 4, live in a new home next door to her mother, Mrs. Ruth Carroll. Mrs. Moore was a daughter of the late Rev. J.N. Carroll. She explained that Pat was born in Japan, where the Moores lived for two years.
Rank: Master Sergeant
Date of birth:
29 March 1909
Date of death: 24 February 1951
County: Cocke
Hometown: Newport
Service Branch: Army
Division/Assignment: Second Division
Conflict: Korean War
Awards: Purple Heart
Burial/Memorial Location: Honolulu National Memorial Cemetery of the Pacific Courts of the Missing
Location In Memorial: Pillar XX, Top Panel
---
Image Gallery
Click a thumbnail below to view at full size.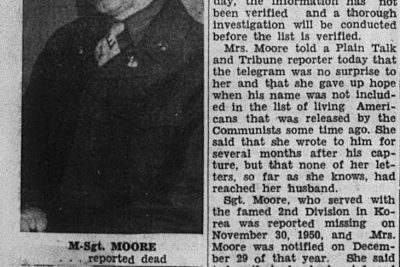 ---