Milard Luther Eugene Bledsoe
He was the son of J.B. and Mary Bledsoe. Husband of Lillian Vaughn.
Military Data
Length Service 10
Unit 35th Civil Engineer Squadron, 35th Tactical Fighter Wing, 7th Air Force
Casualty Data
Start Tour 01041968
Incident Date 10101968
Casualty Date 10101968
Age at Loss 30
Location Ninh Thuan Province, South Vietnam
Remains Body recovered
Casualty Type Non-hostile, died of other causes
Casualty Reason Helicopter – Crew
Casualty Detail Air loss or crash over land
Vietnam Wall Panel 41W Line 038
Robert Markson
rlm208@aol.com
Air Force, Friend
27, Lancaster Lane, West Milford, NJ., 07480, USA
Good Man and Well Respected
I was stationed, at Phan Rang, AFB., with Sgt., Bledsoe. I was there, that night of the crash, at Phan Rang, AFB., October 10, 1968 and I, was part of the rescue, team, at the scene, of the crash. I'll never, forget that night and the five brave men, that died, that day. If any relatives, or friends, would like to e-mail me, I'll be there, for your thoughts. Thursday, September 30, 2004
Tuesday, October 12, 2004
Rank: Staff Sergeant
Date of birth:
10 January 1938
Date of death: 10 October 1968
County: McMinn
Hometown: Athens
Service Branch: Air Force
Division/Assignment: 7th Air Force
Conflict: Vietnam
Awards: Air Medal
Burial/Memorial Location: Mount Joy Cemetery, Cleveland, Blount County, Alabama
Location In Memorial: Pillar XXIII, Bottom Panel
---
Image Gallery
Click a thumbnail below to view at full size.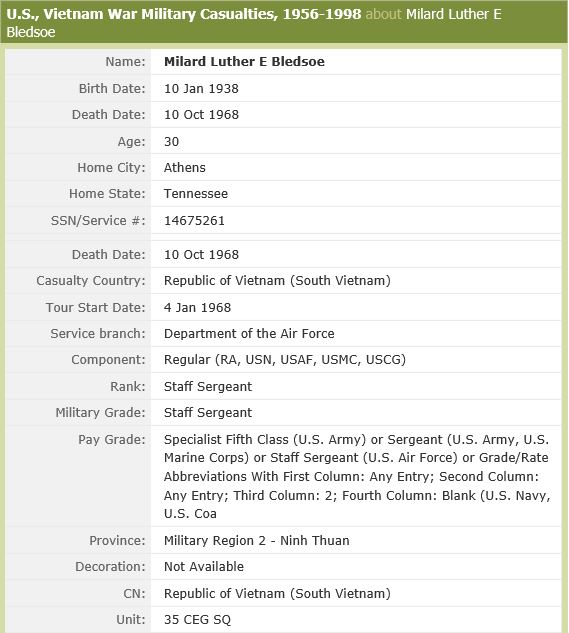 ---