Marvin Lee Williams
Born 2 June 1914
Killed in Action 8 July 1944
Private
314th Infantry Regiment, 79th Infantry Division
Pvt Williams was killed in combat at Hill 84 in France. He was the son of Robert Lee and Anna Myrtle Williams. He is buried at Jobe Cemetery, Erwin, Unicoi County, Tennessee.
Theee Erwin Record, June 3, 1948
Funeral services for Pvt. Marvin Lee Williams, who was killed July 8, 1944 in the battle of St. Lo were held at the First Christian Church. The Erwin Chapter VFW accorded full military honors, meeting the train with color bearers and a funeral escort. They took the body from the train to the waithearse, and accompanied the cortege to the funeral home where they again served as body bearers. They also served as pall bearers at funeral services, with "Taps" blown at the close of the grave services. By request of the family the firing squad omitted the volley.
Pvt. Williams is the son of Mr. and Mrs. R.L. williams, Broad Street, Erwin. Survivors in addition to his parents are two brothers, Arnold and Alvand, of Erwin; four  sisters, Mrs. Gene Adkins of Merced, Calif., Mrs. Buster Hughes, Misses Marjorie and Marie Williams of Erwin.
Pvt. Williams was in the Infantry, a member of Company M, 314 Regiment, 79th Division. He had training in camps in Kansas, Florida and Virginia. He was sent to England and participated in D-Day as a member of the invasion troops on June 6th, 1944. His death occurred on July 8th a little more than a month later at La Haye Du Puits, France in the battle of St. Lo.
Rank: Private
Date of birth:
2 June 1914
Date of death: 8 July 1944
County: Unicoi
Hometown: Erwin
Service Branch: Army/Army Air Forces
Division/Assignment: 314th Infantry Regiment, 79th Infantry Division
Theater: Europe
Conflict: World War II
Battles: D-Day, St. Lo
Awards: Purple Heart
Burial/Memorial Location: Jobe Cemetery, Erwin, Unicoi County, TN
Location In Memorial: Pillar XIX, Top Panel
---
Image Gallery
Click a thumbnail below to view at full size.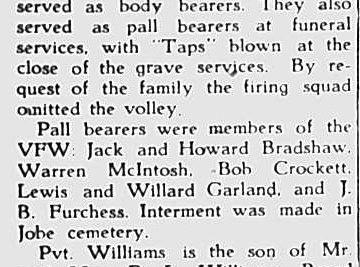 ---