Died while Prisoner of War in Korea
Corporal Goins was a member of Company C, 1st Battalion, 9th Infantry Regiment, 2nd Infantry Division. He was taken Prisoner of War while fighting the enemy in North Korea on November 26, 1950, and died while a prisoner on January 5, 1951. His remains were not recovered. His name is inscribed on the Courts of the Missing at the Honolulu Memorial.
Martin Luther Goins, M.L. as he was fondly called, attended Knoxville Public Schools. He attended Sam E. Hill Elementary School, Beardsley Jr. High, Austin High School and Swift Memorial Jr. College. He was of the Baptist faith. Those left to mourn his death were his mother, Ardell Goins, daughter, Melvenia Goins, sisters, Lois Goins LeFlore, Marguerite Goins Steele, and brother, Homer Greely Goins. M.L. was very friendly and well liked. He voluteered to serve his country following in his father's and brother's footsteps. His father served in World War I and his brother in World War ll. His service began in August of 1950 and he was reported missing in November of that same year. He served as a Medic. He was 22 years of age and his daughter was 4. He is still loved and missed with the hope that he may one day be returned to the United States for a proper burial by his family.
Submitted by his daughter, Melvenia Smith
The Knoxville News-Sentinel, February 23, 1954
A Knoxville soldier who enlisted in the Army because he felt his "number would be up" if he served a second hitch in the Marines has been declared officially dead in Korea, it was announced today. Pfc. Martin Goins was one of 60 soldiers, missing for more than a year, who were declared dead because there is evidence of death, even though their bodies were not recovered. The Defense Department announced the ruling. Pfc. Goins is the son of Mrs. H.G. Goins, 203 Thomas Street. She had said earlier that he "just had a feeling he would die in Korea." Mrs. Goins' husband died soon after Martin's birth, as the result of gassing in World War I.
Rank: Corporal
Date of birth:
13 May 1928
Date of death: 5 January 1951
County: Knox
Hometown: Knoxville
Service Branch: Army
Division/Assignment: 9th Infantry Regiment, 2nd Infantry Division
Conflict: Korean War
Awards: Combat Infantrymans Badge, Prisoner of War Medal, Korean Service Medal, United Nations Service Medal, National Defense Service Medal, Korean Presidential Unit Citation, and Republic of Korea War Service Medal
Burial/Memorial Location: Honolulu Memorial, Honolulu, Hawaii
Location In Memorial: Pillar XXI, Top Panel
---
Image Gallery
Click a thumbnail below to view at full size.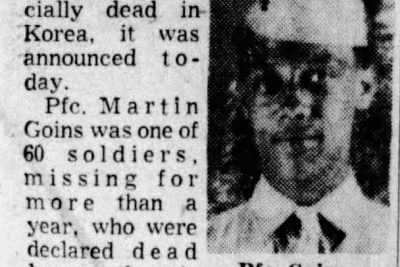 ---