Private First Class Lyndall Elmore Smiddy of Lake City was born on October 15, 1920. He was the son of T. Goddard and Pearl Leinart Smiddy. He served in the Pacific theater of the war in Company C, 33rd Infantry. He died in Dutch Guinea on April 9, 1942. He is buried in Leach Cemetery.
The Knoxville Journal, April 12, 1942
Tragedy of war reached the home of Mr. and Mrs. Goddard Smiddy, 3103 Magnolia Avenue yesterday. Their oldest son, Private First Class Lyndall, 21, died in Surina Hospital in Saramaribo, Dutch Guiana, following an abdominal operation. Private Lyndall, who had been in the Army for two years, was serving with the 33rd Infantry. From childhood, the youth had cherished a dream to be an "army man" his father, a Cherokee Dam worker, said. "Finally, I gave in about two years ago and signed the release papers," the father recalled. Private Smiddy like the Army "because you got to see foreign countries," his father said. He spent 18 months in Panama before being transferred to Dutch Guiana. He wrote home often. His last letter to his parents reached here late in March. Private Smiddy was born and educated in Lake City. He left for the Army while still in grammar school "so great did he want the excitement of the Army," his father said. According to the War Department announcement of his death, his body may not be returned home for burial until the end of the war. Survivors, in addition to his parents, are three brothers, Kenneth, Billy and Eddie Smiddy.
Rank: Private First Class
Date of birth:
15 October 1920
Date of death: 9 April 1942
County: Anderson
Hometown: Lake City
Service Branch: Army/Army Air Forces
Division/Assignment: 33rd Infantry
Theater: Pacific
Conflict: World War II
Burial/Memorial Location: Leach Cemetery, Lake City, Anderson County, TN
Location In Memorial: Pillar VI, Top Panel
---
Image Gallery
Click a thumbnail below to view at full size.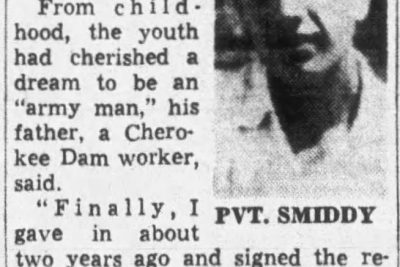 ---