Staff Sergeant Luther Eugene Davis of Oak Ridge was born on April 11, 1947. He was married and had two sons, Larry Davis and Lance Davis. He served three tours in Vietnam and his final tour began on August 15, 1969. He served as a Pararescueman in the 37th Aerospace Rescue and Recovery Squadron, 3rd Air Rescue Group, 7th Air Force. While attempting to rescue a U.S. Army helicopter in Knotum, South Vietnam, his helicopter was attacked and crashed on land on April 14, 1970. On May 25, 1970, he died from wounds suffered in the crash. His death is listed as a result of hostile action. He was only 23 years old. He is buried in Anderson Memorial Garden in Anderson County, Tennessee.
"My brother was a para-rescue specialist (Jolly Greens), from Oak Ridge. He was killed in action May 25, 1970. In May 1975, the Davis family attended a dedication of a building at Keesler AFB, Mississippi, aptly named 'Davis Manor,' in his honor. Gene earned the Silver Star, 3 Distinguished Flying Crosses, 15 Air Medals, 3 Purple Hearts, and numerous other awards and decorations. He is survived by two sons, one of whom has served in Iraq as a Special Forces Medic and the other who is a high school teacher."
-Submitted by Tom Davis
The President of the United States of America, authorized by Act of Congress July 9, 1918 amended by an act of July 25, 1963, takes pleasure in presenting the Silver Star to Airman Second Class Luther E. Davis AFSN 14912332, United States Air Force, for gallantry in connection with military operations against an opposing armed force as a Pararescue Specialist over North Vietnam, on 11 June 1967. On that date, Airman Davis flew as a rescue mission to recover two friendly pilots downed deep in hostile territory. Voluntarily descending on the rescue hoist, Airman Davis dangled hundreds of feet over dense bamboo jungle, which was heavily infested with hostile forces to cut the first survivor loose from his entangled parachute harness. As the helicopter encountered intense and accurate ground fire while hovering over the second survivor, Airman Davis responded immediately by delivering automatic weapon fire into unfriendly gun positions, thereby deterring the hostile forces and allowing the rescue effort to continue. By his gallantry and devotion to duty, Airman Davis has reflected great credit upon himself and the United States Air Force.
General Orders Headquarters, 7th Air Force, Special Order G-2224 December 11, 1967
Action Date June 11, 1967
Service Air Force
Rank Airman Second Class
Rank: Staff Sergeant
Date of birth:
11 April 1947
Date of death: 25 May 1970
County: Anderson
Hometown: Oak Ridge
Service Branch: Air Force
Division/Assignment: 37th Aerospace Rescue and Recovery Squadron, 3rd Air Rescue Group
Conflict: Vietnam
Awards: Silver Star, 3 Distinguished Flying Crosses, 15 Air Medals, 3 Purple Hearts
Burial/Memorial Location: Anderson Memorial Garden, Anderson County, TN
Location In Memorial: Pillar XXII, Top Panel
Sponsored by: Tom Davis
---
Image Gallery
Click a thumbnail below to view at full size.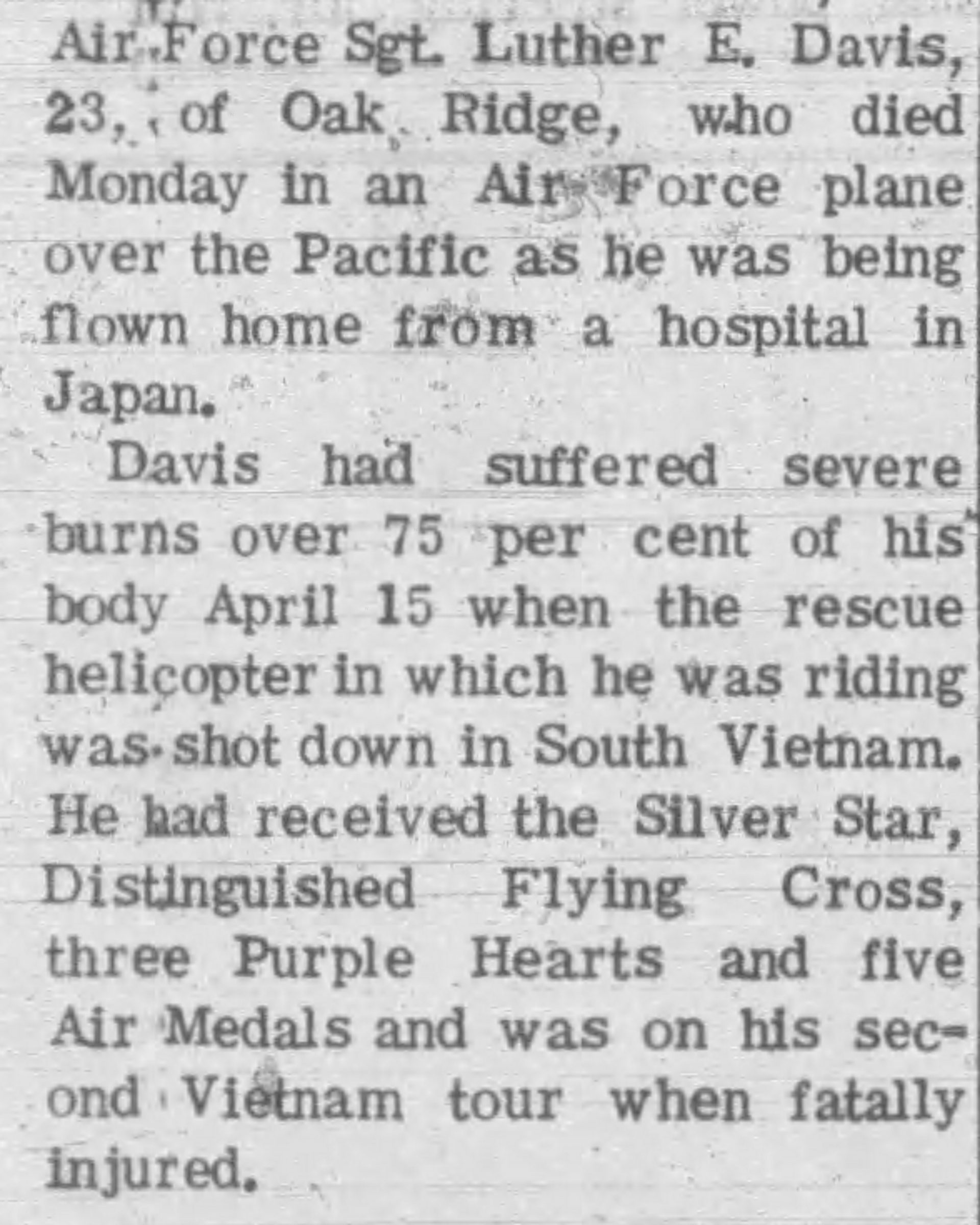 ---