Cpl. Luke C. Williams of Knoxville, Tennessee worked at the Knoxville Kroger supermarket before enlisting. After working there for seven years, he enlisted in order better himself and try to provide a better life for his family. Store employees had recently sent him a care package with snacks and magazines on University of Tennessee football. It's a sign of how well liked Luke was that people who shopped at the supermarket where he worked jammed phone lines to offer their condolences. Luke was hired at Kroger in 1989 and transferred to the Northshore location when the store opened in 1996. He enlisted in the military to give his family a better life. He saw it as an opportunity to better himself and as a chance to provide for them. Employees retired his locker, which remained unclaimed with his name tag still attached. He is survived by his wife, Teresa, who just returned from a tour of duty in Iraq, a 7-year-old daughter, and a son, 10. He was killed at age 35 in Baghdad when his vehicle accidentally rolled over into a ditch.
3rd Squadron
7th Cavalry Regiment
2nd Brigade
3rd Infantry Division
Fort Stewart, Georgia
Burial: East Tennessee State Veterans Cemetery, Knoxville, Knox County, Tennessee
i served with williams in 3-7 cav and we had developed a friendship pre-deployment, i was on duty in the squadron operations center the night we lost him, i was following the radio traffic for their mission, as well as following their progress on a live drone feed. i live in kansas now but occasionally get to visit morgan county tennessee to see my oldest son, who was born while we were deployed, and i would love to be able to make a trip to knoxville to visit my friend, and brother, at his final resting place
–Derek Gearheart
Rank: Corporal
Date of birth:
12 August 1970
Date of death: 5 September 2005
County: Knox
Hometown: Knoxille
Service Branch: Army
Division/Assignment: 7th Cavalry Regiment, 3rd Infantry Division
Conflict: Iraq
Burial/Memorial Location: East Tennessee State Veterans Cemetery, Knoxville, Knox County, TN
Location In Memorial: Pillar XXV, Top Panel
---
Image Gallery
Click a thumbnail below to view at full size.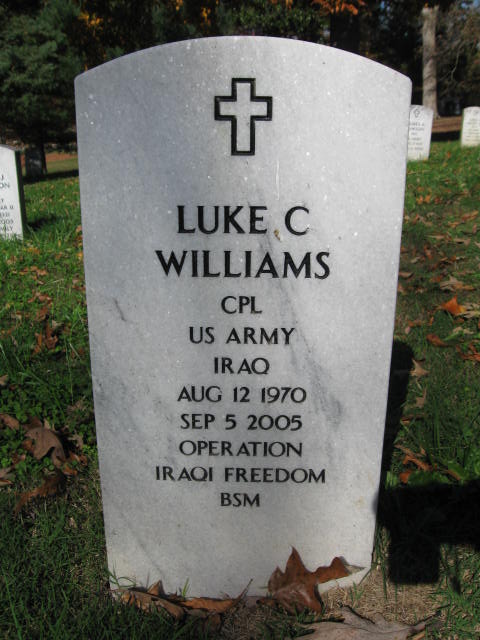 ---