Louis McKeehan
Born 1926, Tennessee
Died 18 December 1944, Pacific Ocean
Memorialized at the Manila American Cemetery, Philippines
Son of Johnnie Johnie McKeehan and Hassie Bell Arnett
Louis McKeehan served on the USS Hull
Killed during typhoon 180 miles northeast of Samar
On 17 December 1944, the ships of Task Force 38, seven fleet and six light carriers, eight battleships, 15 cruisers, and about 50 destroyers were operating about 300 miles east of Luzon in the Philippine Sea. The carriers had just completed three days of heavy raids against Japanese airfields, suppressing enemy aircraft during the American amphibious operations against Mindoro in the Philippines. Although the sea had been becoming rougher all day, the nearby cyclonic disturbance gave relatively little warning of its approach. On 18 December, the small but violent typhoon overtook the Task Force while many of the ships were attempting to refuel. Many of the ships were caught near the center of the storm and buffeted by extreme seas and hurricane force winds. Three destroyers, USS Hull, USS Spence, and USS Monaghan, capsized and went down with practically all hands, while a cruiser, five aircraft carriers, and three destroyers suffered serious damage.
Approximately 790 officers and men were lost or killed, with another 80 injured. Fires occurred in three carriers when planes broke loose in their hangars and some 146 planes on various ships were lost or damaged beyond economical repair by fires, impact damage, or by being swept overboard. This storm inflicted more damage on the Navy than any storm since the hurricane at Apia, Samoa in 1889. In the aftermath of this deadly storm, the Pacific Fleet established new weather stations in the Caroline Islands and, as they were secured, Manila, Iwo Jima, and Okinawa. In addition, new weather central offices (for coordinating data) were established at Guam and Leyte.
A total of seven officers and fifty five enlisted men of the crew of the Hull survived the disaster. The majority of the personnel saved (5 officers and 36 men) were rescued by the U.S.S. Tabberrer (DE418) to whom great credit is due for her painstaking and vigilant search for survivors.
A grave was erected in his family cemetery on Mckeehan Ridge in 2018 by his brother William Bud Mckeehan. The family continues to keep him in their memory.
Rank: Seaman Second Class
Date of death: 18 December 1944
County: Carter
Hometown: Elizabethton
Service Branch: Navy
Division/Assignment: USS Hull DD 350
Theater: Pacific
Conflict: World War II
Burial/Memorial Location: Manila American Cemetery, Fort Bonifacio, Manila, Philippines
Location In Memorial: Pillar VIII, Top Panel
---
Image Gallery
Click a thumbnail below to view at full size.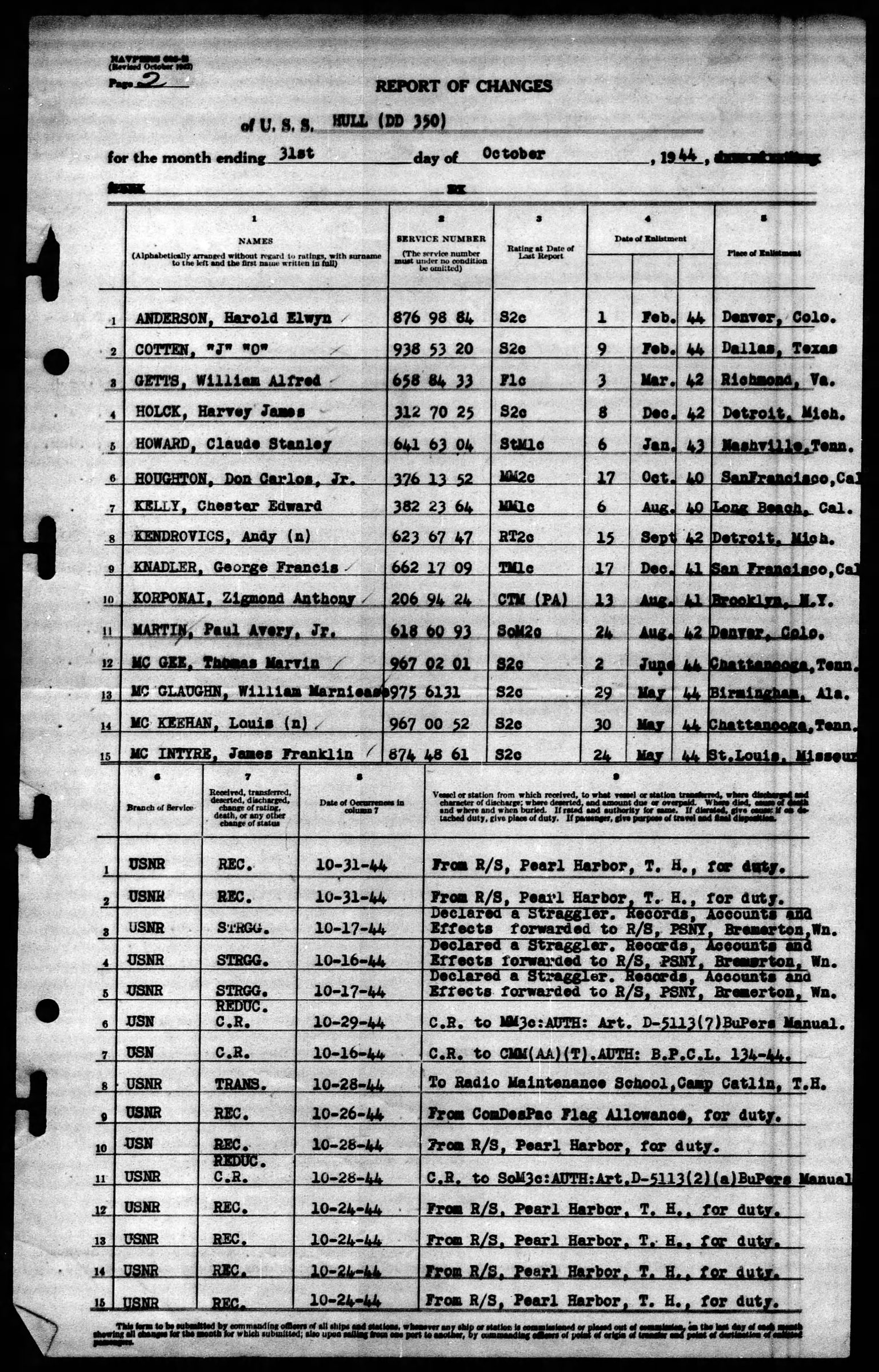 ---