Leslie Earl Harris Jr., Lieutenant Colonel, U.S. Air Force, San Angelo, Tom Green County, Texas
Awards and Decorations
Air Force Pilot Wings, Silver Star, Legion of Merit, Distinguished Flying Cross, Bronze Star, Purple Heart, Air Medal, Air Force Commendations Medal, Air Force Longevity Medal with Three Arrow Heads, Good Conduct Medal, National Defense Service Medal with 2 stars, American Defense Service Medal, Korean Service Medal, United Nations Service Medal Korea, Vietnam Service Medal, Southeast Pacific Service Medal, World War II Victory Medal, Vietnam Campaign Medal
Biography
Lieutenant Colonel Leslie Earl Harris was born in Gary, Indiana. He grew up in Chattanooga, Tennessee, and attended Baylor Preparatory School. He attended the University of Chattanooga, his freshman year, and then Purdue University and enlisted in the U. S. Army during World War II. He served in the India, Burma Theatre of operations in the Army Engineers achieving the rank of Master Sergeant. Prior to the end of the war, he received a Congressional appointment to attend West Point by Representative Estis Kefauver of Tennessee. He entered the Academy in the fall of 1945 as a plebe following three months attendance at Cornell University taking preparatory classes. He graduated from the USMA in the summer of 1949 and due to his desire to fly, he elected to take a commission in the Air Force. He was commissioned as a 2nd Lieutenant and began flight training at Goodfellow Air Force Base. There he met his wife to be, May Hemphill, the granddaughter of the founders of Hemphill-Wells Deparment Stores. She was a divorcee with a five year old son. They married following his graduation from flight school in May 1950. He adopted her son, William Paul Scooter Harris.
He became a bomber pilot and was one of the first pilots trained in the B-50. In 1951, he was involved in a crash of a B-50 in the U.K. and walked away. He served as a bomber pilot in the Korean War and spent the following years in the Air Force with the Strategic Air Command.
He completed the requirements for a MBA at Georgetown University in Washington, D.C. He was also selected to attend the Air Force Command and General Staff College. He served as an assistant to the Chief of Air Force Operations Planning and Training at the Pentagon for four years. He then began a tour in Vietnam, and his wife re-located back to San Angelo while he was overseas. His tour began on May 21, 1967.
He was assigned as the operations officer for the 4th ACS, 14th ACSSOW, 7th Air Force. On May 5, 1968, he was the commander of an AC-47D that was flying a spooky mission near Pleiku supporting ground troops. The aircraft received ground fire and was shot down and all aboard the aircraft perished. He was two weeks from completing his Vietnam tour.
He was buried with full military honors at the Fairmount Cemetery in San Angelo, Texas. He was survived by his wife and his son, William P. Harris, who was a student at Texas A&M. He was also survived by his mother, Mrs L.E. Harris of Chattanooga, and his sister, Mrs. J. D. Stephens of Cleveland, Mississippi. Harris Hall at Goodfellow AFB in San Angelo, Texas was named in his honor in 1985.
His beloved wife May died in 2007 and now rests next to him.
Biography by Billy M. Brown member of the Permian Basin Vietnam Veterans Memorial in Midland, Texas
Also killed in this action Staff Sergeant James E. Jim Bowman of Washington County. Aircraft AC-47D #43-16159
Rank: Lieutenant Colonel
Date of birth:
20 March 1920
Date of death: 5 May 1968
County: Hamilton
Hometown: Chattanooga
Service Branch: Air Force
Division/Assignment: 7th Air Force
Conflict: Korean War, Vietnam
Awards: Air Force Pilot Wings, Silver Star, Legion of Merit, Distinguished Flying Cross, Bronze Star, Purple Heart, Air Medal, Air Force Commendations Medal, Air Force Longevity Medal with Three Arrow Heads, Good Conduct Medal, National Defense Service Medal
Burial/Memorial Location: Fairmount Cemetery, San Angelo, Tom Green County, Texas
Location In Memorial: Pillar XXIII, Top Panel
---
Image Gallery
Click a thumbnail below to view at full size.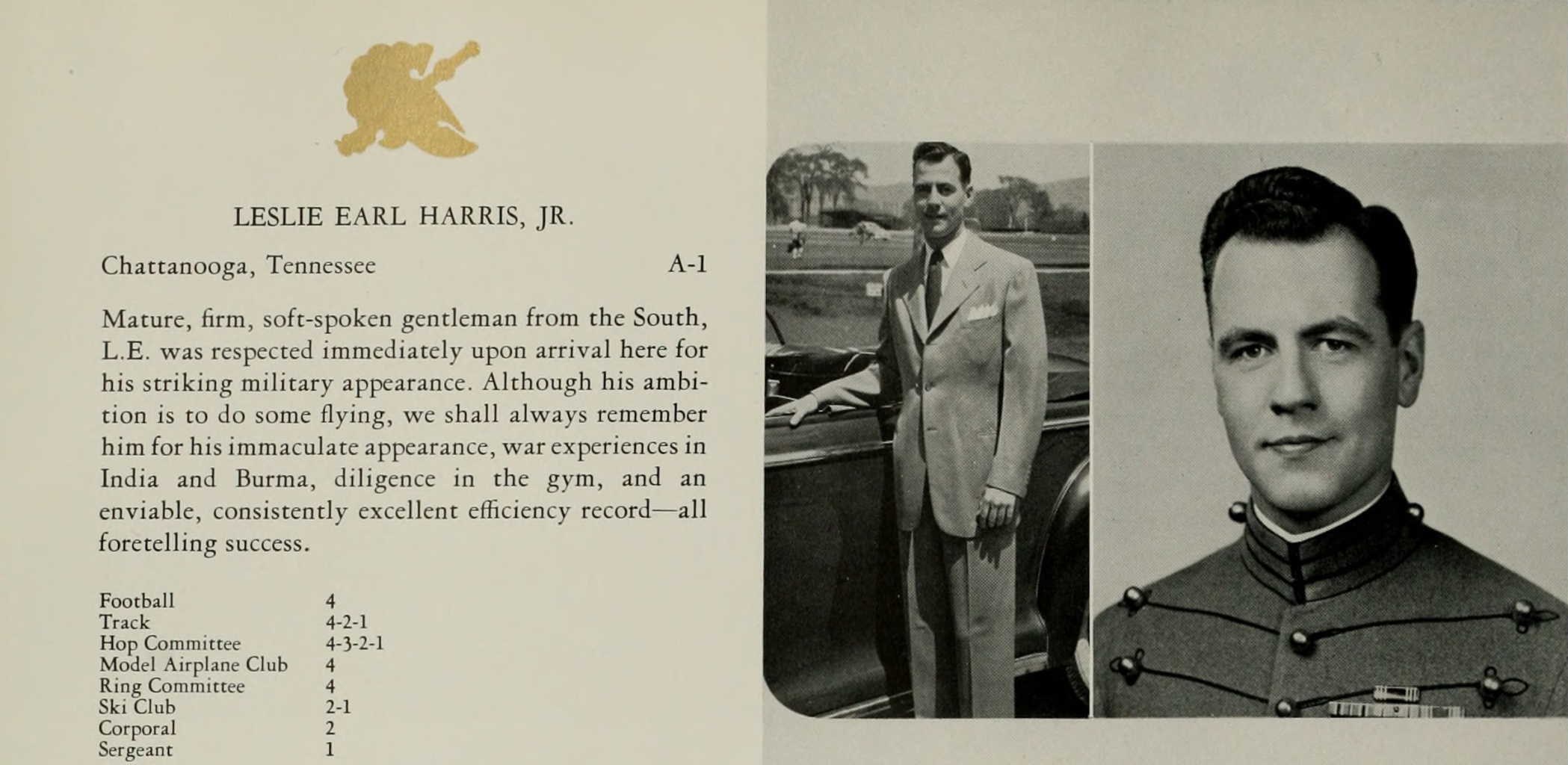 ---