Second Lt. Leroy Kline died non battle. His service number 0-725886.
He was one of five crew members (1st Lt. William S. Southern, 2nd Lt. Leroy Kline, Sgt. Robert E. Pierce. Sgt. William R. Dart, Sgt. Povodnik) of a Lockheed A-29-LO serial number 41-23323. He bailed out and went missing in the cold waters of the Pacific Ocean on 20 November 1942. He was detached at Portland AAB at Tongue Point Naval Air Station in Astoria, Oregon.
As the aircraft lost altitude, two men bailed out; the plane's navigator, 2nd Lt. Leroy Kline, was likely followed by the gunner, Sgt. Robert E. Pierce, though surviving crew members did not see Pierce jump — witnesses ashore reported seeing two parachutes.  Sgt. Povodnik made an effort to jump and crawled out onto the back of the plane, but his parachute snagged the empennage of the aircraft and instead he came down with the plane.
Sgt. Pierce's body was apparently later recovered, and is buried at the Hartsoe Cemetery in Marmaduke, Green County, Arkansas.  There is scant information on the other two crewmembers.  Sgt. Albert Povodnik's name is listed on the state of Kansas World War II casualty list for Chautauqua County.  Second Lt. Leroy Kline's name is inscribed on the WWII casualty list for Knox County.
Rank: Second Lieutenant
Date of death: 20 November 1942
County: Knox
Service Branch: Army/Army Air Forces
Conflict: World War II
Location In Memorial: Pillar XIV, Middle Panel
---
Image Gallery
Click a thumbnail below to view at full size.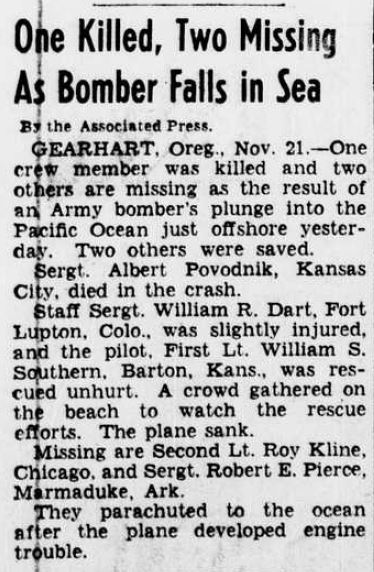 ---