Kermit Curtis Taylor
Died 10 July 1943
Officially declared dead on 11 July 1944
Memorialized at Sicily-Rome American Cemetery, Nettuno, Italy
On July 10, 1943 the U.S.S. Maddox was assigned to the outer screen of the transport area off the Gela region of Sicily. In this position it was her job to screen for possible enemy attack by submarine or air. Sunrise that morning was at 0552 and the ship was at general quarters before the first signs of light were beginning to show. At approximately 0455 several flares and starshells were seen to the northwest about 10 miles away. About two minutes later small high speed propeller noises were heard bearing dead ahead. By this time there was sufficient light in the east for surface object to be seen at a range of perhaps 3 miles and the mountains of Sicily were plainly outlined.
Almost immediately after this report from the Soundman on the Maddox that he had heard propeller noises, those men whose job it was to be topside simultaneously heard the roar of an airplane pulling out of a dive, the whistle of bombs, and they saw a bomb explode about 25 yards from the stern of the ship. This was instantly followed by a miss almost under the starboard propeller guard and a further terrific shock of an explosion of a bomb in the ship itself. The stern of the ship was awash within a very few seconds. Fire broke out and the ship continued to settle by the stern going down within two minutes. The survivors were in the water for about an hour before they were picked up by a tug which had been three miles away and had seen the flames and heard the explosions of the bombs. The survivors were all from the forward part of the ship except for four from the after fireroom and two men from a 20mm gun platform just aft of the #2 stack. Nine officers and 65 men survived the sinking and the senior survivor was W.R. Laird, Jr., The executive officer of the Maddox, eight officers, including the Commanding Officer, and 203 enlisted men were lost in the action.
Parents: Mr. and Mrs. John Harmon Taylor Rt 6, Tazewell, TN
Rank: Seaman First Class
Date of death: 10 July 1943
County: Claiborne
Hometown: Tazewell
Service Branch: Navy
Division/Assignment: USS Maddox
Theater: Europe
Conflict: World War II
Awards: Purple Heart
Burial/Memorial Location: Sicily-Rome American Cemetery, Nettuno, Italy
Location In Memorial: Pillar VIII, Top Panel
---
Image Gallery
Click a thumbnail below to view at full size.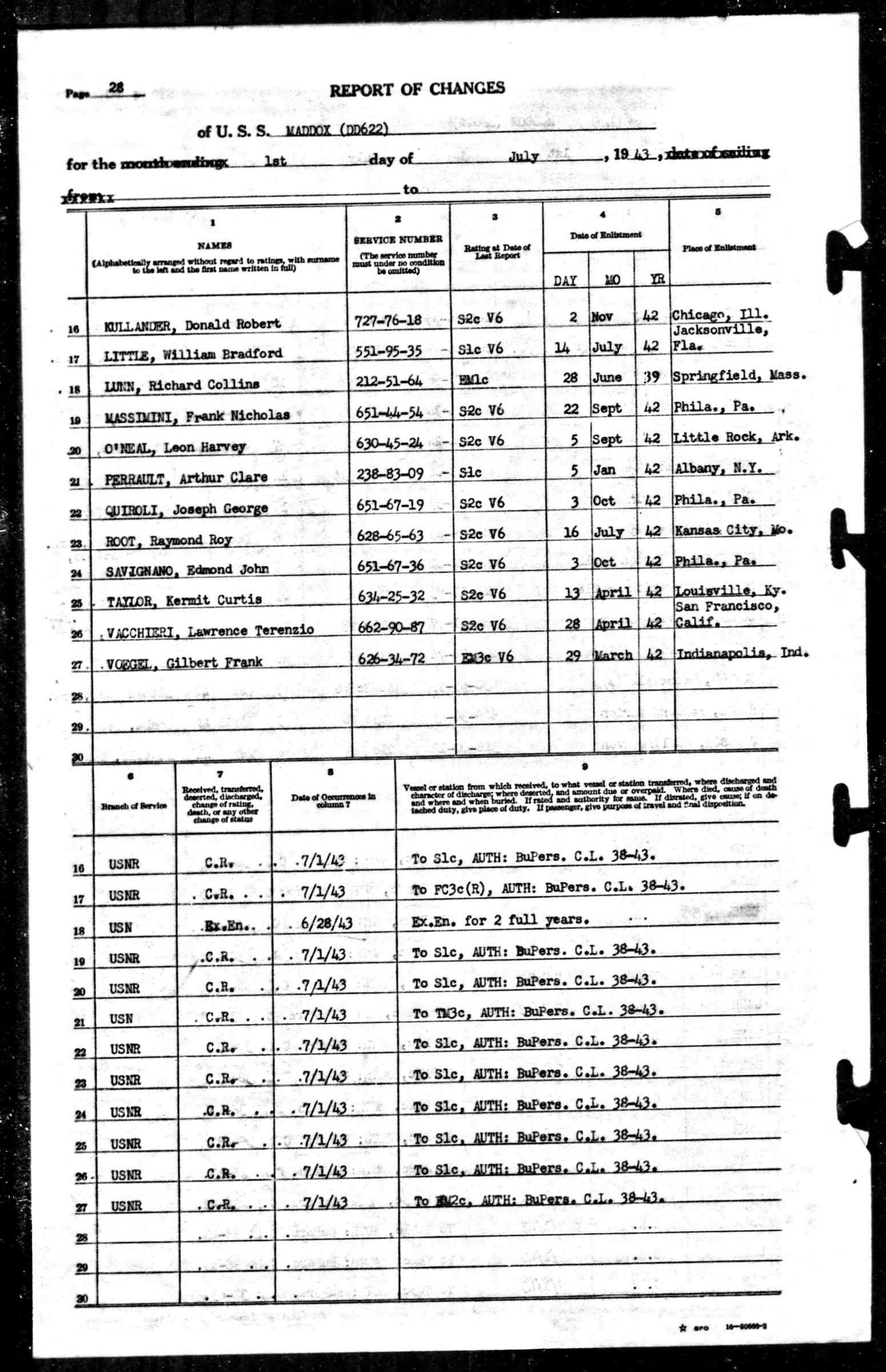 ---