Joseph Paul Smith died of wounds received in action on Iwo Jima. A graduate of Blountville high school, he entered the Marine Corps, March 23, 1944 and received basic training in California before going overseas in early July. He was stationed at Hawaii until the Iwo Jima invasion.
He is morialized at the Honolulu Memorial, Honolulu, HI
Parents: Mr. and Mrs. Troy D. Smith, Rt 1, Piney Flats, TN
The Bristol Herald Courier, March 25, 1945
Joseph Paul (Joe) Smith, 21, youngest son of Mr. and Mrs. Toy Smith of 509 Winston street, died Feb. 28 of wounds received in action on Iwo Jima, where he was serving with the U.S. Marine corps. Pvt. Smith, a graduate of Blountville high school entered the Marine corps March 23, 1944 and received basic training in California before going overseas in early July with the 5th Marine division. He was stationed at Hawaii until the Iwo Jima invasion.
Rank: Private
Date of death: 28 February 1945
County: Sullivan
Hometown: Piney Flats
Service Branch: Marine Corps
Theater: Pacific
Conflict: World War II
Awards: Purple Heart
Burial/Memorial Location: Honolulu Memorial, Honolulu, Hawaii
Location In Memorial: Pillar XVIII, Top Panel
---
Image Gallery
Click a thumbnail below to view at full size.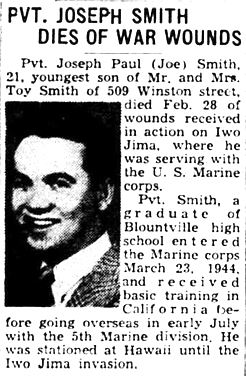 ---