Jon Anthony Allen
Military Data
MOS 11E2T Armor Crewman
Length Service 00
Unit L TRP, 3rd Squadron, 11th Armored Cavalry, USARV
Casualty Data
Start Tour 18 July 1969
Incident Date 26 November 1969
Casualty Date 26 November 1969
Age at Loss 23
Location Tay Ninh Province, South Vietnam
Remains Body recovered
Casualty Type Hostile, died outright
Casualty Reason Ground casualty
Casualty Detail Burns
Vietnam Wall Panel 16W Line 123
Sp4 Jon Anthony Allen, Vietnam Veteran, Native of Asheville, North Carolina.
Specialist Four Jon Anthony Allen was a casualty of the Vietnam War. As a member of the Army Selective Service and a Draftee, SP4 Allen served our country until November 26th, 1969 in Tay Ninh, South Vietnam. He was 23 years old and was not married. It was reported that Jon died from burns. His body was recovered. SP4 Allen is on panel 16W, line 123 of the Vietnam Memorial Wall in Washington D.C. He served our country for less than a year.
Jon was assigned to the 11th Armored Cavalry Regiment Blackhorse at the time of his death. 11th Armored Cavalry Veterans of Vietnam and Cambodia are attempting to locate relatives of all of our Troopers who made the ultimate sacrifice in Vietnam. Post-to-post horse-to-horse and onto fiddler green allons and amen.
Joe Willey, 11thacrkia@gmail.com, or through our website httpwww.11thcavnam.com
Tony was a good friend of mine and we went riding our motorcycles together just a week before he left for bootcamp. We both went into the military in 1969 and I was in Navy bootcamp at the time of his death in Vietnam. I have always remembered him and the times we spent together as teens and I will always remember his sacrifice for our country. He was a great guy and I am honored to have known him. May God Bless his soul. Victor Clontz, veeyecee@yahoo.com.
My uncle my mother's brother. Uncle Tony. Tony, although I leave this message on Memorial Day, dates have little relevance among our thoughts of you. Your sister, Suzi and her husband, Terry – think of you often, and always with a smile. Your brother Michael, your mother Nell and your grandmother Mae, have never let you out of memories' firm grasp. Your nephews Patrick, David, Steve, and Buck admire you, think of you, and wish they knew you much more than was able. You and your brothers in arms will never be forgotten. Thank you all for what we can never fully appreciate. Patrick Glasgow, 100 23rd Ave. #4 St. Pete Beach Fl 33706.
His was the Son of Mr and Mrs Thomas Loyd Allen.
He served with Lima Troop, 2nd Squadron, 11th Armored Cavalry Regiment, USARV.
He was awarded The Bronze Star Medal, The Purple Heart Medal for his combat related wounds, The Vietnam Service Medal, The Republic of Vietnam Campaign Service Medal, The National Defense Service Medal and The Good Conduct Medal.
Burial
Green Hills Cemetery, Asheville, Buncombe County, North Carolina, USA
Plot Section PV,238,4
Rank: Specialist 4th Class
Date of birth:
21 November 1946
Date of death: 26 November 1969
County: Hamblen
Hometown: Asheville, NC
Service Branch: Army
Division/Assignment: 11th Armored Cavalry
Conflict: Vietnam
Awards: Bronze Star, Purple Heart, Vietnam Service Medal, Republic of Vietnam Campaign Service Medal, National Defense Service Medal, Good Conduct Medal
Burial/Memorial Location: Green Hills Cemetery, Asheville, Buncombe County, NC
Location In Memorial: Pillar XXII, Top Panel
Sponsored by: Rod Roe
---
Image Gallery
Click a thumbnail below to view at full size.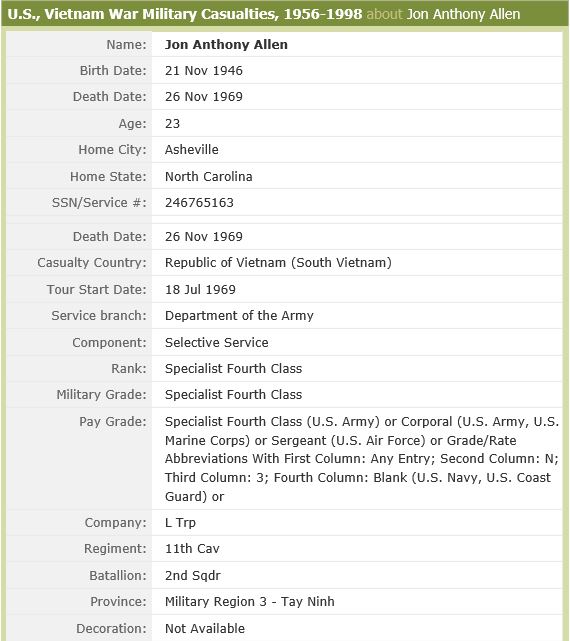 ---