John Monroe Cofer was born on 7 September 1917 in Meigs County, Tennessee to Charles H. Cofer and Maybell Seaborn.
He died on 28 April 1952. He was buried at sea in the sinking of the
USS Hobson
.
Among the horror stories within the annuals of the U.S. Navy is the loss of the minesweeper Hobson when it came in collision with the aircraft carrier Wasp in the North Atlantic in 1952. The 348-foot-long Hobson was no match for the massive Wasp, was sliced in two and sank so fast it took 176 sailors to the bottom with it.
After surviving active naval battles in both the European and Pacific Theaters of World War II, including a kamikaze attack, the Hobson was assigned to training duties off the Atlantic Coast until the Korean War outbreak in 1950. She was then assigned to the Atlantic Fleet, providing support in amphibious operations and plane guard for carriers.
The Hobson met her fate on April 26, 1952, while with the Destroyer Rodman and accompanying the Carrier Wasp on route to the Mediterranean. At about 10 p.m. that night the Wasp was recovering planes from a routine night flying operation while the Hobson and Rodman were steaming about 1000 yards behind to recover any pilots who might have to ditch.
When the wind suddenly changed, the Wasp turned into it, but the Hobson failed to receive the turning signal and continued steaming forward. She consequently steamed right across the oncoming bow of the carrier and was struck amidships on the starboard side. The collision turned the Hobson over on its port side and split the ill-fated ship in two. The stern of the minesweeper swung around and slammed into the Wasp's bow, opening a gaping hole in the carrier.
The Hobson sank within minutes, leaving a big oil slick around the carrier, which now was standing dead in the water. Most of the Hobson's crew was below deck, asleep when the accident happened, and never had a chance. There were only 80 survivors out o a crew of 236. The commanding officer also died. Those who made it grabbed life jackets and rafts thrown out into the oil-slicked waters from the Wasp and Rodman.
Rank: Chief Boatswain's Mate
Date of birth:
7 September 1917
Date of death: 28 April 1952
County: Bradley
Service Branch: Navy
Conflict: Korean War
Burial/Memorial Location: Cofer Cemetery, Meigs County, TN
Location In Memorial: Pillar XX, Top Panel
---
Image Gallery
Click a thumbnail below to view at full size.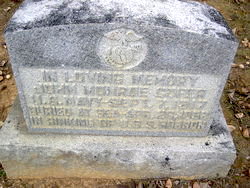 ---